PHOTO TOUR: Shenandoah Memory Care At The Virginian
---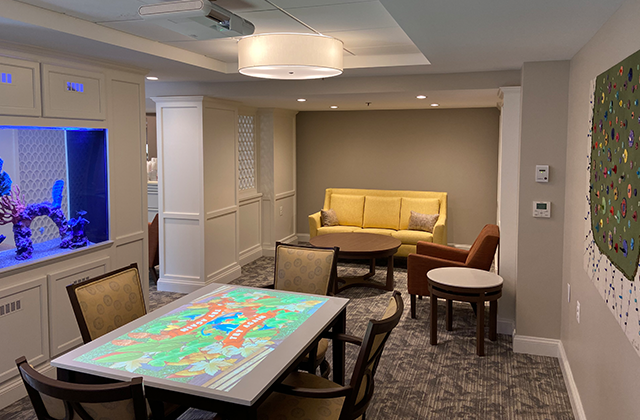 The Virginian
Shenandoah Memory Care at The Virginian: The open concept sensory lounge allows for passive, active, individual or group engagement by incorporating features and technologies across the full spectrum of senses for site, sound, touch, and smell/taste. Hand-motion tabletop gaming system requires no set up or clean up, while offering more than 60 games scientifically designed for individuals with cognitive deficits. A circadian lighting system can be programmed to bring room to a variety of colors, depending on desired response or preference of resident or group.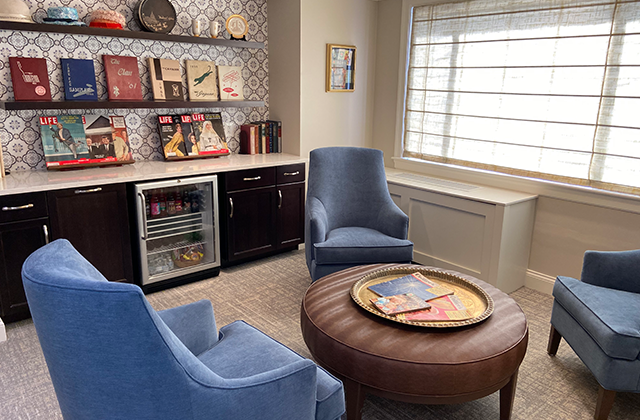 The Virginian
Shenandoah Memory Care at The Virginian: The reminiscence/reception lounge features 1950s/1960s items, including local high school yearbooks, Northern Virginia and Washington, D.C., retailers, historical photos, and vintage soft drinks and snacks. This turns a generic reception space into a point-of-entry engagement opportunity for residents, visitors, and staff. A poodle-skirted dress mannequin named "Peggy Sue" serves as a midpoint wayfinding landmark between the memory care community's two wings.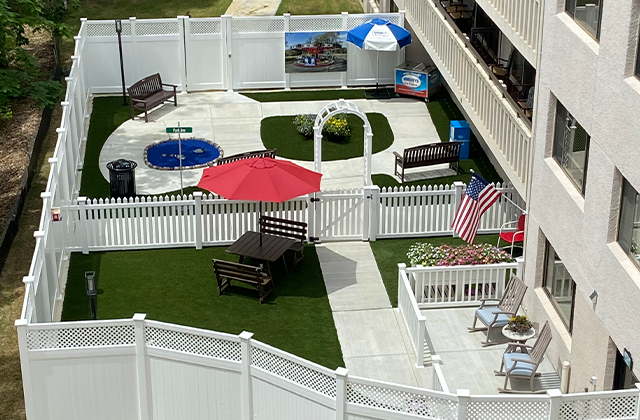 The Virginian
Shenandoah Memory Care at The Virginian: The multithemed "exit/no exit" courtyard allows residents to cross from 1960's-themed "backyard" into a "park" and back. This provides a sense of destination while remaining within a secured outdoor environment. An ice cream stand, carousel photo, duck pond, newspaper box, flower garden, benches, and walking trail complete the park. Porch rockers, picnic table, garden boxes, birdhouse, doghouse, and clothesline offer engagement within the yard. An 8-foot-high, closed-board fence prevents scaling and focuses attention internally, while lattice topping reduces an enclosed feeling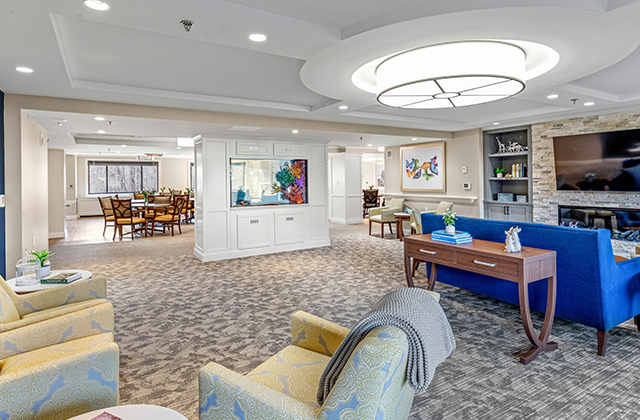 The Virginian
Shenandoah Memory Care At The Virginian: A single, small, and poorly lit common area was expanded to create enlarged open design spaces on each wing for living, dining, and activity areas. Areas on each wing incorporate a unique color and theme design, enhancing wayfinding. The live fish display in the dining room area has been shown to stimulate appetite, increasing food intake by up to 25 percent. The double-sided view extends therapeutic benefits into the living area, which have been shown to reduce anxiety and agitation, and improve short-term memory in individuals with Alzheimer's and related dementia.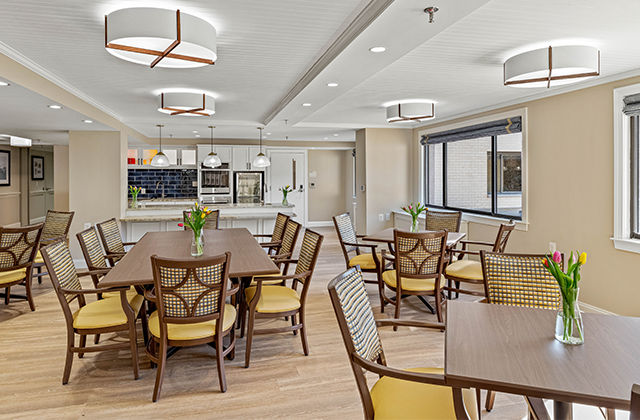 The Virginian
Shenandoah Memory Care at The Virginian: Open-concept dining includes a variety of seating styles, including counter seating through which residents can engage with dietary staff or participate in meal preparation.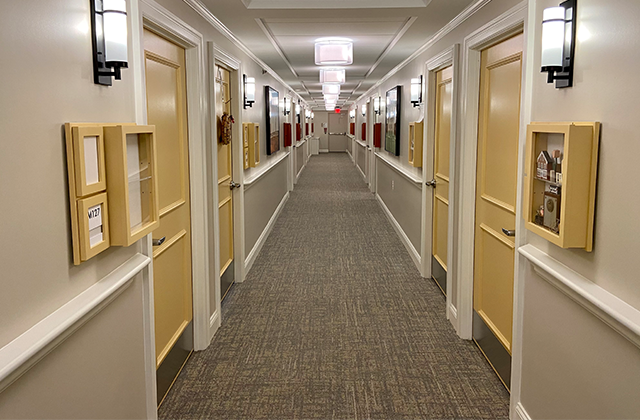 The Virginian
Shenandoah Memory Care at The Virginian: Color-themed neighborhoods break long hallways into smaller identifiable areas, while allowing for use of "spaced retrieval" association of color, improving self-location, and wayfinding. Matching memory boxes reinforce recognition of color theme and use of recognizable objects further guide to apartment. Primary memory box photo utilizes black and white headshot taken of the resident between the "reminiscence bump" ages of 18-30 years, during which the most powerful memories are formed, maximizing the opportunity for residents to self-identify with their unit.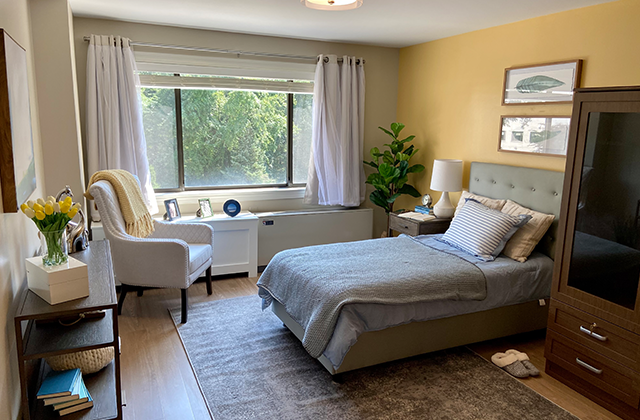 The Virginian
Shenandoah Memory Care at The Virginian: Matching interior contrast walls in apartments further reinforce recognition of neighborhood color, while highlighting bed location. A two-chamber wardrobe allows for placement of next-day attire in the window view section, increasing resident ability to self-dress, boosting self-esteem, and saving staff time.
---
As part of a $60 million renovation of The Virginian in Fairfax, Va., owner Focus Healthcare Partners (Chicago) wanted to redesign the community's former Shenandoah memory care neighborhood.
The goal in developing the new Shenandoah Memory Care at The Virginian was to elevate memory care design through evidence-based practices and new technologies to create a next generation, "high-touch/high-tech" model.
The project team included: Moseley Architects (architect; Richmond, Va.), Meyer Design (interior designer; Ardmore, Pa.), Allied Partners (construction manager; Bend, Ore.), Carle Consulting (memory care designer; Oak Hill, Va.), and Life Care Services (management company/operator; Des Moines, Iowa).
It increased occupancy to 36 units and expanded from one to two conjoining wings, totaling 20,000 square feet.
The design includes three unique engagement areas: a reminiscence lounge, interactive sensory lounge, and dual-themed "backyard/park" courtyard, shared by residents, visitors, and staff.
Each wing includes living room, dining, and activity areas. The wayfinding and therapeutic design allows residents to self-locate and self-direct through themed neighborhoods, recognizable landmarks, curved corners at intersections, signature memory boxes, and matching contrasting walls within the living and bathing areas of apartments.
Warm colors including orange and yellow, open-concept design, interactive wall art, as well as live fish complete the therapeutic milieu.
In addition, the program is among the first memory care environments in the nation to utilize both circadian rhythm lighting throughout as well as a hand-motion gaming system, advancing applications of technology for residents with Alzheimer's and related dementia.
Project details for Shenandoah Memory Care at The Virginian:
Facility name: Shenandoah Memory Care at The Virginia
Location: Fairfax, Va.
Completion date: February 2022
Owner: Focus Healthcare Partners
Total building area: 20,107 sq. ft. (Shenandoah Memory Care)
Total construction cost: $5.5 million (Shenandoah Memory Care)
Cost/sq. ft.: $274/sq. ft.
Architecture firm: Moseley Architects
Interior design: Meyer Design
General contractor: Elements of Hospitality
Engineering: Salas O'Brien
Builder: Allied Partners