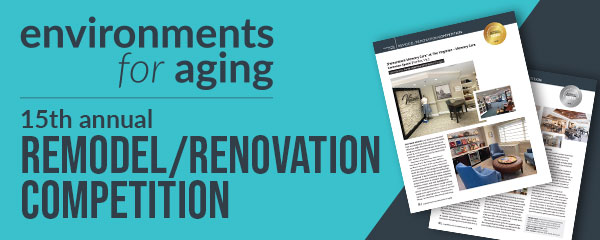 Environments for Aging is pleased to announce our 15th annual Remodel/Renovation Competition!
Submissions will focus on single spaces, including dining spaces, lounges/activity areas, lobbies, and other resident spaces.
A panel of experts will review all submissions and determine Gold, Silver, and Bronze winners. Winners will receive special recognition at our annual Environments for Aging Conference + Expo (Spring 2024), and bonus coverage of their projects in the Winter 2023 issue of Environments for Aging.
All submitted projects will be published in a Remodel/Renovation Gallery (Winter 2023 issue) with a quarter-page project description and photos*, allowing readers an opportunity to view all of the competition entries. Award-winning projects will be upgraded to a spread or full page.
*Quarter-page includes one before/after image; project name, 50 words of text, and firm contact information.
Projects must be completed between October 2020 and the time of submission. New this year, EFA will also accept projects in progress and unbuilt/conceptual designs. Submission must include quality renderings.
Reservations due: August 3; Presentations due: August 24
Entry Fee with quarter-page feature: $700
Entry fees will be invoiced when the issue mails and are non-refundable.
Click here to reserve your spot in this year's competition!
View last year's Remodel/Renovation section in our Winter digital issue here.
For more information about this program, contact Donna Hidalgo
Donna.hidalgo@emeraldx.com
210.419.9017