Using Immersive Renderings To Attract And Engage Senior Living Residents
---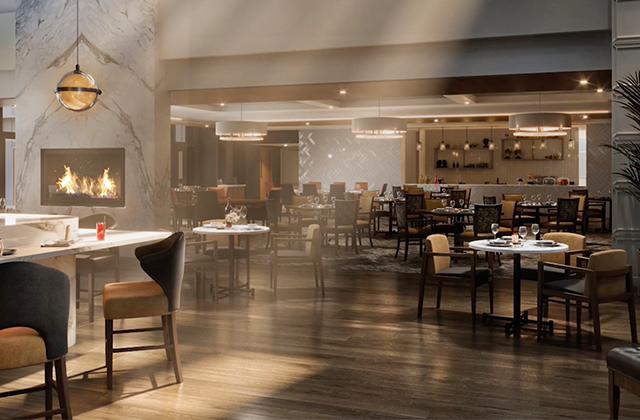 StudioSix5
Dynamic changes in lighting can have a major impact on ambiance and mood. Cinemagraphs can include dramatic effects such as sun rays pouring through upper windows, crackling fireplaces, live TVs, weather effects, birds, and other custom animations.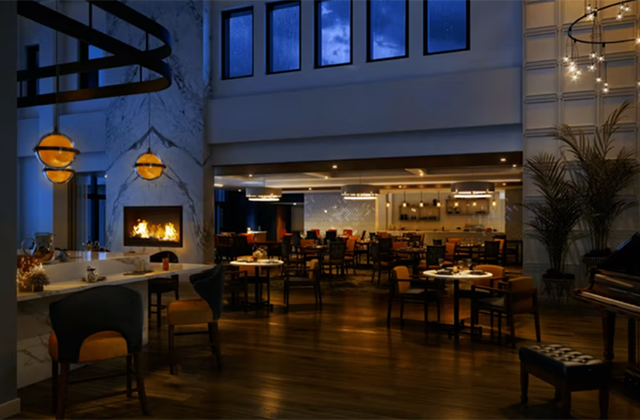 StudioSix5
Adding ambient sound effects to renderings, such as a rainstorm, can make prospects feel safe and comfortable inside a cozy space.
---
3D photorealistic visualization in senior living
Movie makers have long developed multisensory productions that seem totally real to viewers, while also injecting creative elements designed to evoke strong emotions. Similarly, the senior living sector is using a strategy to help build occupancy, particularly pre-sales for planned communities, called three-dimensional (3D) photorealistic visualization.
This multimedia approach adds realism and special effects such as cinemagraphs and film techniques to 3-D renderings of existing projects, renovations, or projects in the works. This allows prospective residents, family members, investors, caregivers, and others who take a virtual tour of a senior living community to get a real sense of actually living there. This sense of being "home" can help relieve anxiety for prospective residents and their families, which makes pre-sales much easier for owners and operators.
These immersive, virtual tours can engage seniors in a variety of ways that might not be possible on an onsite tour, such as experiencing immediate changes in time of day or a crackling fireplace, watching a snowfall outside, or basking in vivid sun rays that filter through windows as birds flit and chirp outside.
All of these "life-like" ambient effects combine to send future residents a subconscious message of hospitality, safety, and security about the planned community. In a real way, they bring the designs to life, often even before it's actually built.
This approach can be a complex undertaking, utilizing a range of visual and audio experts as well as high-tech tools to create a level of reality never before possible. Senior housing providers can also request custom approaches to reflect special effects they want to include.
Elements of advanced visualization
The industry has used 3D treatments to enhance exterior imagery for some time to elevate the buyer's experience, while interiors were usually delivered through two-dimensional (2D) plans and static color renderings. This approach created some real limitations.
Specifically, traditional renderings that use 2D plans can't project a sense of mood, drama, or story. Immersive 3-D photorealistic visualization techniques, on the other hand, can achieve those dramatic effects by delivering virtual reality tours, still renderings, cinemagraphs, isometric floor plans, films, and more.
However, the process requires a higher level of production values, which requires a full studio approach that brings in a much more diverse skill set than has typically been involved in 3D renderings. This full-studio approach injects value across the entire design and development chain.
For example, architects can confirm critical design elements, such as the alignment of wall intersections, by touring their own designs in 3D photorealism. Developers can impress potential equity partners by demonstrating and letting them experience how the planned project will look and feel, in absolute detail.
The key value of this new approach is how it combines exciting special effects with absolute fidelity to the actual project drawings. For example, StudioSIX5, an Austin, Texas-based interior design firm, produces visualization services under the direction of licensed architects and interior designers, in conjunction with the firm's filmmakers, illustrators, and writers.
The entire team works from the master Revit or AutoCAD files created by the project architect as well as pulls from a customized rendering library with thousands of 3D product models, accessories, and materials. The final visualization product integrates these items including finishes and paint colors to reflect a true-to-life environment.
The building context is also enabled like a Google street scene. This feature delivers a design model that seems like a walk-through of the building. This enables investors and seniors to "walk the floor" and go where they please, such as dropping into the bistro, strolling through hallways, or visiting the community's library and dining areas while hearing sounds native to the environment.
Prospective residents can also experience their desired apartment in full detail. This can include exciting pans and scans and other techniques that let them explore in a way not possible by other means. For example, they might encounter steaming coffee cups on the stovetop or curtains billowing in a light breeze.
Brand-building tool
There has been a trend toward blending architecture and interior design with branding. This approach envisions the built environment as a physical expression of the brand. Now, using these visualization tools, branding can offer a dynamic branding experience.
Better yet, prospects and others can visit the immersive virtual environment for months or even years before the actual property is built. That ability can make all the difference in senior living, an industry predicated on presales.
When it comes to selling products or services, invoking emotion is key to success. This is especially true in the field of senior living. Competition is keen and 3D visualization approaches like these can help build connections with key prospects. For a personal experience with 3D visualization techniques, readers can click here.
Dean Maddalena is CEO of StudioSix5  Austin, Texas and can be reached at dean@studiosix5.com. John Greenlee is a principal and director of operations, visualization studio for StudioSix5 and can be reached at johng@studiosix5.com.