Oak Trace Refreshes Its Amenities, Landscape Design To Support Active Seniors
---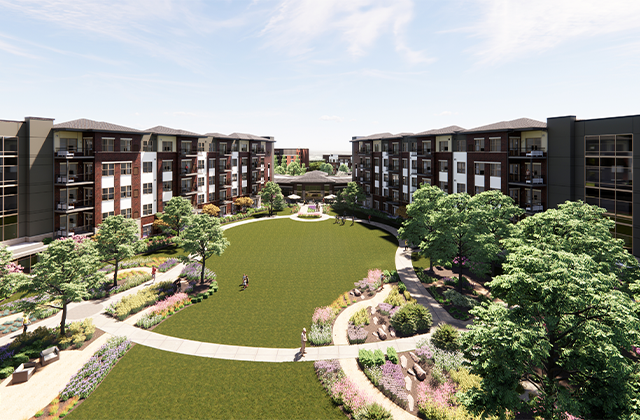 SAS ARCHITECTS
Oak Trace Senior Living Community: The abundantly landscaped west courtyard includes a variety of gardens, continuous accessible walking paths, and views to the surrounding units.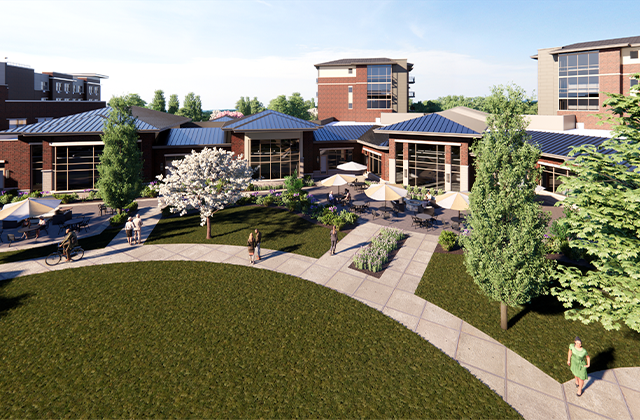 SAS ARCHITECTS
Oak Trace Senior Living Community: The east courtyard focuses on landscaping with lush greenery, walkways, and an area for fire pits.
---
Oak Trace Senior Living Community in Downers Grove, Ill., is undergoing a multiphase renovation and expansion. Two of the three phases of the project, which first launched in 2015, have been completed. The final stage, slated for completion in 2024, will add a five-story luxury independent living apartment building and shared clubhouse.
When construction was delayed on the project due to COVID-19, owner and operator Lifespace Communities, Oak Trace leaders, and the project team decided to re-evaluate the design of the expansion, guided by input from residents.
Here, project architect Daniel Martin, partner at SAS Architects and Planners (Northbrook, Ill.), discusses the process and how it impacted project plans.
What feedback did residents share when the project was paused mid-COVID?
While COVID created feelings of fear and uncertainty about the future, Lifespace Communities used this as an opportunity to go back to the drawing board. Input received from current and prospective residents and the development teams enabled us to reimagine the building design to something that would be more beneficial to the long-term success of the community. This included enhancing the apartment designs, maximizing natural light and views, adding amenities, and expanding opportunities to further focus on exterior landscaping views and experiences.
How did the project team decide what amenities were the right fit here?
Throughout the reimaging process, there was a lot of collaboration with the project team and residents. For example, originally, there hadn't been a plan for a pool. However, input strongly suggested that this would be a desirable amenity, so adding a pool and a large, dedicated fitness center became a priority. An expanded dining program was also a high priority to offer residents a variety of options. It's empowering to encourage residents to contribute to the vision, and I can't wait to see how this is received.
Many of the enhancements focus on providing choices to residents in where or how to spend their time. Why is offering this choice important for seniors?
One of the major concerns of someone who is thinking about moving into a senior living community is the loss of independence. It's essential that we change that preconception and, in fact, enhance the perception of abundant choices, variety and opportunities. For instance, if you're eating in the same dining room every day, for some, it seems to limit options. Oak Trace offers various options, including fine dining with a restaurant-style open kitchen, casual bar lounge, grab-and-go market, multiple dining rooms, café and more … options from which the residents can choose. Our design objective was to create a community in which residents can envision living an independent, vibrant life full of choices.
Feedback also led to the enhancement of  the community's landscaping features. Why was this important?
We learned from current and prospective residents that access to nature is important, and we were able to accommodate this because of the property's vast acreage. Lifespace challenged us to create an environment with dimension and variety that would delight and surprise residents. We created outdoor features such as fire pits, continuous walking paths, and exterior dining options. Prairie, sensory, wind, and shade and butterfly gardens are also included throughout the campus. At the conclusion of the design process, a prospective resident was so impressed with the landscaping design that they changed the location of their apartment to the interior courtyard with views of these garden spaces.
Do you expect to see more demand for landscaping features in senior living communities?
We have been finding that access to nature is increasingly important across the industry. What has been especially unique at Oak Trace is the expansive property, which has afforded us the opportunity to include a variety of abundant exterior amenities. The space and the eagerness of ownership to create something beautiful and unique have resulted in this truly unique design.
How are residents' amenity preferences continuing to evolve?
One of the greatest concerns people have when deciding on a senior living community is the loss of independence. One of the ways to ease this concern is by providing a variety of amenity spaces and creating experiences throughout the community to expand social interactions and experience. Adults want choices. We believe robust dining options and outdoor experiences are very important to the residents' quality of life.
What amenity space do you think senior living communities should have on their radar—and why?
Unique and high-quality dining opportunities are obviously important. Access to natural daylight and views of nature are also important for the happiness and well-being of the residents. The integration of technology throughout amenity spaces within senior living communities, especially around telehealth, virtual fitness classes and continuing education opportunities, is also becoming increasingly important.
For more on Oak Trace, go here.
Anne DiNardo is executive editor of Environments for Aging and can be reached at anne.dinardo@emeraldx.com.