7 Design Principles For A Household Model
---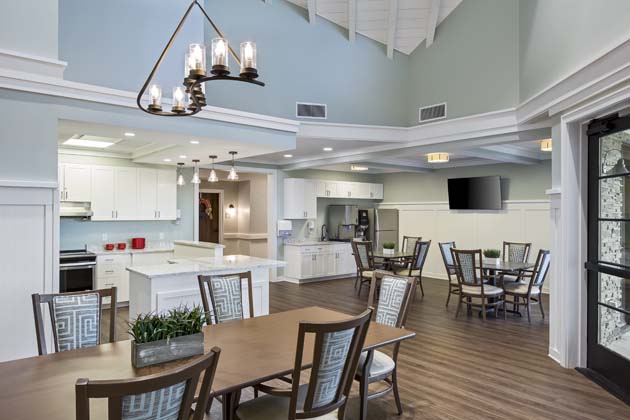 Kris Decker/Fire Water Photography
White Oak North Grove: The community's kitchen has the look and feel of a home kitchen, with the addition of a variety of seating arrangements.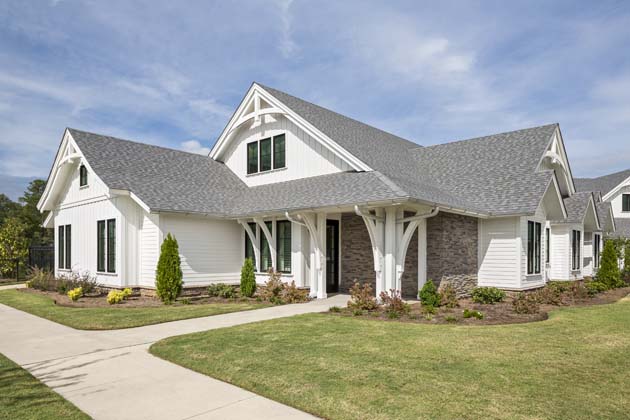 Kris Decker/Fire Water Photography
White Oak North Grove: The exterior design even looks like a house, with ample window lighting and access to outdoor spaces.
---
"Bill" was one of the first residents to move into White Oak North Grove in Spartanburg, S.C.. He moved from the 1960s institutional facility it replaced.
As he entered his new home, his normally sad countenance was broken by an uncharacteristic smile. He immediately stopped, turned to the closest staff member, and asked if he could change his do-not-resuscitate order to full code status.
Bill wanted to live longer due to his new surroundings and the possibilities they offered for his quality of life. Previously characterizing himself as "waiting to die," Bill is now thriving in his new home.
Household model at White Oak North Grove
Opened in May 2017, the 132-bed skilled nursing facility was designed following the household model, which transfers many of the qualities of an individual's home into skilled nursing, assisted living, and memory care environments.
The rise in the household model is part of a shift in the industry that's moving away from institutional facilities concerned only with efficiency of care. Instead, communities are focusing on more resident-centered design. This places residents' needs, attitudes, and comfort front and center, promoting self-determination and shared decision-making.
McMillan Pazdan Smith, is a studio-based architecture, planning, and interior design firm with six offices across the Southeast.
Through its work, the firm has translated the foundational concepts of resident-centered design into a set of principles to guide our actions toward a simple, applicable model of household care. They include:
1. A home is familiar and recognizable.
In the household model, a long-term care facility is designed to reflect qualities of a home that are familiar to residents. For example, every home has a front door that leads to spaces designated for living one's life. This can includes spaces for socializing, leisure, eating, sleeping, and personal care.
The sequence of spaces within a household model flows from the front porch to the front door to an entryway with a view of the living room. The dining room is connected to the kitchen, leading to the back door and out to the yard.
Spaces like a front porch and a backyard act as a safe haven for residents to freely access and spend time outside.
Furthermore, each home in the household model is centered around the hearth where familiar furniture groupings are designed to be comfortable and inviting to visitors, bringing family and friends together.
2. We thrive in "normality."
Normality is about recognizing the cultural norms based upon a lifetime of everyday experiences and applying them to the assisted care environment. As such, the emphasis is on creating choice.
This idea can be simply illustrated by an introspective series of questions designers can ask themselves:
● What does the resident want in a home?
● How did they do this activity at their previous residence?
● How does the caretaker do the activity at home?
● How should we do this activity here?
The answers to these questions can be used to form a clear array of well-known characteristics of the household setting and commonly held beliefs associated with them.
Design decisions should never be made at the expense of effective care. But, if it feels institutional to us as designers, then it will be perceived that way by the residents. Building design is important, but so are operational considerations. Consequently, it's critical for goals to be established, understood, and aligned in the planning phase.
3. Care is provided, but it's not the focal point.
Even though a resident's home is a facility providing long-term care, the environment doesn't have to look like one. In the household model, nursing care shouldn't be provided by staff seated behind large visible nurses stations. Rather, caregivers should be with the residents as part of the household family. They should share in their activities, meals, and routines.
Charting, along with other necessary administrative activities, should be done in enclosed spaces. These areas are accessible but hidden in the households. Care exists to support the resident as they live their life. However, it shouldn't be the focal point of their life.
4. Food and quality of life are inseparable.
The kitchen is the heart of every home, with food imparting a warm familiarity. Thus, mealtimes offer a premier opportunity to improve residents' lives, offering a richness of ritual, camaraderie and nurturing.
Dining rooms should be decentralized and available for residents to eat on their own schedule, if possible. Food should be served the same way it would be at home or a restaurant.
This set-up offers familiar sensory stimulations of sights, sounds, smells, tastes, and textures. Choice, or the perception of choice, will support residents' desires to be accommodated and can increase appetite and intake.
Mealtimes bring residents together. But they also offer a great opportunity to invite family and friends to share the experience. To accommodate this, a variety of seating arrangements should be offered. Furniture options range from small tables for individual meals to larger, community dining tables.
5. All homes have recognizable dimensions of privacy.
Privacy is typically the first comfort lost as a resident moves into a long-term-care community. While most residents are uplifted by time spent with others, each individual has a different desire for privacy and facilities should allow for individualization.
The community should address a hierarchy of public-to-semi-public and semi-private-to-private realms in the layout of resident-use spaces, promoting clear boundaries between these spaces.
Thoughtful planning is required by the designer to eliminate the need for hallways serving resident rooms to be used as thoroughfares. Instead, they should allow them instead to serve as buffers between public and private domains. However, privacy is not the same as isolation; privacy simply means the ability to control social interactions and establish boundaries.
6. Your bedroom and bathroom are a sanctuary.
These are the places where an individual's most intimate self-care rituals are performed. Specifically, bathing, a good night's sleep, and upkeep of personal hygiene.
These rooms should serve as a retreat for the resident while still remaining accessible, despite declining abilities or faculties. A variety of design tools can allow residents, if possible, to use these spaces with limited or no assistance. They include: unobstructed paths from bed to bathroom and space for wheelchair access, grab bars, and easily operated fixtures.
Additionally, access to the resident's bedroom and adjoining bathroom should be controlled by the resident, not caregivers. Additionally, residents handle requests or grant access before others enter into the spaces.
The placement of the entry door in relation to the resident's bed or using built-in wardrobes or dividers in semi-private rooms can be used to elevate the feeling of privacy for the resident.
7. Life has to include purpose and meaning.
By creating a comfortable, familiar living environment is important. Indeed residents are more likely to find ways to continue living with purpose and meaning, despite any physical and/or mental limitations.
The varied spaces that promote activity and social interactions can make residents more likely to uphold a stimulating routine. This may include regular exercise, trips to the salon or spa, or a daily coffee break at a favorite outdoor spot. Such activities can embolden residents' sense of autonomy and self-worth.
If building design and operations can combine to provide opportunities for spontaneous activities, this can invigorate a daily routine and give a resident something new to reflect upon at the day's end.
Using design to address seniors' isolation
Furthermore, the household model can address many of the deficiencies related to the COVID-19 pandemic that have come to light.
For example, breaking the population up into separate, autonomous households makes contact tracing and controlling person-to-person contact easier.
Private rooms accessed from residential hallways provide infection control and potential quarantine spaces, while dedicated household entrances and gathering spaces create a safe place for controlled interactions with family and visitors.
Together, these strategies can help residents to live fulfilling, comfortable lives.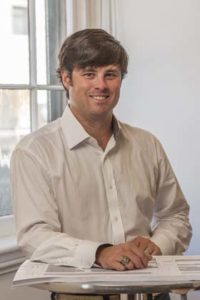 Stuart Barber is director of senior living at McMillan Pazdan Smith (Charleston, S.C.). He can be reached at sbarber@mcmillanpazdansmith.com.