Thrive at Montvale Invests In Outdoor Amenities To Appeal To Baby Boomers
---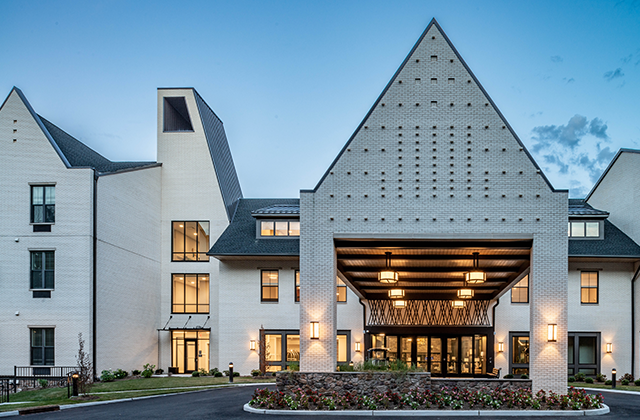 Tobin Davies Photography
Thrive at Montvale: The exterior references a traditional collegiate vernacular found throughout New Jersey while paying homage to the saltbox-style homes built in New England during the 17th and 18th centuries. With gabled rooflines featuring uneven sides, horizontal cladding, louver vents, and asymmetrical chimneys, the elevations invoke the past but with a modern twist added by storefront glass and more transitional finishes.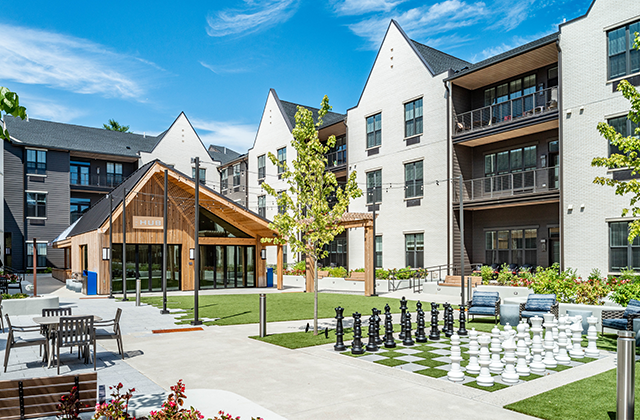 Tobin Davies Photography
Thrive at Montvale: The Social Court provides greenspace of more than 18,000 square feet at the heart of the community. It includes a restaurant with open-air kitchen, bocce ball court, ping-pong table, movies on the lawn, multiple fire pits, and a central, freestanding building dubbed The Hub with a community greenhouse and multiuse indoor/outdoor studio.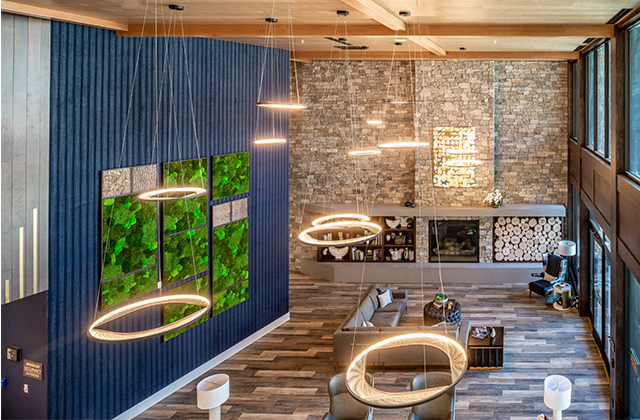 Tobin Davies Photography
Thrive at Montvale: Upon entering the community, residents, families, and friends encounter a welcoming space with high ceilings, a decorative moss wall, and fireplace. Floor-to-ceiling windows frame views of the Social Court.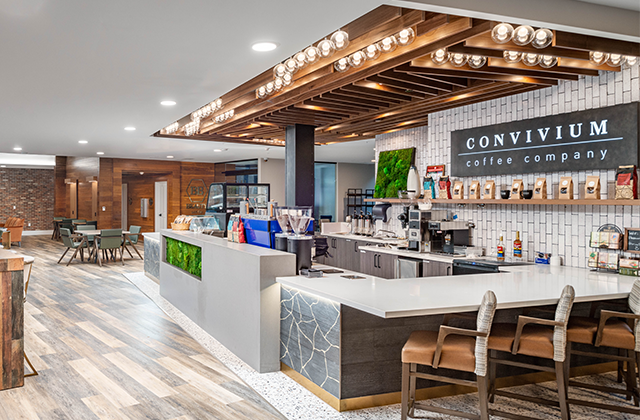 Tobin Davies Photography
Thrive at Montvale: Located right off the lobby with views of the Social Court, Convivium Coffee Co. serves daily coffee creations, gelatos, and grab-and-go snacks. The space was designed with cozy lounges and well-appointed workspaces that encourage residents and the wider community to come together.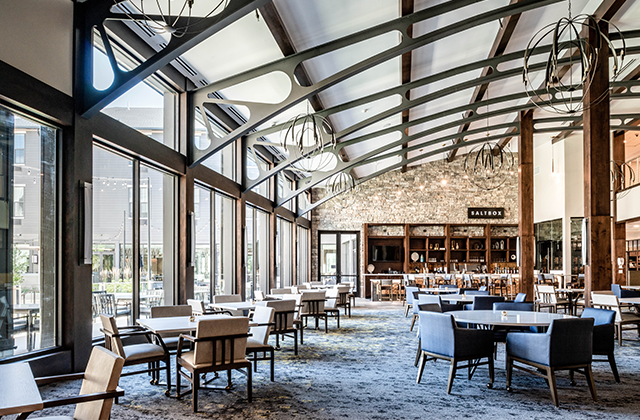 Tobin Davies Photography
Thrive at Montvale: Saltbox restaurant is defined visually by wall-to-ceiling glass along the side facing the Social Court as well as lofty ceilings and exposed architectural beams designed as a modern interpretation of the farmhouse aesthetic.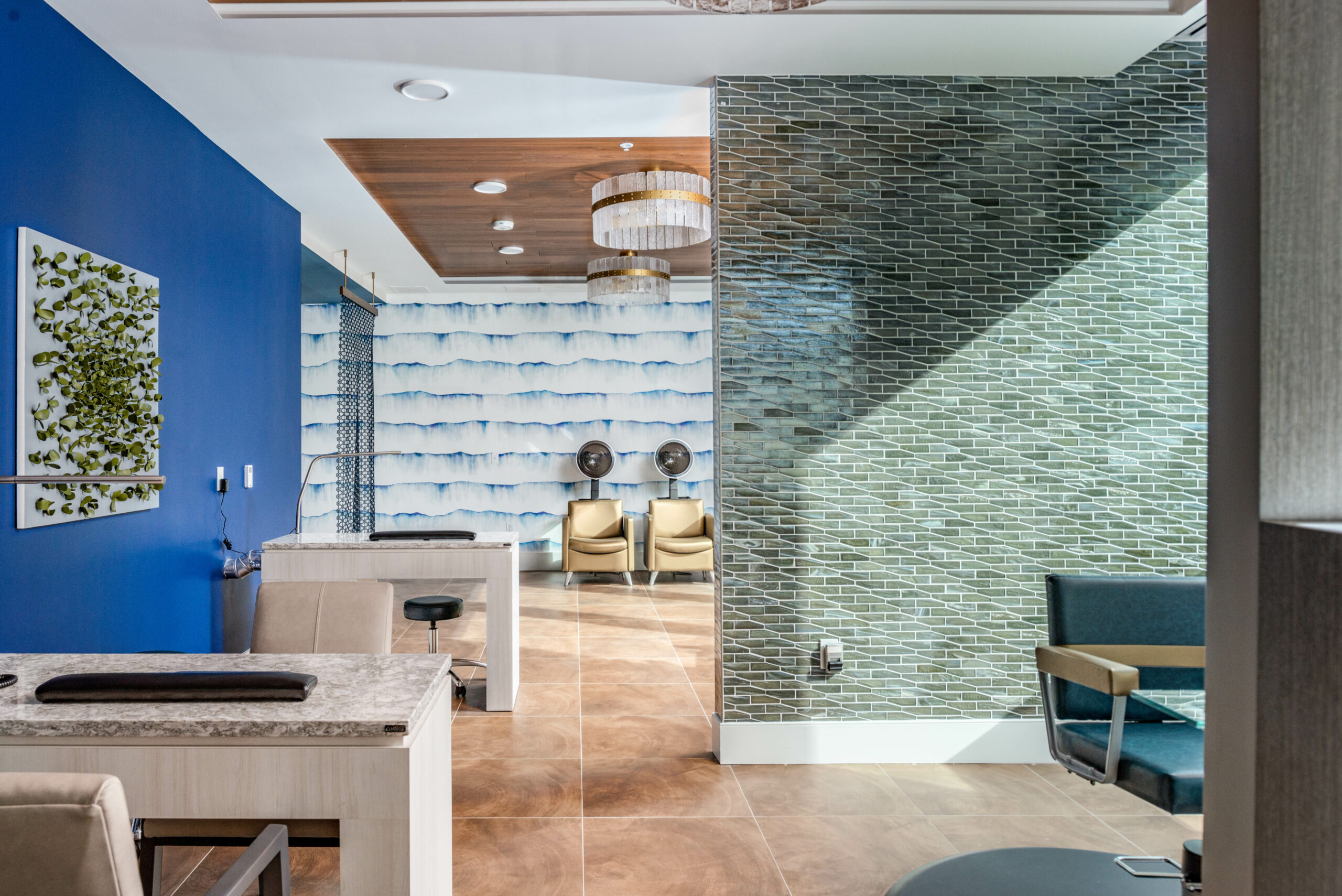 Tobin Davies Photography
Thrive at Montvale: Beauty and the Barber is a full-service salon for both residents and their families. The design approach is gender-neutral; the use of natural elements inside the space continues the community's theme of indoor/outdoor harmony.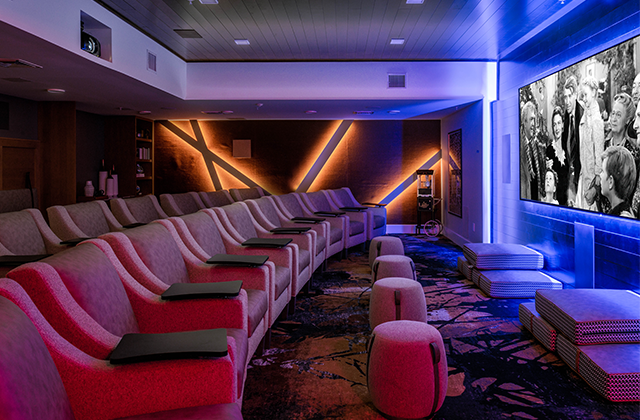 Tobin Davies Photography
Thrive at Montvale: The Cinema boasts surround-sound technology and a cinematic-quality screen where residents and their guests enjoy a diverse selection of films featured daily.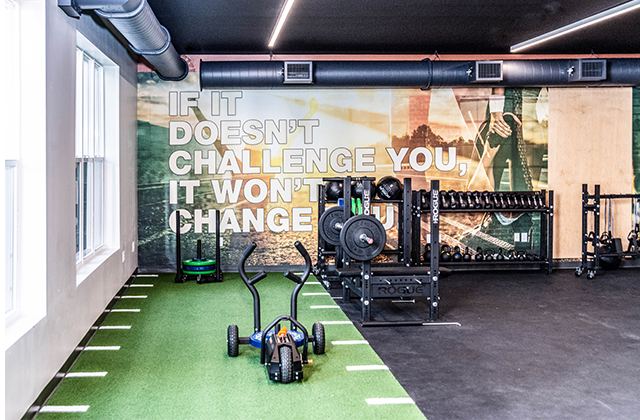 Tobin Davies Photography
Thrive at Montvale: The CrossFit-inspired Athlete Center includes a personal training/physical therapy studio.
---
Thrive at Montvale
When considering the design for its new property in Montvale, N.J., leadership at Thrive Senior Living looked around at senior living communities in the region to see what might be missing.
What they noticed, says Jeramy Ragsdale, Thrive's founder, was that "there wasn't a lot of great integration between indoor and outdoor space. Especially in the Northeast, courtyards and outdoor space seem to be more of an afterthought."
Outdoor amenities are a promising differentiator for senior living communities hoping to appeal to active baby boomers, but for operators, Ragsdale says, it can be a tough sell devoting space for them.
"It's really expensive," he says. "You're not renting that space to residents. It can be hard to justify on a project pro forma."
However, direct feedback from multiple focus groups in the local market helped make it clear to Thrive that the investment would be worth it here.
Outdoor attractions at Thrive at Montvale
Thrive at Montvale, which started welcoming residents in May 2022, contains 203 units for independent living, assisted living, and memory care within 213,000 square feet of building space. With a strong focus on biophilia, the construction features tons of storefront glass and natural materials inside and out.
Even more to the point, the community sits on an 8-acre campus featuring well-lit walking trails, a dog park, and—at the center of it all—a 3/4-acre courtyard (called the "Social Court") designed to be the star attraction.
"The idea was to get people outside as much as possible," says Alan Knox, principal, Reach Architects (Austin, Texas), which served as the design architect on the project. "We supersized the courtyard and made it part of the program. And we situated the amenities in the buildings so that they wrapped around that space, making it an active part of the community."
The Social Court offers an outdoor movie screen, fire pits, water features, the bocce court, a life-size chess board, and plenty of landscaped areas to sit or stroll. Central to this space is The Hub, a clubhouse of sorts where residents can take classes including yoga and art, attend special events, and get their hands dirty in the community greenhouse. Two of the community's four restaurants open onto the courtyard, as well.
The Social Court's location—surrounded by residences—ensures the outdoors are never out of sight, out of mind. And the design team went even further to promote communion with nature, siting indoor assisted living gathering spaces in corners flooded with natural light and surrounded by porches and balconies.
Other spaces, such as the Athlete Center, also have sight lines to the great outdoors. "If you're working out, you can look through the glass across the balcony and through the dining area to the Social Court," Knox says. "You're really able to participate [with nature] through layers of space."
Nature-inspired design
The outdoor aesthetic extends inside the property, as well. "We used a lot of wood and natural stone. One of the first things you see when you walk in is a huge fireplace, so big you could get in it," says Jennifer VaghyJones, senior designer with StudioSix5 (Austin, Texas), the interior design firm on the project.
The massive stone wall that the fireplace is built into carries over to the dining room, serves as the backdrop of the bar, and juts out into the Social Court. A decorative moss wall also greets visitors and residents upon entry, and high ceilings can be found throughout the buildings to enhance the welcoming space.
The exterior architecture draws inspiration from the saltbox homes popular in the Northeast in the 17th and 18th centuries, with a distinctive roofline originally designed to shed snow load. But bringing the past to life was never the goal.
"We don't see a lot of progressive design in senior living," Ragsdale says. "And I think some of that is well intentioned—maybe to better mirror the environments residents grew up in. But it's been our experience that you're not really fooling a resident into thinking they're at home. It's clear the environment is very different from the home they came from. Our goal is to celebrate that, to create a more modern aesthetic but without going so far that it's cold or uninviting."
He points to the liberal use of storefront glass, the metal wire railings on the balconies, and a "residential masonry siding look." Combined with the saltbox roofline, Ragsdale says, "It's a unique aesthetic. The more you study it, the more interesting details you see."
Amenity spaces for memory care
The indoor/outdoor aesthetics and amenities are not limited to independent and assisted living, either.
Memory care residents enjoy similar stone and wood finishes, though with more durable materials and lighter finishes to avoid confusing or disorienting patterns or shadow effects. Additionally, they have an indoor fireplace, outdoor fire pit, and water feature, all with appropriate safety accommodations.
Memory care has its own version of the Social Court as well, which includes a two-hole miniature golf course that's proved to be a big hit.
"We've gotten some jealous looks from our assisted living and independent living residents that they have golf in memory care," Ragsdale says.
Investing in outdoor amenities
Ragsdale says that since 2008, Thrive has completed 42 projects and no two are the same. The brand focuses on urban and suburban infill sites. And while leadership likes to create a fresh look with each community, he says that at least one element from the Montvale project will be used again.
"The concept of a social court—making that large investment in a blended indoor and outdoor space—we will 100 percent replicate that," he says.
Kristin D. Zeit is a contributing editor at Environments for Aging and can be reached at kristinzeit@gmail.com.
Thrive at Montvale project details
Project location: Montvale, N.J.
Project completion date: April 2022
Owner: Thrive Senior Living, Pike Construction Company, AEW Capital Management
Total building area: 211,500 sq. ft.
Total construction cost: Approx. $55 million
Cost/sq. ft.: $275
Architecture: Reach Architects (design architect), HQW Architects (architect of record)
Interior design: StudioSix5
General contractor: Pike Construction Company
Engineering: SNS Engineering (civil), Struck-Albert Engineering (mechanical and electrical consultants through HQW),KSI Professional Engineers (structural consultants through HQW)
Builder: Pike Construction Company
Art/pictures: Metropolitan Gallery
Carpet/flooring: Mohawk Contract Flooring, J&J Flooring Group, Milliken Flooring
Ceiling/wall systems: Armstrong, Parasoleil, Ekena Millwork
Fabric/textiles: Arc Com, Burch, Coral Fabrics, Pallas, Maharam, Pollack
Furniture—seating/case goods: Kellex, Fairfield, H contract, CIX Custom, Charter Furniture
Lighting: Ultralights, Hudson Valley Lighting, Hammerton Studio, Arteriors, Elk Lighting, PBH Hospitality
Signage/wayfinding: Takeform
Surfaces—solid/other: Cambria
Wallcoverings: Innovations; Tri-kes
Other: DuChateau wood paneling
Project details are provided by the design team and not vetted by Environments for Aging.