Sophia At Fox Valley Mall, Aurora, Ill.: First Look
---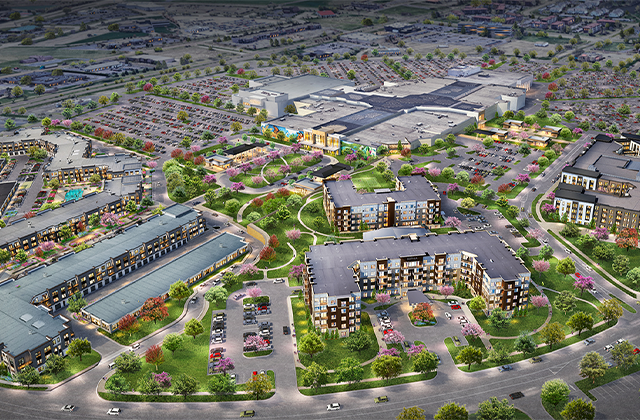 505 Design
Sophia at Fox Valley Mall: An aerial view of the mall redevelopment, shows the integration of the senior living community within the overall mall amenity spaces, which include shopping, dining, a movie theater, parks, walking paths, and outdoor entertainment venues.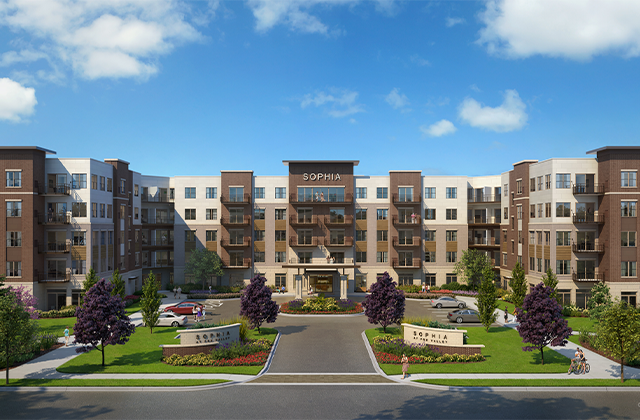 Genesis Studios
Sophia at Fox Valley Mall: The modern building design features large windows, and varied use of materials including brick and stone. Multiple bays and balconies create a façade pattern articulation of light and shadow. A welcoming and symmetrically formal courtyard entrance includes a porte-cochère, which provides a weather-protected drop-off entrance for residents and guests.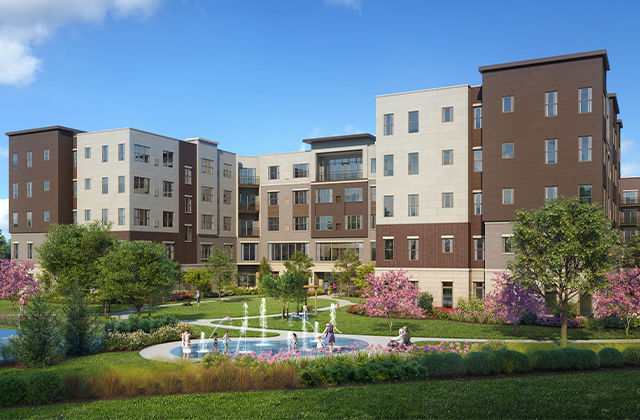 Genesis Studios
Sophia at Fox Valley Mall: The senior living community's top-floor lounge and garden-level lounge overlook the garden courtyard, which includes a splash pad for visiting children, pickleball courts, and multiple garden patios and paths. The elements are designed to integrate and connect with the mall community and promote intergenerational social interactions.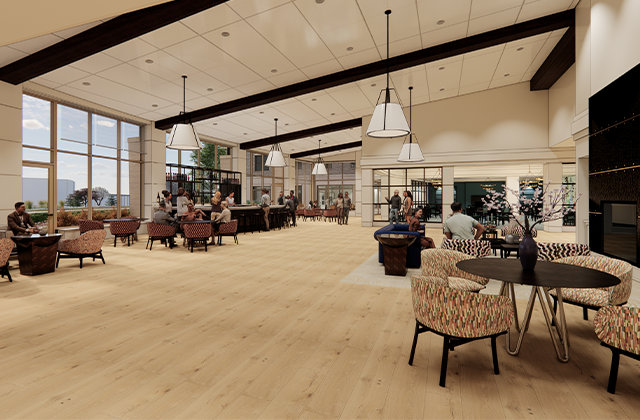 SAS Architects and Planners LLC
Sophia at Fox Valley Mall: The daylight-filled center pavilion is designed to be the social and activity hub of the community and will include a lounge bar and multiple dining rooms with large glass walls overlooking the outdoor terraces and landscaped gardens.

---
Sophia at Fox Valley Mall, Aurora Ill.
Sofia at Fox Valley Mall, a luxury, active senior living community, is being planned in Aurora, Ill., as part of the redevelopment of the mall. The new community will provide a full-care continuum with independent living, assisted living, and memory care services.
Construction on the five-story community is expected to start in early 2024 and be completed by fall 2025.
Guiding objectives of the project are to attract an inclusive, age-diverse population and promote intergenerational connections through mixed-use spaces including retail, dining, theater, multifamily housing, and outdoor activity and gathering spaces.
Modern design details
Designed by architectural design firm SAS Architect and Planners (Northbrook, Ill.), the 288,300-square-foot community features a modern design. Symmetrical vertical massing provides a dynamic façade pattern of light and shadow that will evolve throughout the day.
A varied palette of stone, brick, stucco, and wood-texture materials provides an elegant and contextual design with the overall mall development.
Inside, a two-story lobby entrance leads to the large central pavilion, with vaulted ceilings and large glass walls. The central pavilion is the social and activity hub of the community and includes a living room, bar lounge, and dining rooms overlooking outdoor patios and landscaped grounds.
The project includes 108 independent living units, 84 assisted living, and 22 memory care units. The independent living apartments include an open kitchen/living area layout, balcony, and large bedrooms that have been designed to maximize natural light and views.
The community will also house a fitness center, beauty salon, covered resident parking, and several outdoor areas, including rooftop gardens, a splash pad for visiting children, pickleball courts, and walking paths that connect with all of the mall amenities.
Sophia at Fox Valley Mall project details
Location: Aurora, Ill.
Expected completion: July 2025
Owner: Integrated Development II, Affinius Capital, and Centennial Real Estate
Total building area: 288,300 sq. ft.
Architecture firm: SAS Architects and Planners LLC
Interior design: Hint Harris Interiors
General contractor: Walsh Construction
Engineer: Steen Engineering (mechanical), CE Anderson & Associates (structural), Kimley-Horn (landscape and civil)
Food service design: Direct Supply Aptura