Robert Wertheim Hospice House Offers Comforts Of Home
---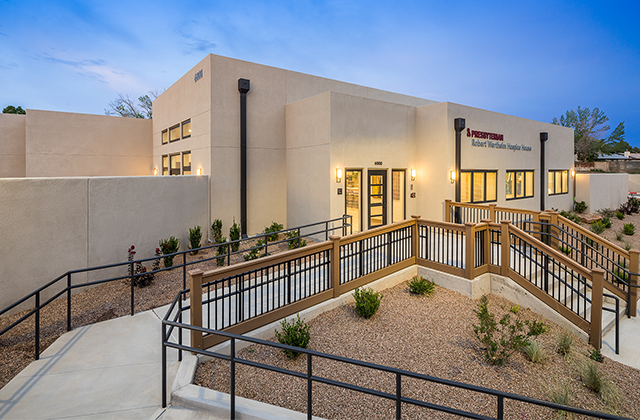 Dekker Perich Sabatini
Robert Wertheim Hospice House: Embedded in the high desert of Albuquerque, N.M., Robert Wertheim Hospice House offers a warm, homelike exterior by utilizing a neutral-tone stucco and incorporating wood stairs and ramps for ease of access to patients, staff, and visitors.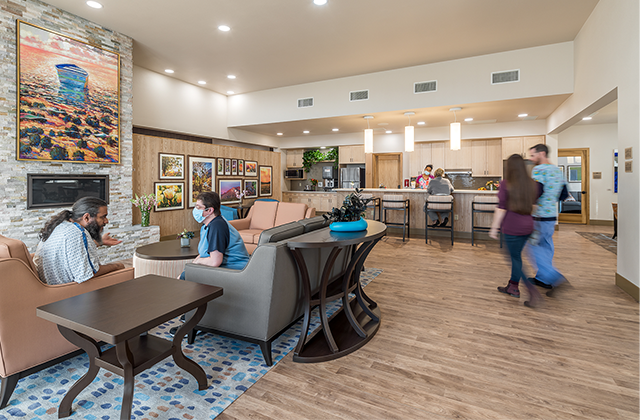 Dekker Perich Sabatini
Robert Wertheim Hospice House: As patients and visitors arrive, they're greeted by the warmth of a large stone fireplace, wrapped by an open living room. The double-height living room is flanked by a large window wall that provides a direct connection to the family courtyard and garden on the north side of the home.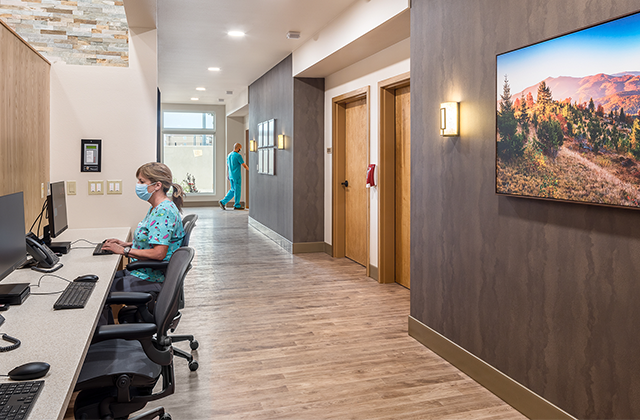 Dekker Perich Sabatini
Robert Wertheim Hospice House: The hospice facility is staffed with registered nurses and hospice specialty medical staff around the clock, providing end-of-life care.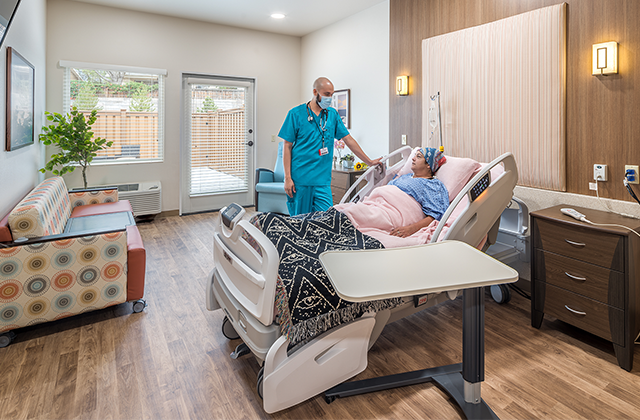 Dekker Perich Sabatini
Robert Wertheim Hospice House: Presbyterian Healthcare Services' new facility is designed to allow all patients, even those who are bed-bound, to move through the home and experience both the inside and outside amenities.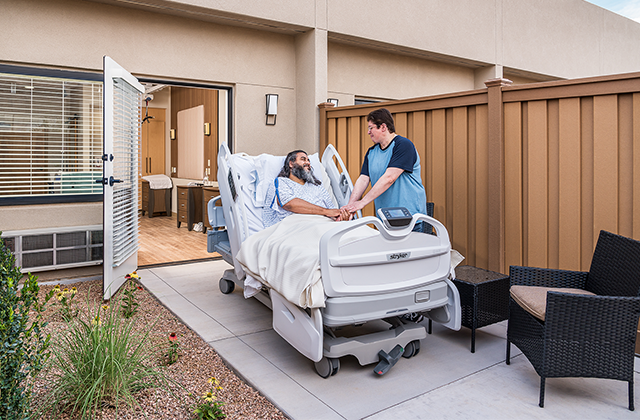 Dekker Perich Sabatini
Robert Wertheim Hospice House: By providing an easily accessible patio from each patient room, visitors and patients can enjoy a hybrid space of comfort and nature.
---
Robert Wertheim Hospice House
Founded in 1908, Presbyterian Healthcare Services, a private, nonprofit integrated healthcare system and provider in New Mexico, began providing hospice care more than 40 years ago as part of a pilot program with Medicare.
Over the years, its services have evolved to include a 10-bed inpatient unit at Presbyterian Kaseman Hospital, while most of its hospice care is delivered through outpatient services, mainly training and supporting family members to care for a patient at home.
"At any given time, we have about 300 or so people around the state that we're caring for in their home environment," says Doyle Boykin, vice president of home health hospice and palliative services at Presbyterian Healthcare.
Expanding access to hospice services
Not everyone has access to a supportive home environment, however, and as Boykin explains, "New Mexico is a very impoverished state … we have a lot of Medicaid-dependent people."
So various Presbyterian Healthcare Services leaders and medical directors began envisioning how the organization could also serve those who didn't have stable housing or the right home environment for at-home services, yet weren't sick enough for hospital-based end-of-life care.
Originally, the idea was to build or modify a home in the community into a residential care setting for hospice services.
"But we quickly realized that the type of care and volume of patients we would see wouldn't render that feasible in the long run," Boykin says. Instead, planners set their sights on building a hybrid concept. The new facility would be designed to residential standards with some clinical features, such as wider hallways and doorways to accommodate a hospital bed and equipment.
An onstage/offstage configuration would keep staff spaces separate from public and patient care areas. "Working from the heart, we wanted to make it more of a special place for people to spend their last bit of time," he says.
Funding a new hospice program
But first, the organization needed to get funding. Presbyterian Healthcare Services receives a hospice reimbursement from Medicare, while room and board costs are covered by the organization's foundation.
Looking to fund its new concept, the organization reached out to the community, with donations from two local families, including former board chair Robert Wertheim, covering the bulk of the $3.2 million dollar build. In-kind donations and services supported it, as well.
The healthcare organization then donated an approximately 10-acre site on Presbyterian's Northside campus for the Robert Wertheim Hospice House, which opened in January.
Homelike design features
Architecture firm Dekker Perich Sabatini (DPS; Albuquerque, N.M.) worked with Presbyterian Healthcare to design the 7,700-square-foot, fully licensed hospice care facility situated in northeast Albuquerque.
Greg Everett, healthcare design manager at DPS and architect on the project, says one of the project goals was to make Hospice House feel inviting to encourage families and visitors to come.
"It's a difficult time, so we wanted this to feel safe and warm and homelike for that reason," he says.
As a result, the facility layout is similar to a typical home, with a small atrium at the main entry. The entrance then leads to a living room, anchored by a large fireplace and windows with views to an outdoor courtyard.
"It's a very strong statement that really invites you to come into this facility and feel like you're at home," Everett says.
Next to the living space is an open, residential-style kitchen, where family members can cook a loved one's favorite meal, and a dining room.
The home's 10 patient rooms are off a hallway, while a separate hallway leads to a built-in nurses' station, as well as a staff break room, medication area, and clean/soiled supply rooms.
Material selection inspired by New Mexico locale
Inspiration for the adobe-style building's exterior and interior design elements came from homes around the state, says Barbara Audet, senior healthcare interior designer at DPS.
"The importance of that was to set up a sense of familiarity and the comfort that [those elements] can offer," she says.
For example, the façade features stucco materials, punch-type windows, and flat roofs, which are common to the area.
Inside, the project team utilized some of the healthcare organization's materials standards that would also support the hospice's residential aesthetic, including wood-look vinyl flooring throughout the facility.
Creating connections to the outdoors, nature
Another important feature is the connection to nature, with windows strategically placed to maximize views of the nearby mountains and an outdoor courtyard that's open to patients, visitors, and families.
Additionally, each resident room also has an enclosed patio space with a door sized to accommodate a patient bed. "They were finding in their other facility a lot of requests [from patients] to experience the outdoors as their time was coming to an end," Audet says.
Each patio also has a gate that leads to a walking path, providing a private way to bring patients out of the facility after they've passed.
Growing patient volumes
While its hospital-based unit remains full, Boykin says the organization has been slowly increasing the patient volume at its new Hospice House, operating at about half capacity for the first few months.
"Like most healthcare organizations, we struggled a bit in hiring staff," he says.
In fact, Presbyterian expected to open last August after the building was completed, but it took several months to hire and train staff.
Going forward, Boykin says the organization estimates operations will cost about $1.2 million a year, with the foundation committed to raising $500,000 a year for the work and the hospital donating the rest.
"It's part of our commitment to the community," he says
Anne DiNardo is executive editor of Environments for Aging magazine. She can be reached at anne.dinardo@emeraldx.com.