PHOTO TOUR: Watercrest Indian Land Assisted Living And Memory Care
---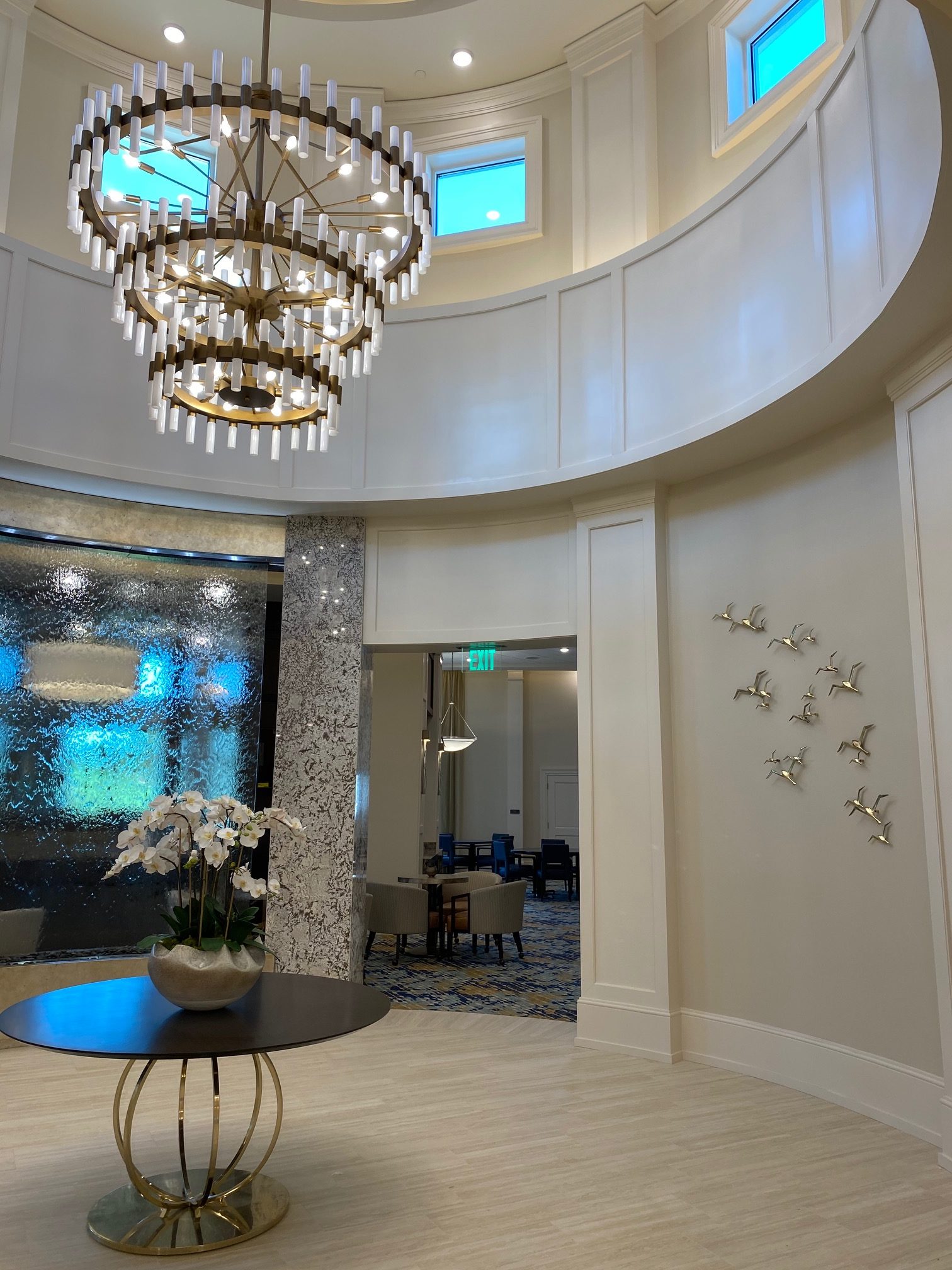 Interior Design Associates Inc.
A circular promenade welcomes residents and visitors with a tiered chandelier, signature water wall, porcelain tile flooring, and natural light from clerestory windows.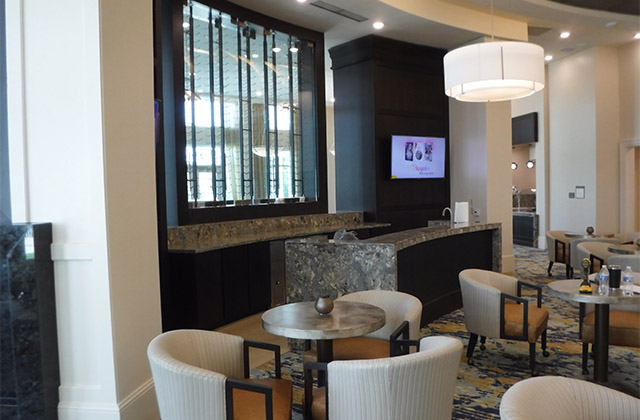 Watercrest Senior Living Group
An intimate café bistro features earthy hues, sophisticated details, a two-sided floating wall wine rack, rich wood accents, and comfortable seating.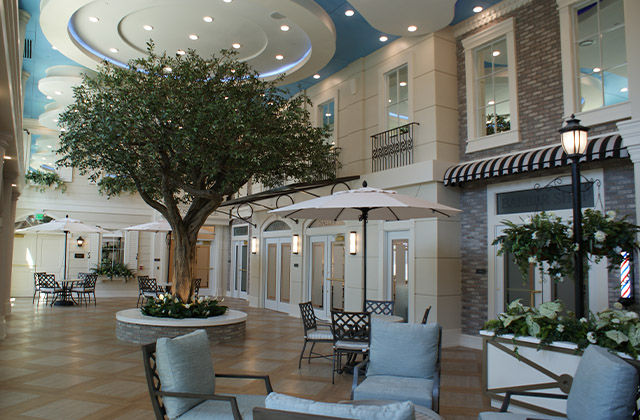 Interior Design Associates Inc.
Designed for easy access from all residences, The Market Street Plaza features a dimensional sky ceiling with circadian lighting, garden-adorned streetlights, and umbrella tables, bakery, salon, and post office.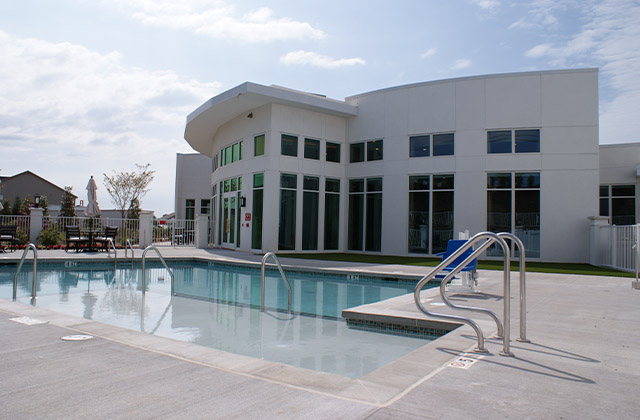 Watercrest Senior Living Group
The resort-style pool offers adaptive access and gradual entry with generous seating areas.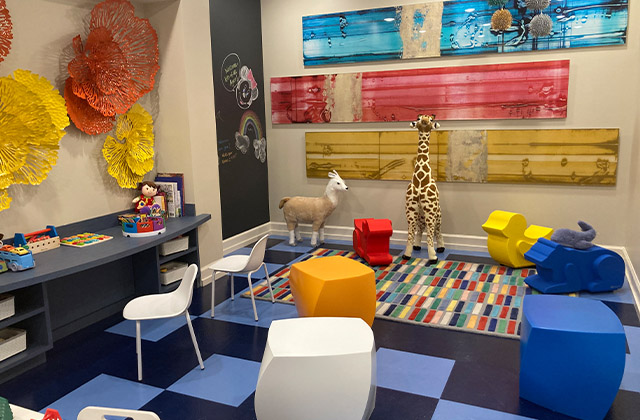 Watercrest Senior Living Group
A Creative Kids Center offers visiting children a fun and purposeful setting, featuring cheerful primary colors, safe and durable furnishings, and tactile sensory activities.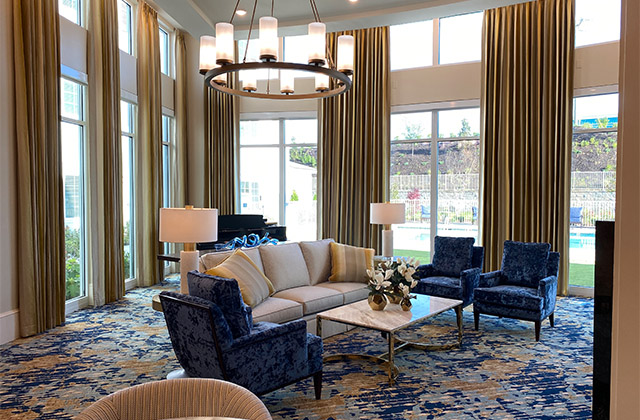 Interior Design Associates Inc.
Inviting gathering areas blend dimensional ceilings, plentiful natural lighting, and a variety of textures wrapping comfortable seating arrangements.

---
Subsequent to a market feasibility report indicating an unmet demand for assisted living and memory care in the Fort Mill-Indian Land, S.C., market but limited planned development to serve the need, developer and operator Watercrest Senior Living Group (Vero Beach, Fla.) and equity partner Waypoint Residential (Boca Raton, Fla.) agreed that a new senior living community reflecting the local countryside would be well received in the market.
Opened in July, the 92,289-square-foot Watercrest Indian Land Assisted Living and Memory Care features 107 units including 75 assisted living and 32 memory care units.
The collective effort by the project team of LifeBuilt Architecture (Kennesaw, Ga.) and IDA (Nashville) gave rise to a welcoming design with interior furnishings and décor that strike a balance between the rustic beauty of the Indian Land countryside and the classic refinement expected by residents of the local community.
Details include natural woods and softly colored stone, accented with shimmering art that pays homage to nature. Textures of leather, crushed velvet, and woven fabric are used for seating, while the design overall leverages a color palette of azure blue, copper, and sunset gold.
Multiple dining venues include the main dining room, called the W Room, and an intimate café bistro. Amenities include an exhibition kitchen with wood fire oven, a children's activity center, and a spa with massage room and relaxation lounge. Outdoor living spaces include manicured courtyards and a resort-style pool.
Assisted living unit floor plans are open with plentiful natural light and rich touches, including granite countertops, porcelain tiled kitchenettes and baths, stainless-steel appliances, and brushed metal fixtures.
The community's signature memory care neighborhood incorporates a Market Street Plaza, offering residents an ambiance of a peaceful streetscape that encourages meaningful interactions and multisensory activities.
Project details:
Facility name: Watercrest Indian Land Assisted Living and Memory Care
Location: Indian Land, S.C.
Completion date: July 2020
Owner: Watercrest Senior Living Group and equity partner Waypoint Residential
Total building area: 92,289 sq. ft.
Total construction cost: $20.6 million
Cost/sq. ft.: Vertical $197/sq. ft.
Architecture firm: LifeBuilt Architecture
Interior design: Interior Design Associates
General contractor: Shiel Sexton
Engineering: HKSE (structural); MBV Engineering (civil)