PHOTO TOUR: Sagewood
---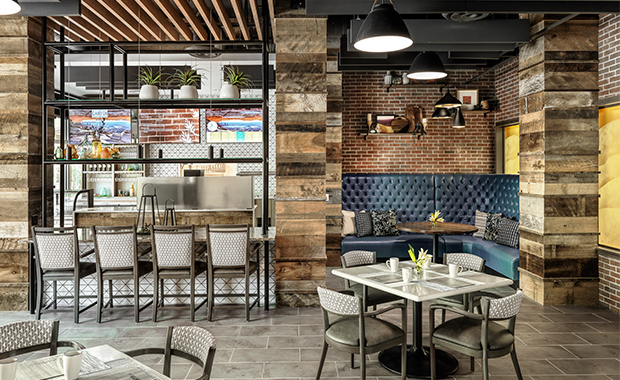 Alise O'Brien Photography
The Canyon Café blends industrial style with a local influence. The enriched materials, textures, and colors bring life into what was a dated café and convenience mart. A connection to nature was also emphasized by colorful glass and ceramics mixed with faux and dried plants.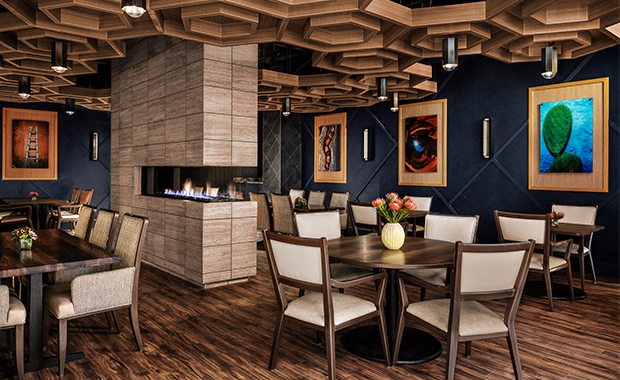 Alise O'Brien Photography
The desert-inspired Sonoran restaurant was originally office space and part of a separate dining venue. It features a custom ceiling inspired by rock formations, a gallery wall highlighting local artwork, and a custom wallcovering.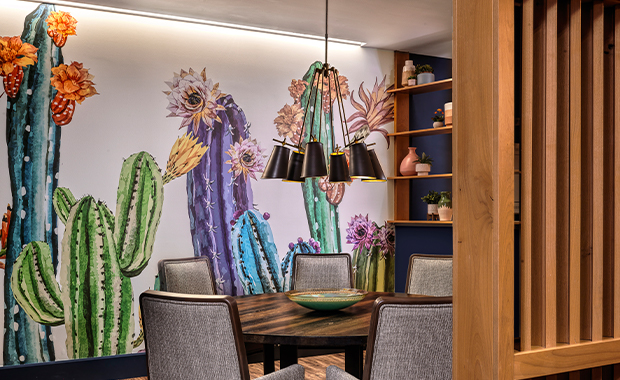 Alise O'Brien Photography
The Sonoran's private dining room includes a custom wallcovering inspired by a rare botanical desert phenomenon, the super bloom. The bright desert florals help balance the strong architectural features within the main dining venue. This intimate gathering space is tucked away using decorative shelves and a wooden privacy screen.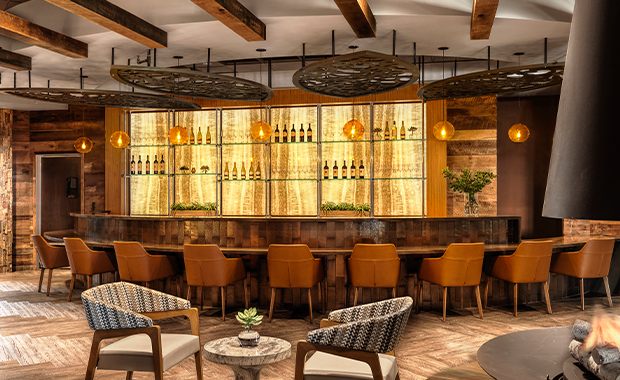 Alise O'Brien Photography
The Owl's Nest full-service bar and restaurant offers a place to catch a game or enjoy the sun setting over the desert mountains. A circular motif is incorporated throughout including the rounded bar, metal fireplace, and ceiling pattern. The ceiling combines wooden beams and decorative screens radiating out from the bar, creating a dynamic effect that helps control acoustics. The overall design was inspired by an abstracted owl's nest.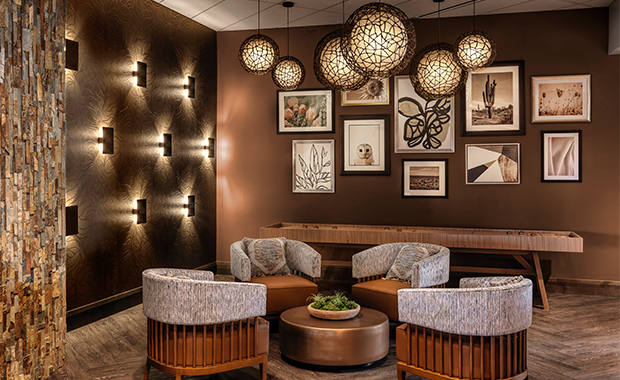 Alise O'Brien Photography
The Owl's Nest lounge is the ideal place for a nightcap or a friendly game of shuffleboard. Floor-to-ceiling windows and industrial accordion-style doors showcase the sweeping desert landscape. The gallery wall features Arizona-inspired artwork. The decorative light fixtures were selected to mimic branches, and the sconces offer playful light dancing across the wall.
---
Sagewood, a resort-style continuing care retirement community (CCRC) within the Sonoran Desert in Phoenix has completed its Phase 2 renovation and expansion, marking the largest construction project since Sagewood opened in 2010.
Phase 1 was completed in 2018 and included Desert Willow, a two-story, assisted living addition to the existing skilled nursing building, as well as a new fitness center, chapel, activity room, dining room, courtyard, salon, and two separate living rooms for residents. It also included The Oasis, a newly constructed 20,700-square-foot event space featuring a lobby space that acts as a pre-function area before events, as well as a lecture hall. Sagewood was 97 percent occupied in Phase 1, leaving room for additional growth and the desire for more hospitality-like venues.
Phases 2 includes a a four-story, 276,454-square-foot independent living community with an underground parking garage. The community features one- and two-bedroom units with den layouts and scenic patio views. As well as expanding the living options, phase 2 includes new amenity spaces for all Sagewood residents, including activity and game rooms, an art studio, putting green, café, formal dining, and an indoor-outdoor tapas bar and lounge.
The design for the community's three new restaurants was inspired by Sagewood's surrounding landscape, which helped weave together the unique dining destinations. Part of the existing Palo Verde dining room and adjacent administrative area became The Sonoran, offering fine dining. The Canyon Café's renovation allowed for a full kitchen to be added, allowing the café to be open all day by transitioning from morning coffee to evening nightcaps. The Owl's Nest is a tapas bar that perches on the fourth floor overlooking the McDowell Mountains.
Project details:
Facility name: Sagewood
Location: Phoenix
Completion date: November 2020
Owner: Life Care Services
Total building area: 279,000 sq. ft. (Phase 2 new construction and renovation)
Total project cost: $100 million
Cost/sq. ft.: $358
Developer: LCS Development
Architect: Todd & Associates
Interior designer: Spellman Brady & Company
General contractor: The Weitz Company
Structural engineer: Caruso Turley Scott
Mechanical/electrical engineer: MSA Engineering
Builder: The Weitz Company