PHOTO TOUR: Mirabelle 
---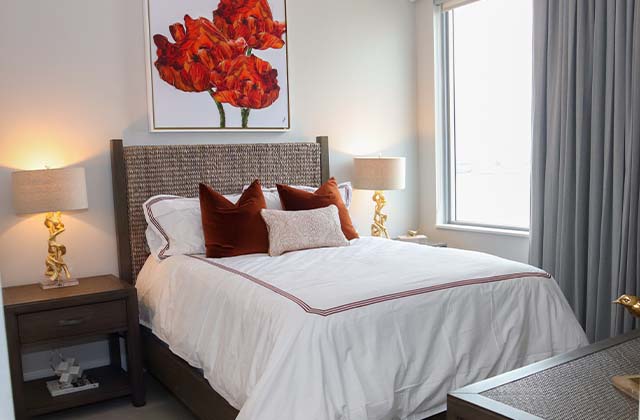 The large windows and abundant natural light in memory care units pair well with the neutral wall color and carpet.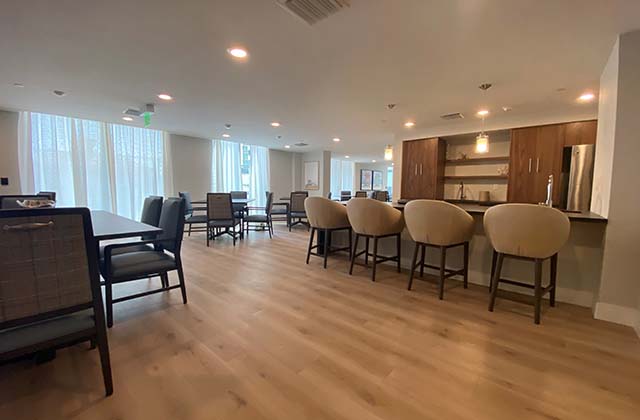 The wide plank floors feature a light wood tone that highlight the soothing blue, gray, and tan seating. Units and common areas have laminate and/or solid flooring to reduce trip hazards.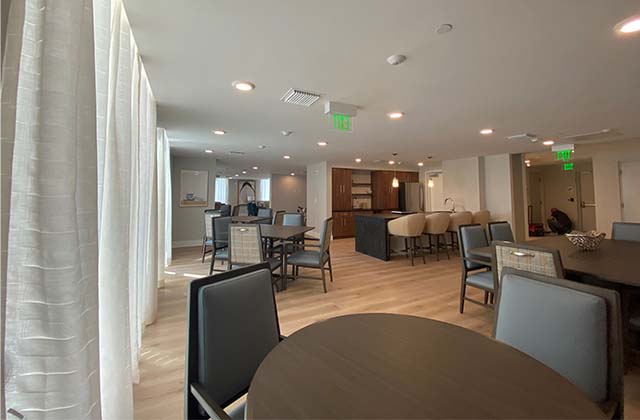 Oversized windows with neutral coverings create a bright and airy environment.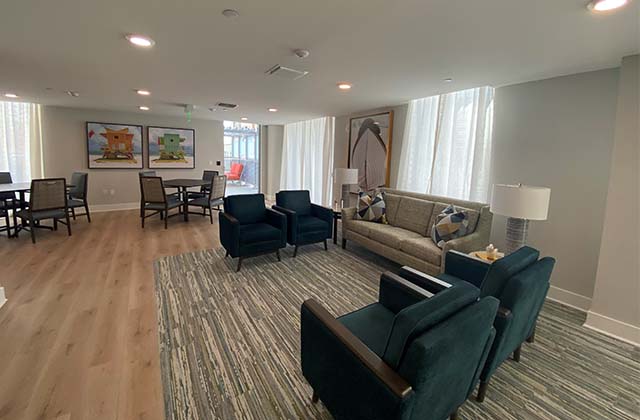 Plush chairs with a mid-century feel create a seating area that is highlighted by oversized art.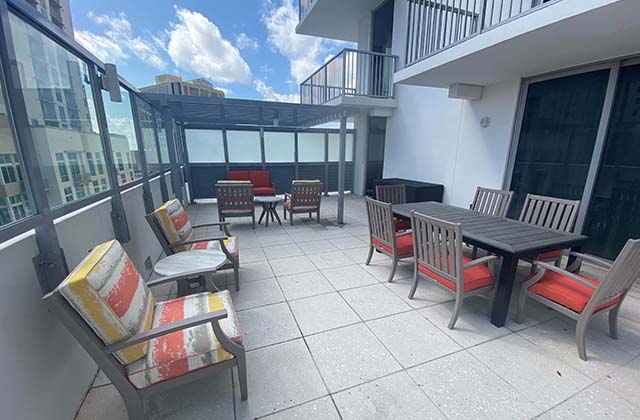 The outdoor patio features bright coral and yellow upholstery on washed gray furniture. The glass walls surrounding the patio alternate opaque and translucent. Purpose-built gathering spaces are designed to help residents remain active with staff.
---
A new memory care neighborhood opened in November 2021 at Mirabelle, a community in the Dadeland area of Miami. The project centered on the conversion of one floor of independent living space into memory care units to serve residents with dementia and memory loss.
The neighborhood comprises luxury apartments and living space on the eighth floor of the Mirabelle community by converting 15,075 square feet of space. It includes a dining area, living area, engagement area, and a "namaste room" for quiet reflection. There are staff offices located on the floor, and the neighborhood features natural light from large windows, as well as easy-access bathrooms and showers and spacious closets.
The opening of the memory care neighborhood allows Mirabelle to serve seniors in several phases of their retirement years, with independent living, assisted living, and connected living that is designed for residents who need extra help with the tasks of daily living but who aren't yet ready for the memory care community.
The project was designed by the architecture firm Nichols Brosch Wurst Wolfe & Associates (Coral Gables, Fla.). Construction management was overseen by Braemar Partners (Marietta, Ga.), and the general contractor was Current Builders (Pompano Beach, Fla.). Sagestone Design (Atlanta) was the interior designer.
Project details:
Facility name: Mirabelle
Location: Miami
Completion date: November 2021
Owner: The Carlyle Group and Greystar
Total building area: 15,075 sq. ft. (renovation)
Total construction cost: N/A
Cost/sq. ft.: N/A
Architecture firm: Nichols Brosch Wurst Wolfe & Associates
Construction Management: Braemar Partners
Interior design: Sagestone Design
General contractor: Current Builders