PHOTO TOUR: Columbia Renaissance Square Senior Residences
---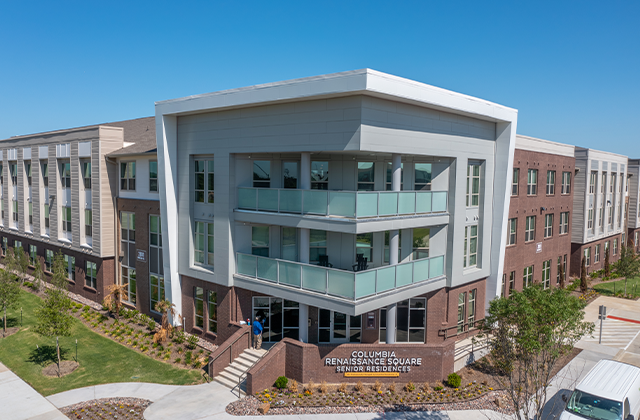 Clark Cabus Photography
Renaissance Square Senior, phase two of Columbia Renaissance Square, features 120 units specifically designed for older adults. This contemporary building corner anchors the major intersection of this phase and provides main entry to the leasing office, including public areas above with glass railing. As a building focal point, it faces phase one on the right and the memorial green park across the intersection.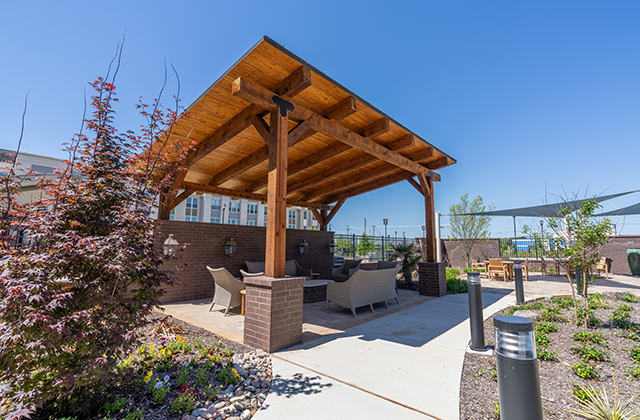 Clark Cabus Photography
Plentiful outdoor spaces provide a calming environment for residents to stay active and be social. The pictured residential courtyard serves as a buffer between the building and the parking lot, with articulated CMU landscape walls to filter noise and cars while at the same providing privacy for residents and maintaining a safe and comfortable space for their morning and evening strolls. The pavilion shown offers covered sitting to residents.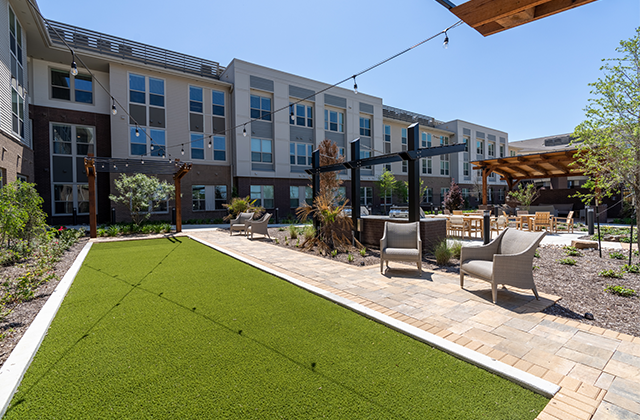 Clark Cabus Photography
Artfully designed green spaces and patios provide additional seating and nourish a friendly atmosphere by providing a vibrant connection to nature. Residents can relax and enjoy the plentitude of seating options.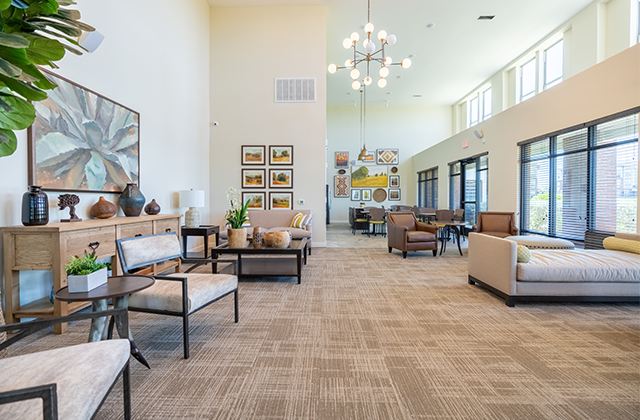 Clark Cabus Photography
Classic and sophisticated, interior design elements work together to generate a hospitable energy for residents. This community room allows residents to mingle and relax. A double-height ceiling provides more natural light and helps with the development's sustainability goal by reducing reliance on artificial lighting and saving energy. The dusty cross-hatched carpet created a neutral foundation that was built upon with subtle, neutral fabrics and leathers for a timeless look. The off-white walls (SW Grecian Ivory) and oversized light fixture emphasize the high ceilings and spaciousness of the room. Pops of color such as straw yellow, burnt orange and succulent green are incorporated through the artwork and accessories to add energy to the room.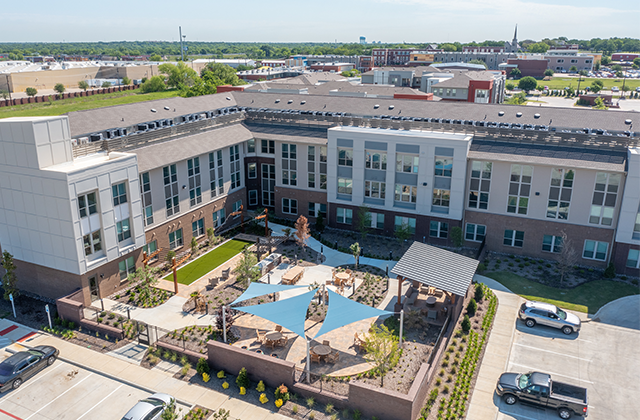 Clark Cabus Photography
A brick masonry base on the building serves as an anchor to the foundation with siding and modern panel above. Popper out elements, such as bay windows provide additional square footage in the units and increase window sizes to create more natural light within the apartments. With AC condensing units on the roof, this allows the owner to maximize land use outside the building to have more green space and landscape, aiding in the overall sustainability design.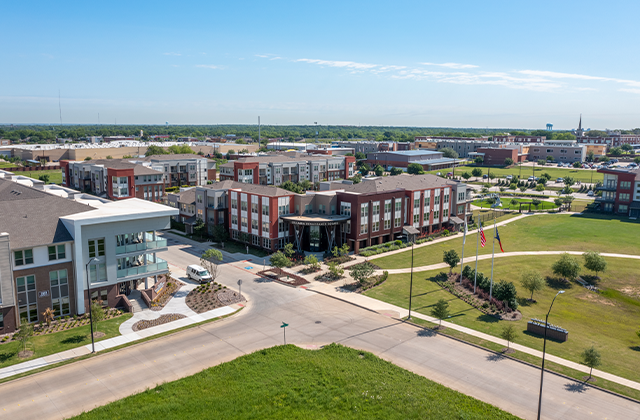 Clark Cabus Photography
Showing phase two in context with phase one and the memorial green park on the right, this illustrates design planning with urban building edges along streets and how building corners activate the major intersection. Each phase offers a distinct architectural design that functions in harmony with one another.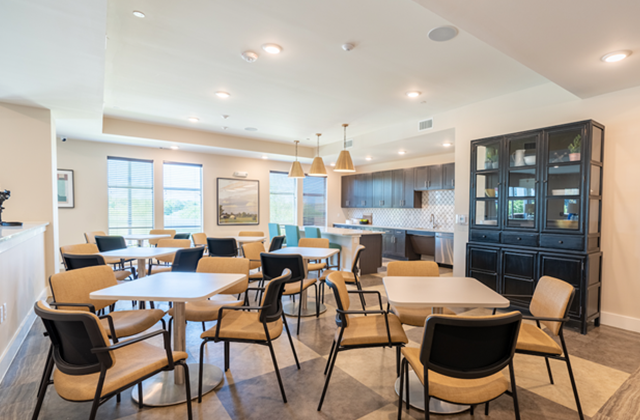 Clark Cabus Photography
The community warming kitchen provides residents with an open multipurpose space and can function as a dining area, event space, and dance hall. With flexibility on furniture layout, this provides residents different programming for weekly activities. The three flooring selections (checkerboard motif plus border) add visual interest to this area and help it stand out from the surrounding amenity space. The black freestanding cabinet adds depth and hominess while the brass pendants and golden yellow upholstery tie together nicely and warm up a room that's full of hard surfaces.


---
Columbia Renaissance Square is a multiphase community built in Fort Worth, Texas, by KWA Construction (Addison, Texas). Phase II, Columbia Renaissance Square Senior Residences, is a 120-unit 62+ affordable senior housing development. Phase I, completed in 2018, comprises 140 one-, two- and three-bedroom mixed-income units—of which 85 percent are affordable housing for low-income families, seniors, and disabled individuals.
Developer Columbia Residential (Atlanta) tapped JHP Architecture (Dallas) to design Columbia Renaissance Square Senior Residences. Providing improved energy efficiency, better indoor air quality and lower utility costs, the community was built with the purpose to achieve National Green Building Standard certification. This development not only provides residents with safe living conditions, but it also helps reduce financial stress with the use of energy-efficient features to lower utility costs. Developed in partnership with nonprofit consulting firm Purpose Built Communities (Atlanta), the overall goal for the Columbia Renaissance Square apartments is to utilize a mixed-income housing strategy and promote community wellness through a rich network of community and support services.
Crafted for quality that is meant to last and using sustainable materials, the three-story, 95,015-square-foot building employs green label carpet, low-VOC paint and sealant, and thermoplastic polyolefin (TPO) roofing that is high on the reflectance index. In addition, water sense plumbing fixtures and Low E lighting fixtures are used throughout all the units and building. As such, one- and two-bedroom units are oriented to provide an inviting, safe environment for older adults. The residences offer senior-friendly unit layouts with grab bars in the bathroom and transitional unit finishes that convey a modern, yet age-appropriate feel, including proper lighting output and low maintenance finishes that are important for the demographic. Open floor plans offer full-size kitchens, separate dining areas and soaring 9-foot ceilings. Units include Energy Star appliances as well as ceramic tile in bathrooms, vinyl plank flooring in living areas, and 42-inch cabinets with an espresso finish in kitchen spaces.
Interiors were designed by Holt Interiors (Atlanta) for both the multifamily and senior amenity areas. Embracing the earth tones and natural textures of the surrounding environment, the overall color schemes, fabrics, artwork and accessories were all selected with Texas in mind. Community features available to residents include a fitness center, wellness room, catering kitchen and community clubhouse. In addition, a business center provides Wi-Fi and computers and a special theater room offers movie screenings. Columbia Renaissance Square Senior Residences includes tree-lined pathways for walking and bicycling, a landscaped gazebo, and a paved courtyard.
Project details:
Facility name: Columbia Renaissance Square Senior Residences
Location: Fort Worth, Texas
Completion date: December 2020
Owner: Columbia Residential
Total building area: 95,015 square feet
Total construction cost: 14,191,452
Cost/sq. ft.: $149.360122
Architecture firm: JHP Architecture
Interior design: Chris Holt, Holt Interiors
General contractor: KWA Construction
Engineering: PHA Consulting Engineers Inc.
Builder: KWA Construction