Lyngdal Healthcare Centre, Norway: Photo Tour
---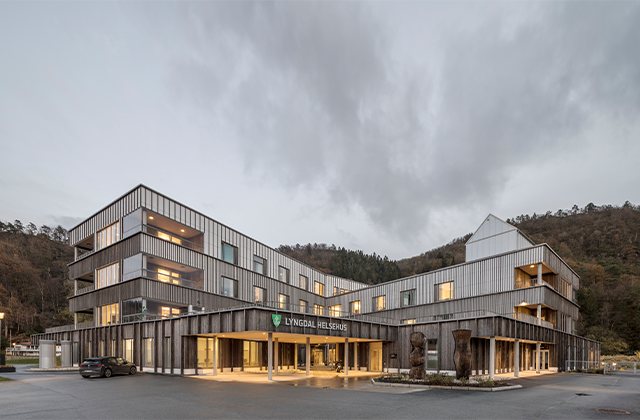 Adam Mørk
Lyngdal Healthcare Centre: The building is designed to integrate with the local community with shared public healthcare services and amenity spaces. The building opens up by the main access and features a natural materials palette including wood cladding.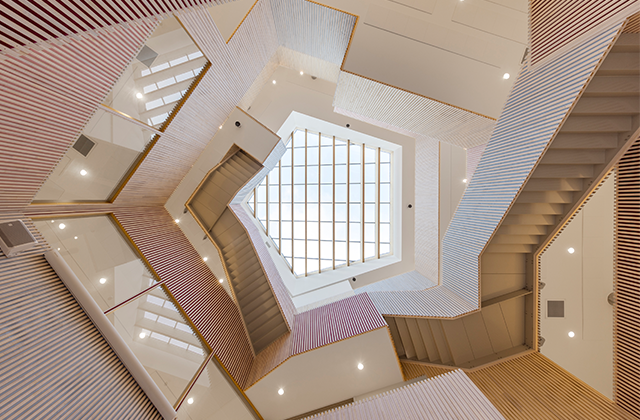 Adam Mørk
Lyngdal Healthcare Centre: The atrium is an active center of the building and helps bring daylight deep into the building and common spaces where residents gather to eat and socialize.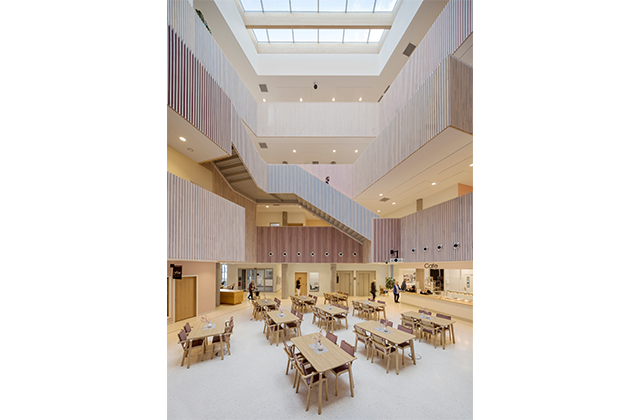 Adam Mørk
Lyngdal Healthcare Centre: Stairs in the atrium encourage movement and connections between the different facilities, units, and levels. As the heart of the nursing home, the atrium provides a quiet and active backdrop for residents, families, and community members to gather.
Adam Mørk
Lyngdal Healthcare Centre: The building is closely related to the characteristics of the Norwegian landscape that provides a powerful backdrop and is visible from many parts of the building, inside and outside. An existing stream has been redirected, so it now runs through the outside areas and the surrounding park.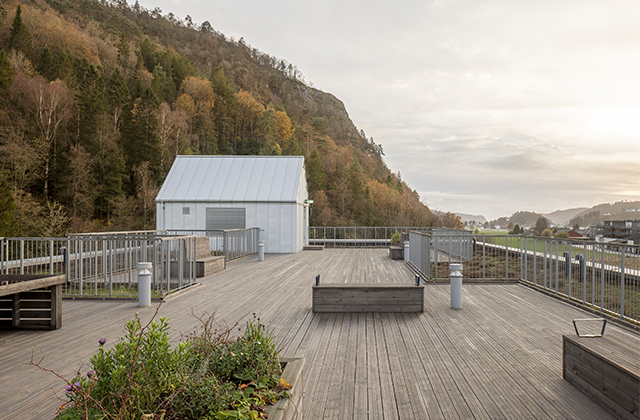 Adam Mørk
Lyngdal Healthcare Centre: A variety of outdoor spaces encourage residents and staff to utilize the grounds in different ways. Recreational pockets scattered throughout the site provide space where residents can seek solitude or enjoy nature in company with others. Patients can access the outdoor spaces from common rooms; large rooftop terraces with sensory gardens are also available.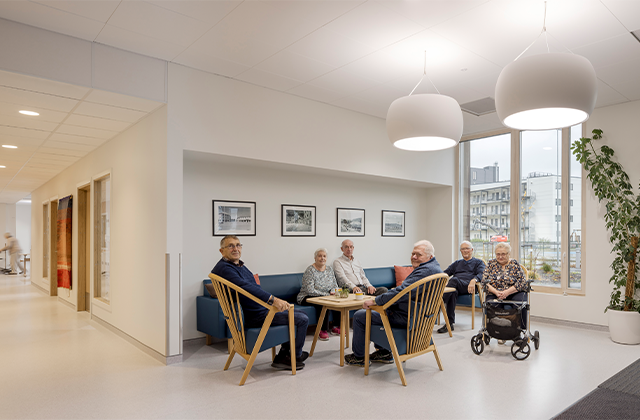 Adam Mørk
Lyngdal Healthcare Centre: User involvement and focus group, including with the client, politicians, suppliers, and users, helped inform and guide the design process. The goal was to create an environment where residents would feel welcome and at home, as well as a pleasant and efficient work environment for staff.


---
Lyngdal Healthcare Centre, Norway
Lyngdal Healthcare Centre, in Lyngdal, Norway, is a skilled nursing home and healthcare center that's designed to facilitate social interaction among residents and the community at large with shared public amenities.
Designed by NORD Architects (Copenhagen, Denmark) and 3RW Arkitekter (Bergen, Norway) the entire community includes a large central atrium. The design focuses on providing ample daylight, views to the Norwegian landscape and outside gardens, and a calming color. Five wings branch out from the atrium to the residences and care areas.
The project includes long- and short-term care, temporary care residencies, daycare programs, and home care services.
Intergenerational connection
The skilled nursing home and healthcare centers amenities, including a salon, café, fitness center, laundromat, and day center, are shared between residents and locals to help create intergenerational connections. Relatives are also welcome to stay for dinner and overnight.
Dental, nursing, and physiotherapy and occupational therapy services are also offered.
Lyngdal Healthcare Centre project details
Facility name: Lyngdal Healthcare Centre
Location: Lyngdal, Norway
Completion date: June 2020
Owner: Lyngdal Municipality
Total building area: 134,549 sq. ft.
Total construction cost: $43.2 million
Cost/sq. ft.: N/A
Architecture firm: NORD Architects and 3RW Arkitekter
Interior design: NORD Architects and 3RW Arkitekter
General contractor: Kruse Smith Contractor AS