FIRST LOOK: Arbor Terrace Marlton
---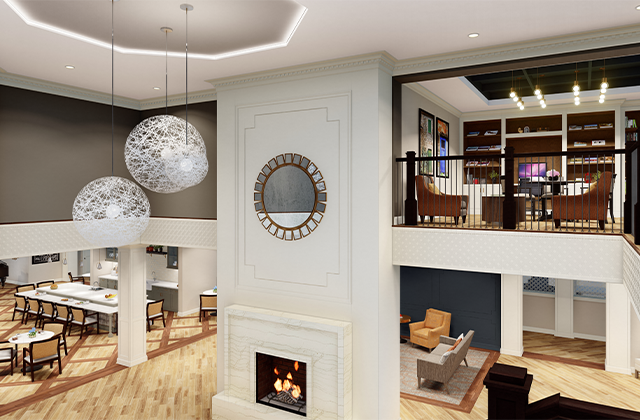 Meyer Senior Living Studio
Arbor Terrace Marlton: The double-story lobby is the central hub of the community, connecting several nearby amenities including the sunroom, bistro, fireplace lounge, and library. The lobby also highlights a double-story high fireplace with sophisticated millwork detailing and modern fireplace surround.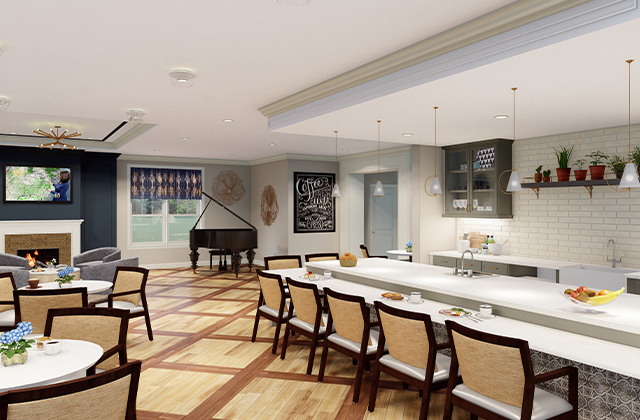 Meyer Senior Living Studio
Arbor Terrace Marlton: A large, open bistro was programmed directly adjacent to the lobby. It offers a variety of seating options including four tops, counter seats, and lounge seating near the inviting fireplace. Large windows bring in natural daylight.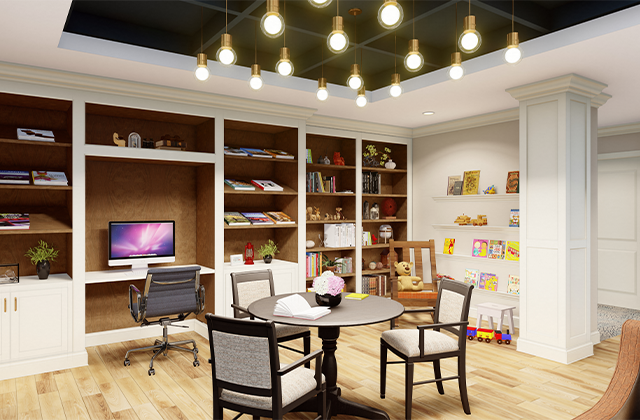 Meyer Senior Living Studio
Arbor Terrace Marlton: The library, overlooking the lobby on the second floor, features custom millwork, specialty light fixtures, and a children's nook that welcomes residents and their family members.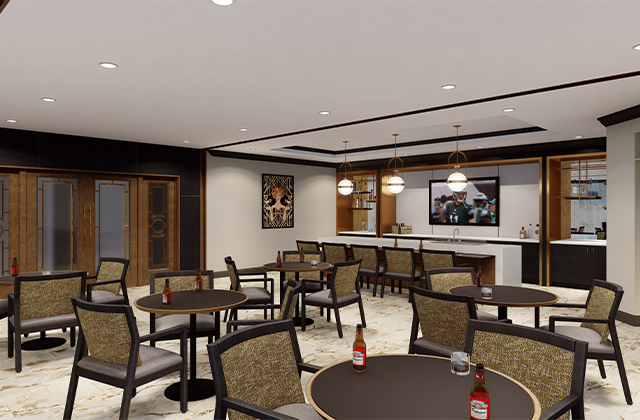 Meyer Senior Living Studio
Arbor Terrace Marlton: Thoroughly curated art deco-style art and expansive bronze metal detailing on the bar design emphasizes the luxurious speakeasy, which provides a space for social gatherings and exciting sports events.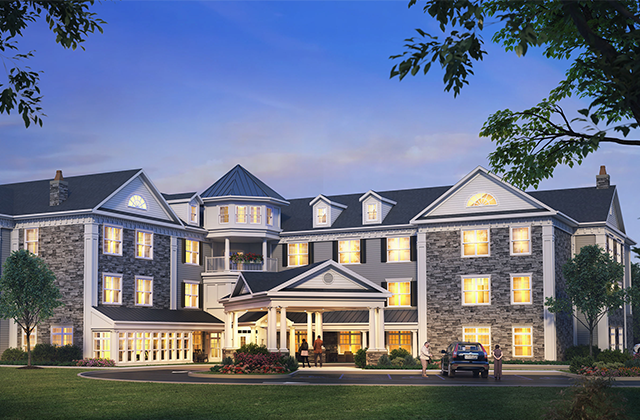 Meyer Senior Living Studio
Arbor Terrace Marlton: The exterior of Arbor Terrace Marlton mirrors the local suburban aesthetic. Its colonial architecture includes shades of gray stone, horizontal siding, and metal roofing along with elegant white windows, corner pilasters, and trim details.
---
Arbor Terrace Marlton is a luxury 87-unit assisted living and memory care community in Marlton, N.J., outside Philadelphia.
The community is developed by national senior living development firm Capitol Seniors Housing (Washington, D.C.), managed by The Arbor Company (Atlanta), and designed by the Meyer Senior Living Studio (Ardmore, Pa.).
It includes almost 20,000 square feet of common space with purposeful and socially connected amenities such as a common dining area, private dining room, movie theater, multiple living rooms and lounges, bistro, hair salon, and outdoor garden areas featuring a pond.
The site, which was previously undeveloped, is located at a prominent intersection that's near new market-rate housing developments. The architecture plays off the strong Federal style that is prevalent throughout the township but retains a residential feel using stone and clapboard siding. Large, forward-facing gables, elegantly trimmed corner pilasters, roof dormers, and chimneys also add to the classic style of the building façade.
On the interior, the design combines traditional detailing, contemporary furnishings, and modern lighting fixtures to create a welcoming and distinctive home for residents. Classic millwork details, such as dentil crown molding and fluting, strike a memorable balance with quartz fireplace surrounds and metal detailing.
Artwork and sculptures with nature-inspired overtones infuse the interior with a grounded, calming feel, encouraging residents to relax and socialize.
Project details
Facility name: Arbor Terrace Marlton
Location: Marlton, N.J.
Expected completion date: August 2022
Owner: Capitol Seniors Housing
Total building area: 76,500 sq. ft.
Total construction cost: Confidential
Cost/sq. ft.: Confidential
Architecture firm: Meyer Senior Living Studio
Interior design: Meyer Senior Living Studio
General contractor: IMC Construction
MEP Engineering: Concord Engineering
Structural Engineering: Bala Consulting Engineers