Rose Villa Transforms Senior Living Campus In Portland, Ore.
---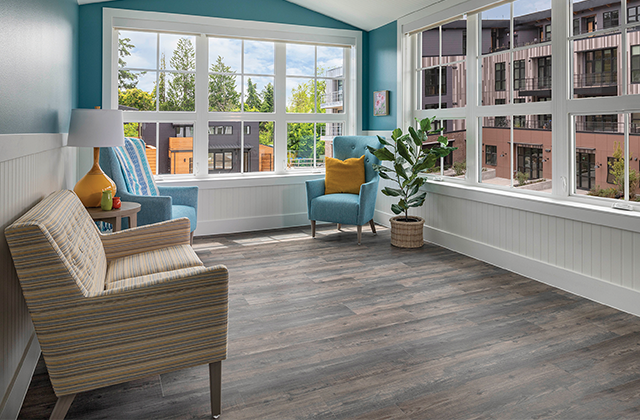 David Papazian Photography Inc
Rose Villa Senior Living: Each resident floor at Madrona Grove houses a sunroom with views of the courtyard. Design materials and accents support the skilled nursing community's modern farmhouse style.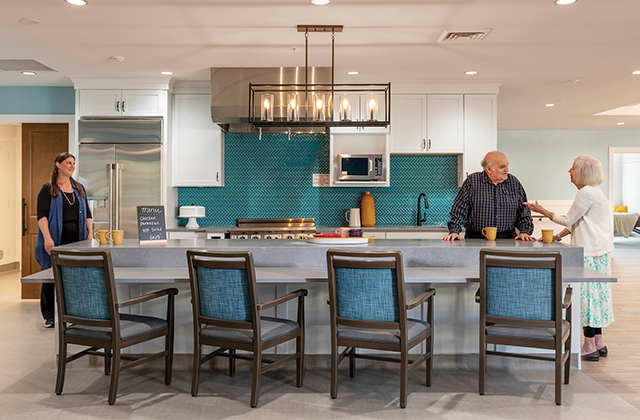 David Papazian Photography Inc.
Rose Villa Senior Living: The project's warm farmhouse aesthetic  is expressed in each neighborhood kitchen through wood-look luxury vinyl tile flooring, white cabinetry and built-ins, and black metal light fixtures.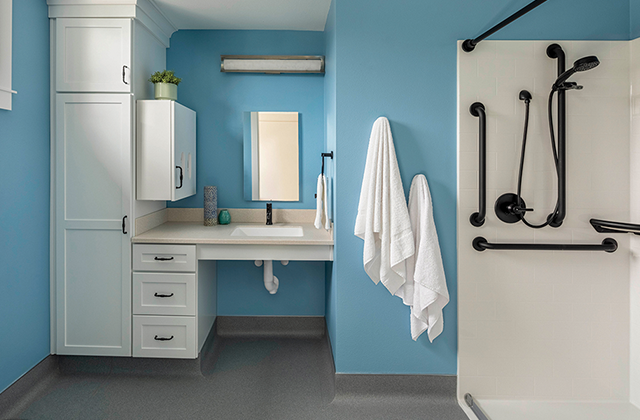 David Papazian Photography Inc.
Rose Villa Senior Living: Resident bathrooms at Madrona Grove have walk-in showers, modern fixtures, and ample storage, and continue the modern farmhouse theme with fixtures and hardware.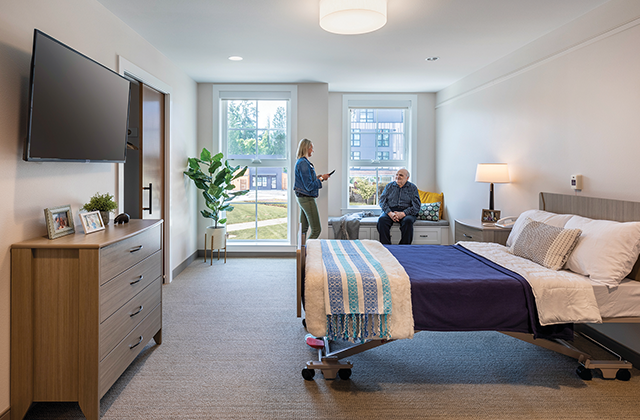 David Papazian Photography Inc.
Rose Villa Senior Living: Resident rooms at Madrona Grove focus on independence and an indoor-outdoor connection with large windows and built-in window seats.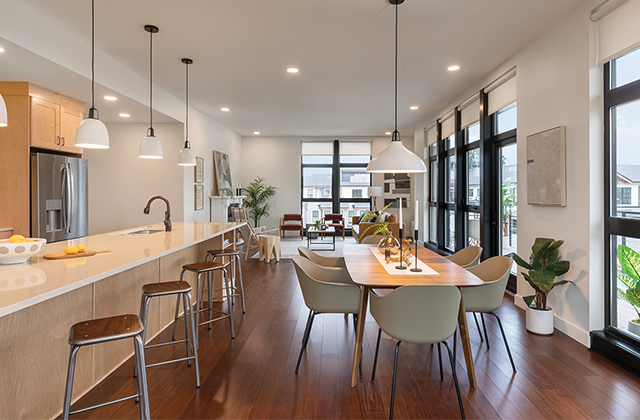 David Papazian Photography Inc.
Rose Villa Senior Living: Residents of Schroeder Lofts can select their own finishes including countertops, flooring, cabinetry, and lighting.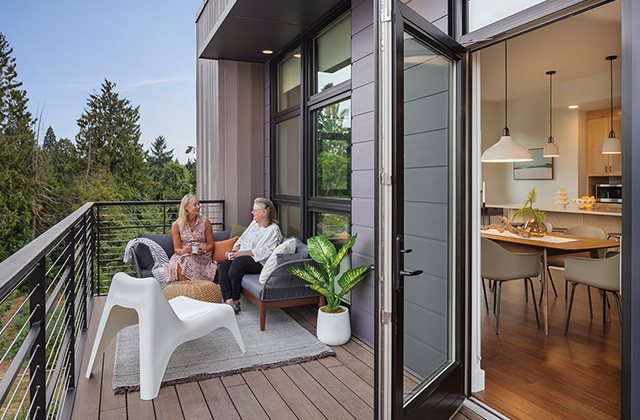 David Papazian Photography Inc.
Rose Villa Senior Living: Every loft offers residents opportunities to connect with the outdoors via floor-to-ceiling windows, private balconies, and a common rooftop terrace on the fourth floor.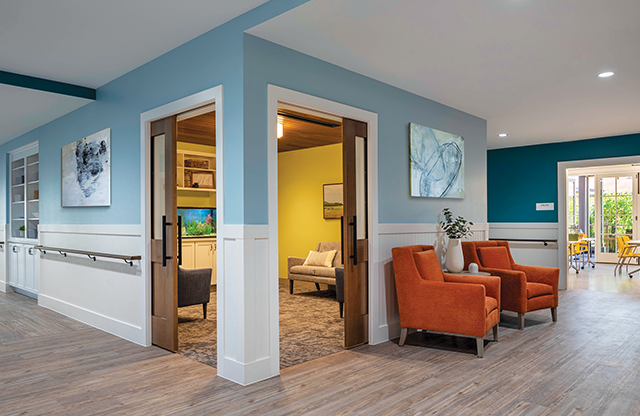 David Papazian Photography Inc.
Rose Villa Senior Living: Madrona Grove has many resident amenity spaces such as a cozy den and an arts and crafts room. The color palette for each floor is influenced by the Oregon landscape, including coastline-inspired colors on the first floor.
---
In 2010, leaders of Rose Villa Senior Living started working on a master plan to reinvent their long-outdated and financially burdened 1960s campus in Portland, Ore.
A key objective in that effort was to address an existing 24-hour nursing care facility that was, in CEO Vassar Byrd's words, "terrible." "Physically, the building—an old U-shaped nursing home—was falling apart," she says.
The decision was made to replace the building and, further, to "reconfigure and reimagine what it's like to live in 24-hour care," Byrd says.
Planning a campus transformation
However, the project had to be put on hold until two other phases of the resulting campus redevelopment were completed, including loft apartments and pocket neighborhood cottages in Phase 1 (completed in 2016) and Phase 2's four new independent living neighborhoods totaling 42 new residences (completed in 2019).
Those projects allowed Rose Villa to build enough financial strength through new residents and new revenue to afford the skilled nursing replacement, says Byrd.
"The nursing home part is very expensive to build. And [in] our model, there are no entrance fees for new residents moving into the clinical services area to offset the cost," she says.
By 2018, design planning for Phase 3 began, with construction kicking off in 2020. Two years later, the new Madrona Grove opened in June, bringing a four-story community with long-term intermediate care on the first floor and a 32-unit residential care facility on the second floor.
Built together with Schroeder Lofts, a five-story independent living community with 35 units (completed three months later), the project marks the culmination of the 10-year redevelopment of Rose Villa.
Two senior living communities in one
As part of the goal to extend the campus' main hub, Madrona Grove and Schroeder Lofts were built on an existing site—on the main road in front of the campus and another main access road. The location was selected to allow the new Madrona Grove building to be "front and center."
"We saw it as a real statement about Rose Villa and what they're doing—a calling card," says Sid Scott, principal at Scott Edwards Architecture (Portland, Ore.), which served as architects for the project.
In alignment with Rose Villa's overall design concept as a town with a diversity of buildings instead of one homogenous style, distinct identities were created for both buildings.
Grove's modern farmhouse design, inspired by a farmhouse image Byrd shared with the project team, supports the goal to design a space that "looks, feels, and operates like a residential home, not an institution," Byrd says.
Including a double gable and a covered porch, the four-story, steel-frame building further establishes a sense of warmth with a façade that blends stained cedar, painted board and batten, shingle, and heavy timber accents.
Meanwhile, Schroeder Lofts' brick industrial warehouse design was inspired by Portland's Pearl District where industrial warehouses have been reclaimed. The wood-framed building, with a below-grade parking and service level, blends antique brick, glass, and black accents with contemporary upper siding and window materials.
The two buildings share green space through a landscaped courtyard located between them, says Tim Gordon, a project architect and design lead at Scott Edwards Architecture.
Additionally, a similar color palette of white and grays was used on both. "So that even though the [buildings] are totally different, they sit comfortably next to each other," Gordon says.
Outdoor spaces at Rose Villa
Through walls of windows and plenty of outdoor space, the design and planning of both buildings was all about creating a close connection to the landscaped campus and inviting connection.
"We're one of the few places where you can have a yard and a garden, or a deck," Byrd says.
At Madrona Grove, residents and guests enter into a mudroom upon arrival. "Just as you would in your home," says Rebecca Dillon, principal at Gawron Turgeon Architects (Scarborough, Maine). The firm led the interior architecture for Madrona Grove's first and second levels. Designed by Scott Edwards Architecture's interior design team, a café, open to everyone on campus, extends out onto a covered porch.
Using a neighborhood model at Rose Villa
Each floor has two neighborhoods composed of eight residential units. The neighborhoods each have their own living room and dining room. A kitchen with a large island is shared between them where residents can come together to cook, eat meals, or just gather. Both resident floors also have a den and a sunroom that looks out to the landscaped courtyard, Dillon notes.
The private units measure approximately 330 square feet and house barrier-free bathrooms and kitchenettes and built-in window seats. Some units on the first floor feature large French doors that open up to landscaped outdoor spaces.
An administrative wing was placed on the third floor to keep residents closer to the ground level where they can have easy access outside, Gordon says. The set-up also enabled the project team to create terraces on three sides of the top floor space to provide staff with plenty of outdoor space and wide views.
Public amenity spaces connect seniors with the neighborhood
The layout provided an opportunity to create connections, too, both among residents as well as the community at large. At Schroeder Lofts, the first floor is dedicated to amenity spaces including a recreation room (with a small teaching kitchen, game room, and lounge area with a fireplace), a room for the sewing and quilting club, and a resale shop that's run by residents.
"Not only are the common spaces open to campus, but a lot of them are also open to the public," Gordon says. "So trying to have as much of that be on the ground floor as possible was really critical."
Through the building's massing, achieved through various setbacks, the design team also created an outdoor arcade and elevated sidewalk that runs along the front.
"It creates this sort of elevated pedestrian street, and that's how you access all these common amenities," Gordon says.
On the north end is childcare, including a two-classroom preschool, which was part of the master plan. "The benefit to residents of consistent, meaningful intergenerational interaction includes less depression, less morbidity, and a longer life," Byrd adds. The preschool's outdoor play area wraps around the back and is visible to residents of Madrona Grove from the living rooms.
Additionally, Madrona Grove Garden, also in the shared courtyard area, is a place where residents can visit with the children. "It's just this great gathering space where people of all different ages can interact," Byrd says.
New life for senior living industry
For now, Phase 3 will serve as the close to Rose Villa's redevelopment.
"We have brought to fruition a new way of living for seniors," Byrd says. "One that honors their independence and desire to live their values. I believe Rose Villa is changing the face of aging and what it means to live in community."

Project Details for Rose Villa Senior Living Phase 3:
Project location: Portland, Ore.
Project completion date: June 2022
Owner: Rose Villa Senior Living
Total building area: 136,090 sq. ft.
Total construction cost: $48 million
Cost/sq. ft.: $350
Architecture: Scott Edwards Architecture
Interior architecture and design: Gawron Turgeon Architects (Madrona Grove floors 1 and 2), Scott Edwards Architecture (Madrona Grove floor 3, Madrona Grove Café, Schroeder Lofts)
General contractor: Bremik Construction
Engineering: WDY Inc. (structural), Humber Design Group Inc. (civil), Interface Engineering Inc. (mechanical)
Carpet/flooring:  Interface, Flor, Milliken, Shaw, Mannington, Mohawk, Altro, J&J Flooring
Ceiling/wall systems: Certainteed, Armstrong, Rulon
Doors: VPI (exterior Schroeder Lofts), Linden, Simpson, Jeld Wen (Exterior Madrona Grove)
Hardware: Ives, Schlage, Falcon
Fabric/textiles: CF Stinson, Architex, Brentano, Luna, ArcCom, Mayer Fabrics, Pollack, Pallas, Knoll Textiles, Sunbrella, AllSeating
Furniture—seating/casegoods: Pacific WRO (dealer); Herman Miller, Kwalu, West Elm, Summer Classics, Sit On It, OFS, Belvedere, All Seating, By the Yard, Akula, Heartwork, CB2, Lamps Plus, Cutting Edge Industries, Carolina Business Furniture, Pottery Barn, Pooltables.com, WebRestaurantStore, Graham Field
Handrails/wall guards: Acrovyn, Inpro
Lighting: Kuzco, Kichler, Justice Design Group, V2 Lighting Group, Tech Lighting, Metalux, Snap, Spectrum Lighting, Visa Lighting, Feiss, RLM Classics
Surfaces—solid/other: Pental Quartz, Caesarstone, Cambria, Wilsonart, Corian, Nevamar, Pionite, DalTile, Emser, United Tile, Thompson Tile, Crossville, CaliBamboo, Forbo
Project details are provided by the design team and not vetted by Environments for Aging.

Joann Plockova is a freelance writer based between Hobe Sound, Fla., and Prague, Czech Republic. She can be reached at joann.plockova@gmail.com.