Clearwater At Glendora, Glendora, Calif.: Photo Tour
---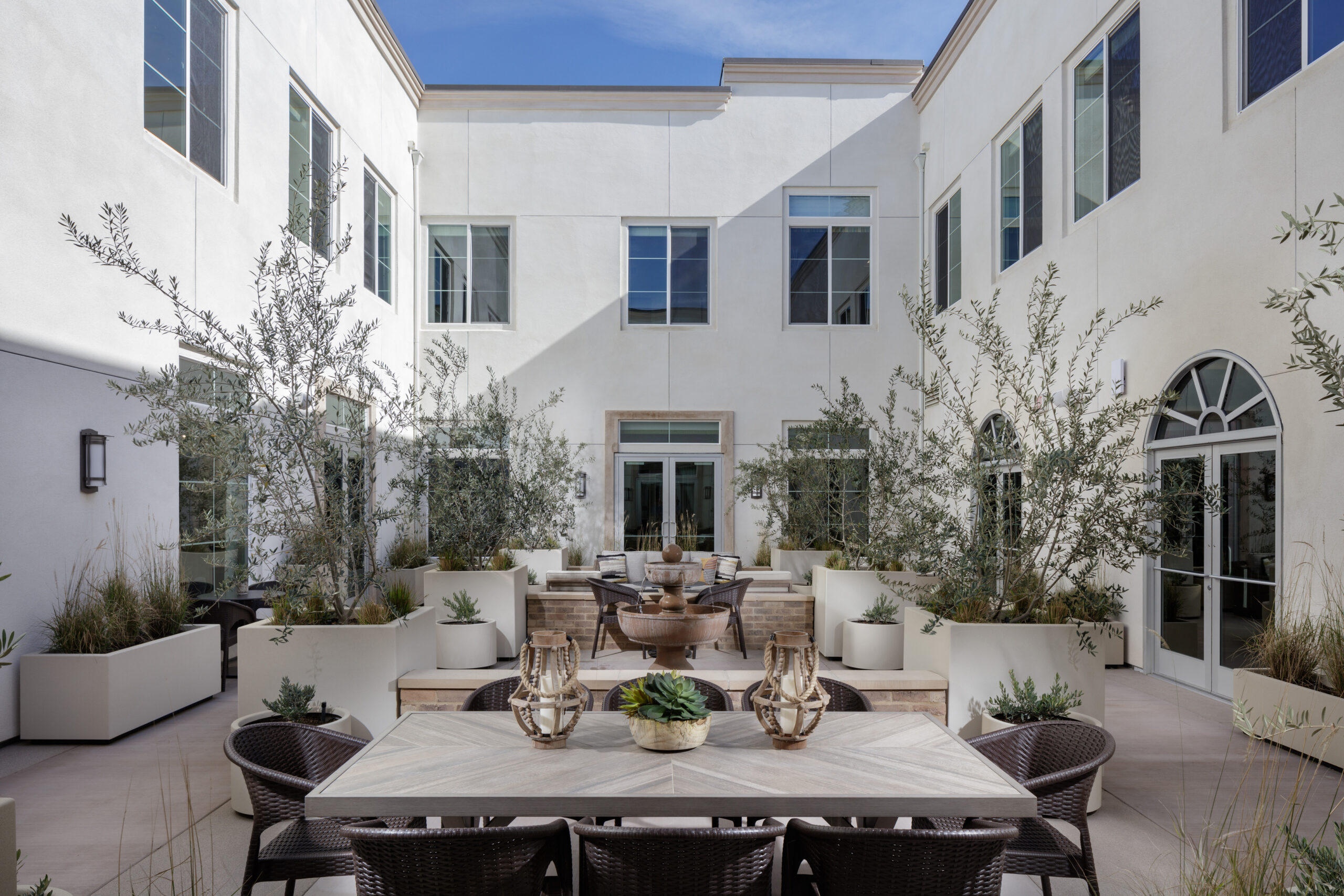 Clearwater Living
Clearwater at Glendora: The exterior courtyard is conveniently located adjacent to many of the community's dining spaces and allows residents the opportunity for outside dining with neighbors and visitors. Neutral-tone brick and cement surfaces aid in creating a peaceful spot to listen to the fountain and enjoy the variety of native trees, shrubs, and plants.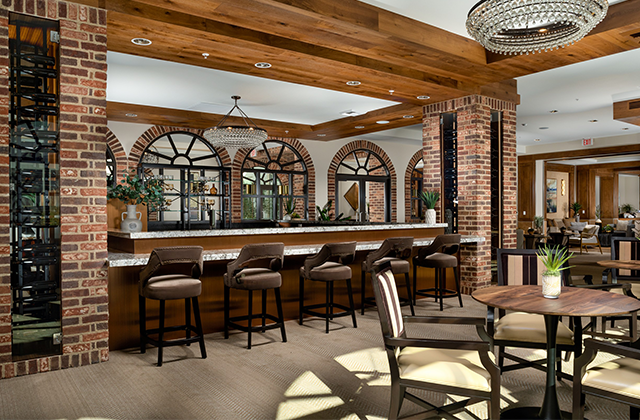 Clearwater Living
Clearwater at Glendora: At the Aqua Lounge, residents may enjoy happy hour or dinner. The combination of exposed wood beams and brick columns along with black accented mirrors and contemporary chandeliers provide an environment that is classic and modern.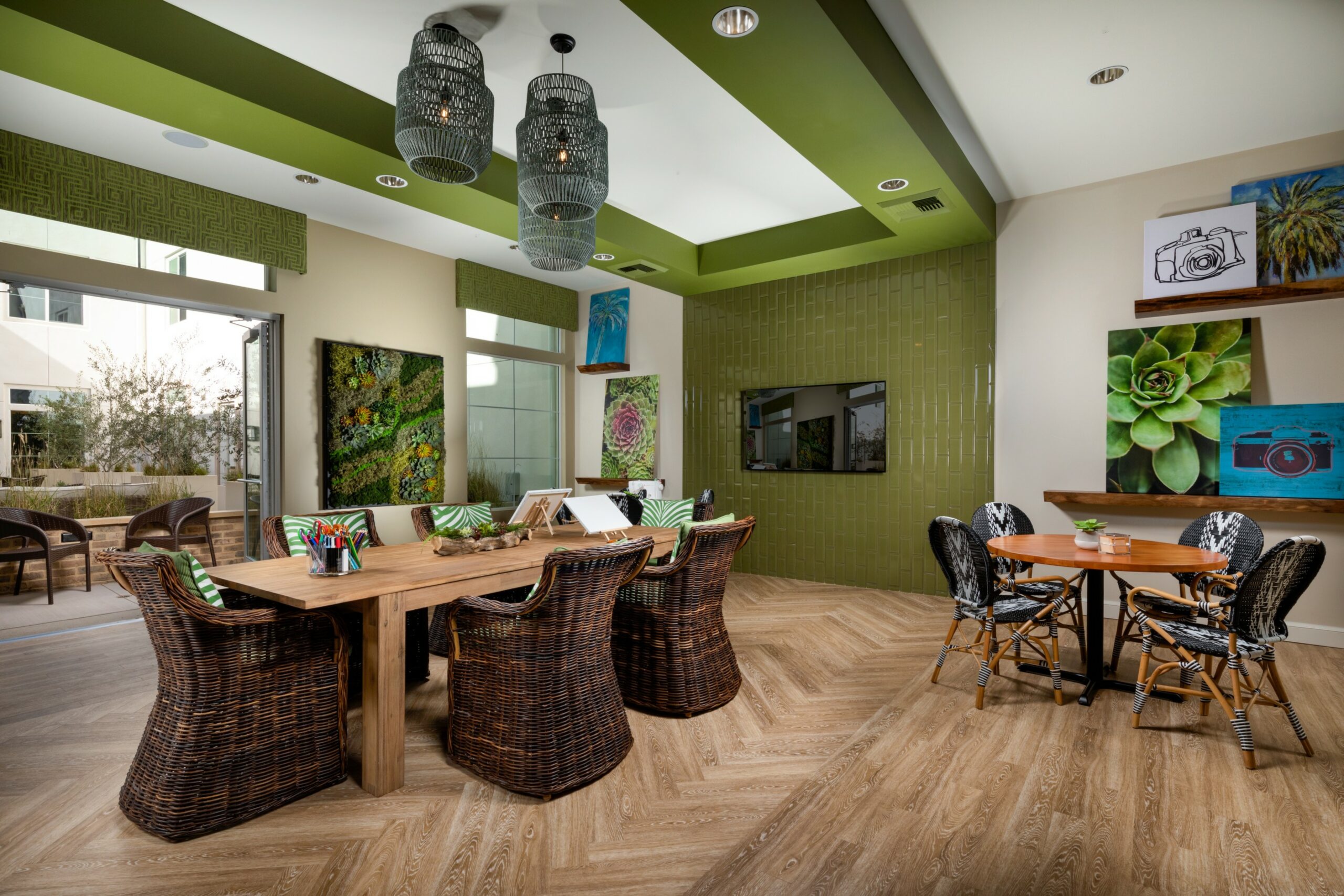 Clearwater Living
Clearwater at Glendora: In the creative studio, residents may draw, paint, or create in a culture that encourages meaningful engagement. A sense of energy and movement is created with Herringbone plank-style flooring and vibrant green accents. Collapsible doors and large windows allow for ample light and fresh air.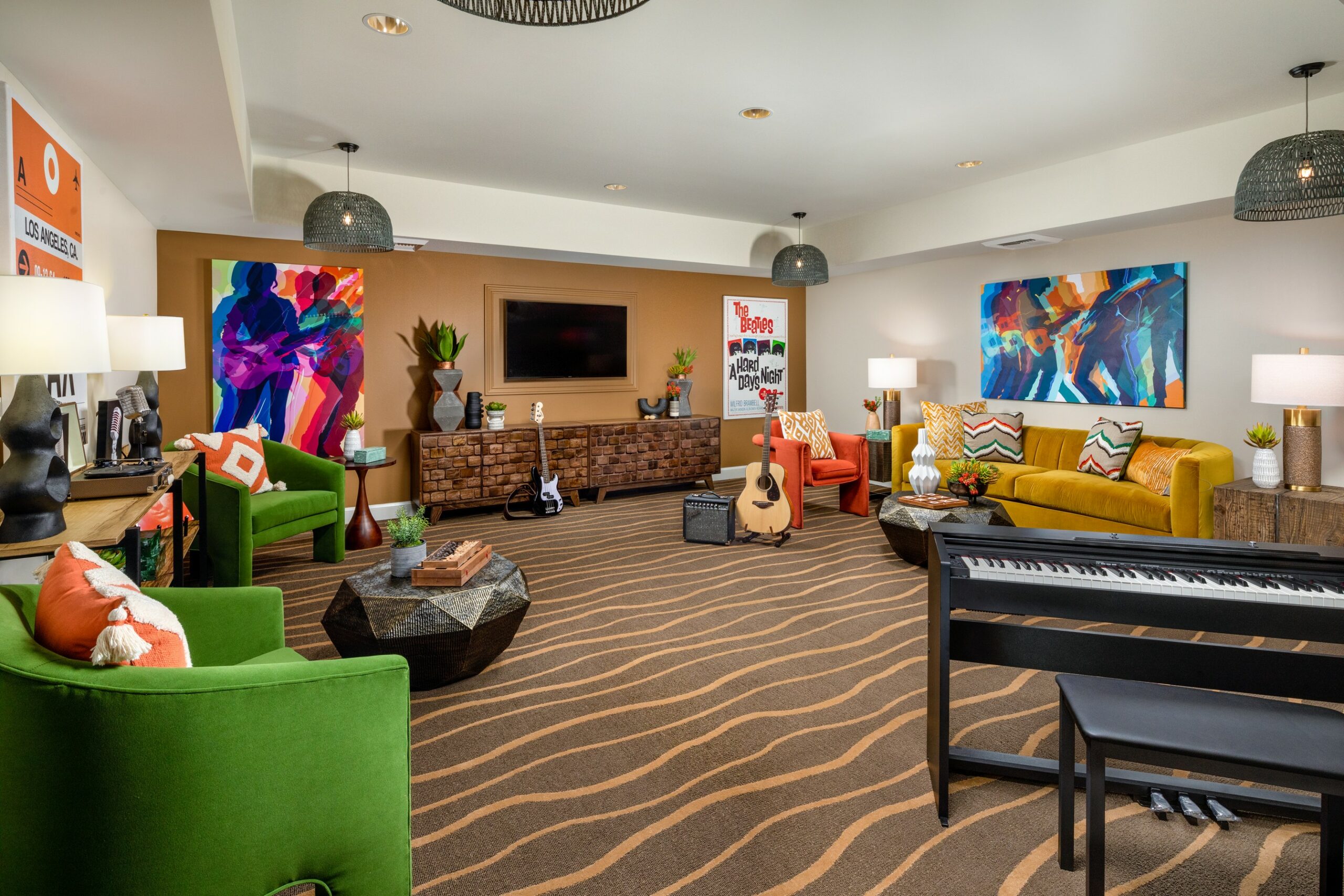 Clearwater Living
Clearwater at Glendora: Complete with keyboards, guitars, and other musical instruments, the music room features brightly colored, soft velvet seating and bold, geometric patterned tables, and carpet.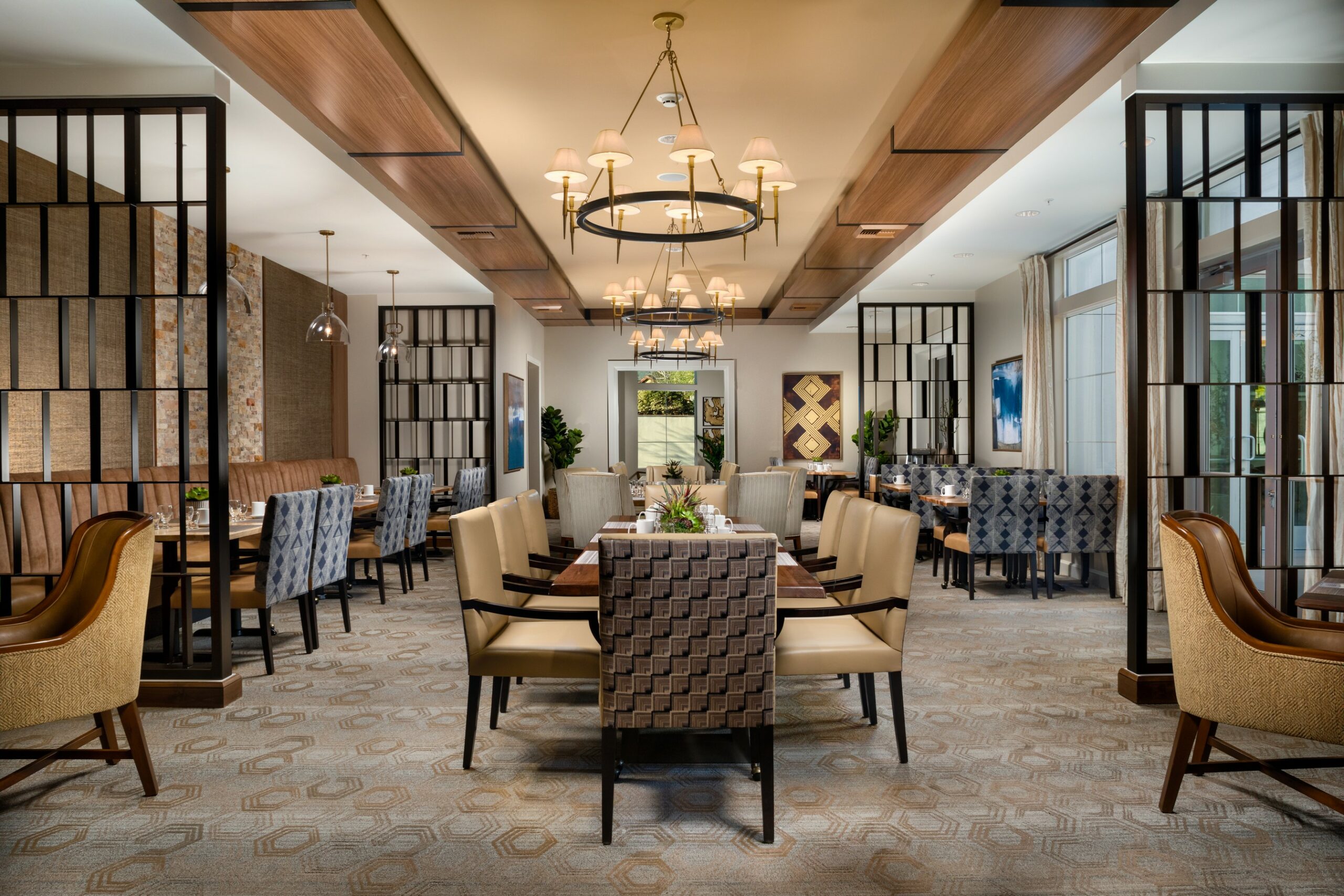 Clearwater Living
Clearwater at Glendora: In the Savor Restaurant, a palette of earth tones with leather and wood accents and artwork with organic shapes provide the backdrop for five-star menu offerings.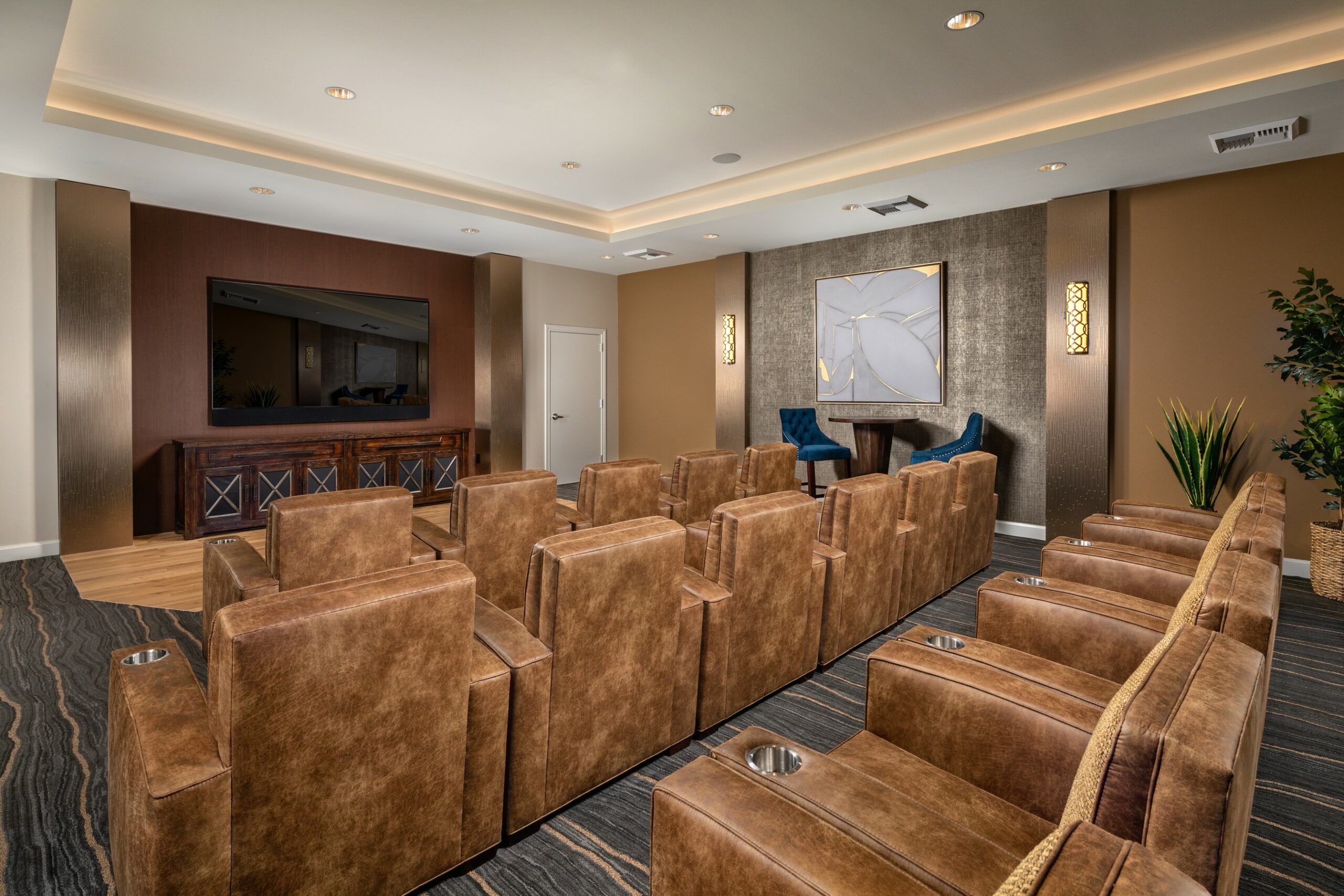 Clearwater Living
Clearwater at Glendora: In the theater, entertainment, and learning center, residents may catch up on the latest movies or enjoy classic films. Oversized distressed leather chairs, each with their own cupholder, blends form and function to elevate the residential experience.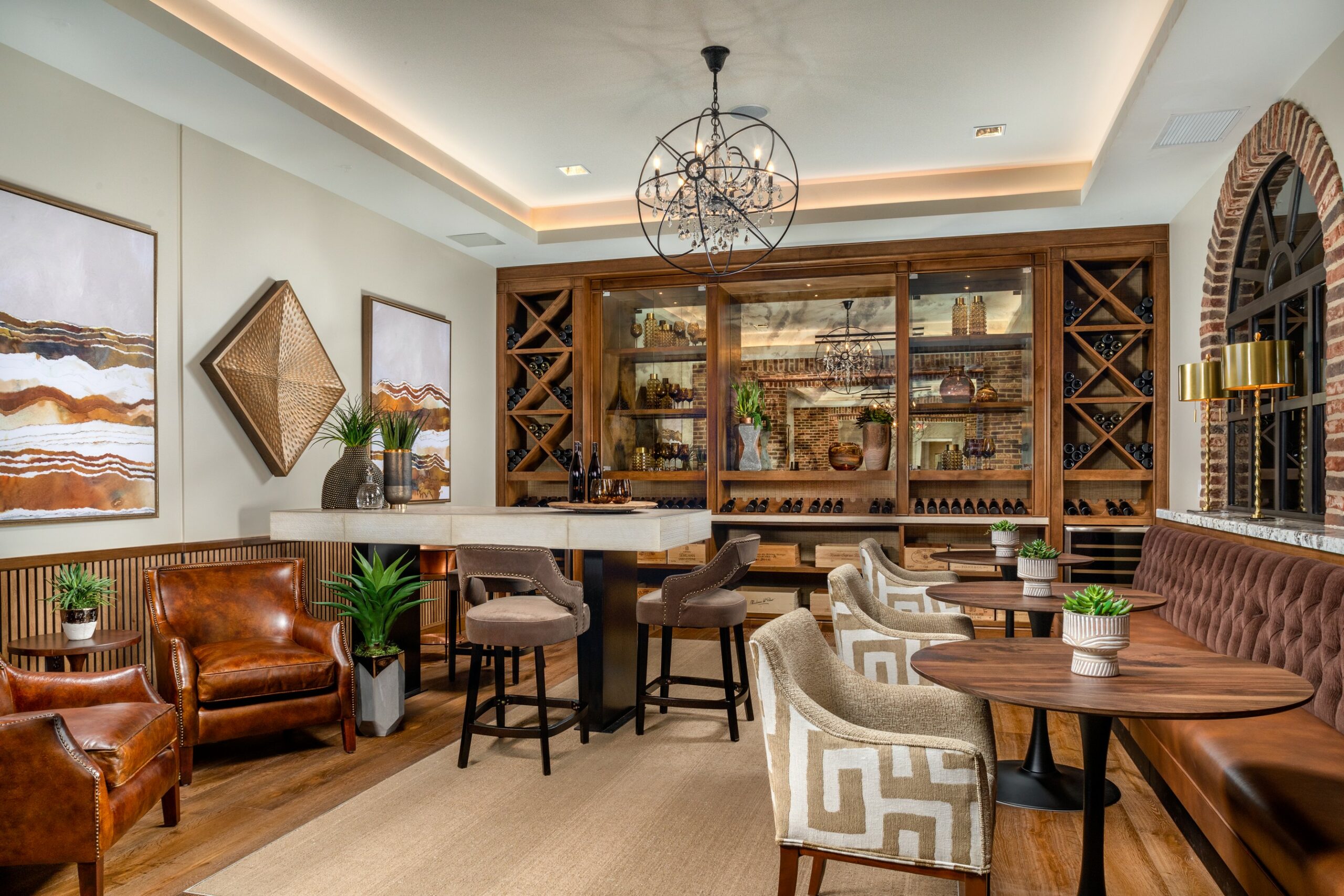 Clearwater Living
Clearwater at Glendora: In the wine vault, residents have access to a variety of wines from around the world. The wine vault is located near the exterior courtyard. A feeling of warmth is created with rich, saturated earth tones, organic materials, and a variety of upholstered seating options.
---
Clearwater At Glendora, Glendora, Calif.
Clearwater at Glendora in Glendora, Calif. is a two-story, luxury assisted living and memory support community comprising 117 units. Those include 188 assisted living and 29 memory care units with studio, companion, and one- and two-bedroom options.
Known as the "Pride of the Foothills," Glendora is nestled in the Southern California foothills of the San Gabriel Mountains. As the only assisted living and memory support community in Glendora, Clearwater at Glendora sought to provide a resort-inspired community that pays homage to the natural beauty of the surrounding areas.
That's done through a soothing, agrarian palette and a variety of native landscaping utilized throughout.
Opened in February 2023, the 108,000-square-foot community includes wide hallways that can accommodate multiple people passing simultaneously, easy-to-read signage to guide residents throughout the community, and a circular pathway in the memory support neighborhood to encourage movement and independence.
Residents and guests have access to comfortable seating in communal areas to sit, relax, and connect.
A modern, contemporary aesthetic is achieved through high-end finishes and décor, including a stacked stone fireplace in the lobby, brick window arches in the wine vault, and stylish artwork displayed throughout.
Residents may move seamlessly from indoor to outdoor living with multiple access points to the community's courtyard. The community also offers a creative studio, theater and entertainment center, computer den, and several culinary experiences.
Project details for Clearwater at Glendora
Location: Glendora, Calif.
Owner: Clearwater Living
Completion date: February 2023
Owner: Clearwater Living
Total building area: 108,000 sq. ft.
Architect: Architects Orange
Design: Klang & Associates Inc.
Construction/builder: RD Olson