Anthology At Tuckahoe, Virginia: Photo Tour
---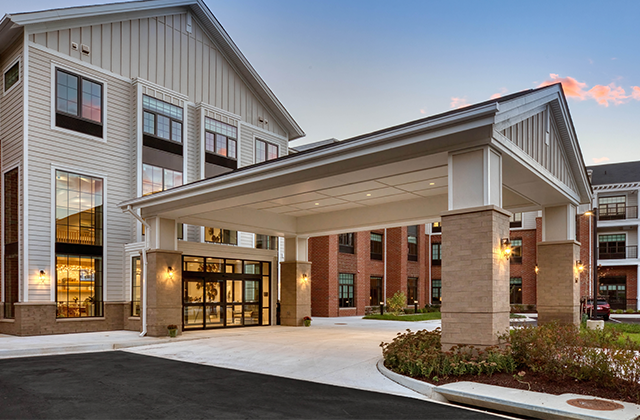 BKV Group
Anthology at Tuckahoe: The three-story building features a design inspired by Federalist architecture with its focus on symmetry, use of brick, and ornamentation. The aesthetic is reimagined with a modern interpretation of mixed materials such as dark window frames and the use of soft gray cement board siding with white trim accents.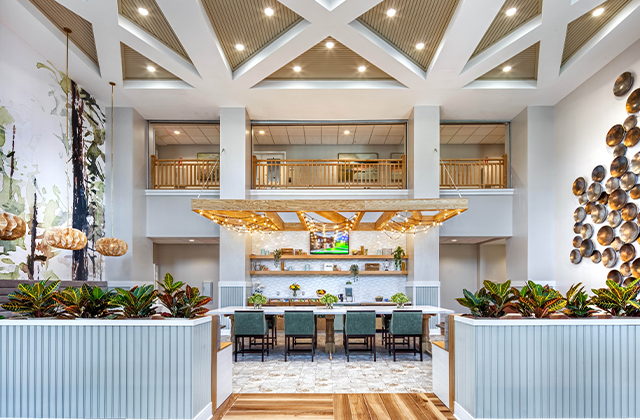 BKV Group
Anthology at Tuckahoe: A "town market" amenity space welcomes residents and guests. Situated at the center of the project with its walkway above connecting to a private living space, it serves as the heart of the community.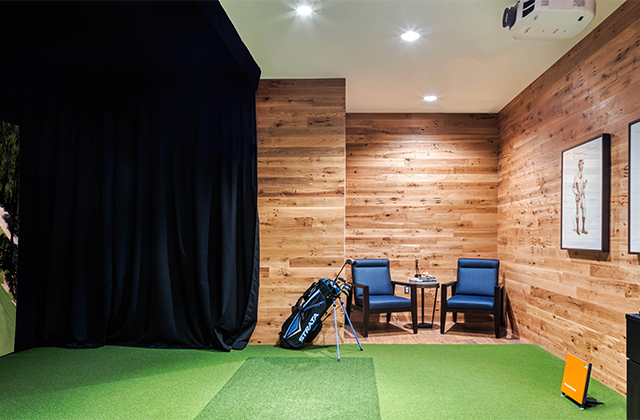 BKV Group
Anthology at Tuckahoe: Among the amenities offered at the community is a golf simulator. A secluded room with rustic details like wood walls, turf flooring and recessed lighting evokes a club-like feeling and enhances the experience for residents practicing their golf swing.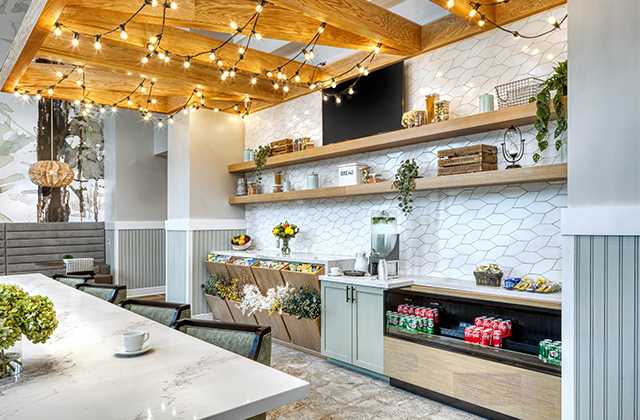 BKV Group
Anthology at Tuckahoe: The market-style café's interior features handcrafted millwork details; a playful muted color palette of soft blues and grays; and a large dining table, booths, and lounge seating that accommodate a range of uses and group sizes.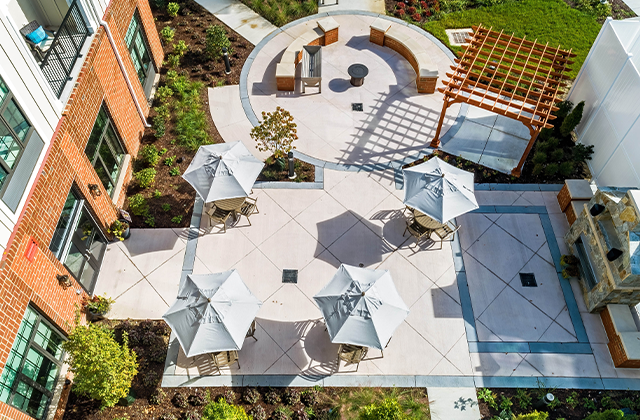 BKV Group
Anthology at Tuckahoe: As part of the wellness-focused amenities, the outdoor patio space offers residents a space for relaxation, access to fresh air, and the option to entertain outside of their residence. With the concrete patio and shaded patio tables, accented by a pergola, residents have a professionally landscaped backyard to call their own.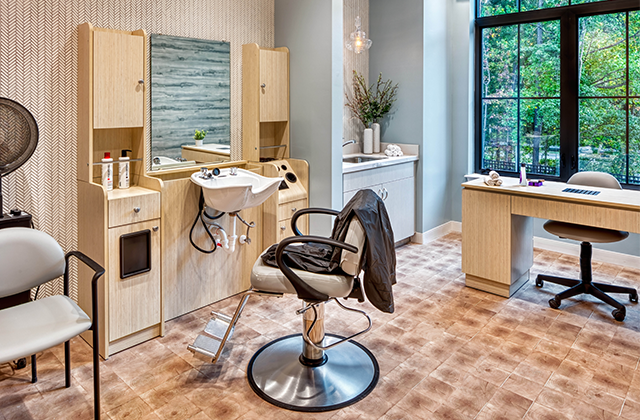 BKV Group
Anthology at Tuckahoe: Inviting and comforting design elements, including patterned wallpaper and soft paint colors of light blue and soft beige, along with terracotta-style flooring, gives the salon a home-like feel for the residents.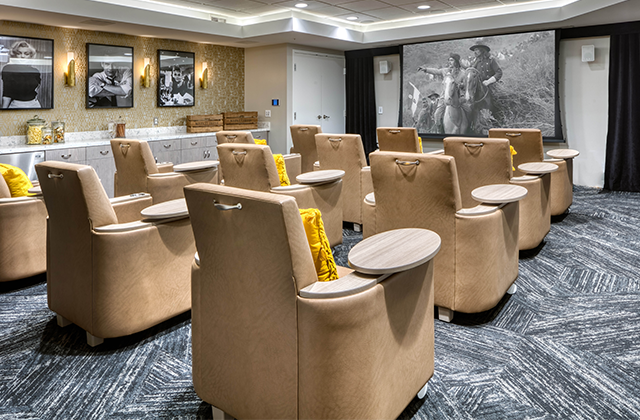 BKV Group
Anthology at Tuckahoe: Soft leather chairs, plush pillows, carpet, and soft lighting lend a sense of upscale comfort to the theater room.

---
Anthology at Tuckahoe
Anthology at Tuckahoe is a 150-unit upscale senior living community in Henrico, Va., a suburb of Richmond, Va. It houses independent living, assisted living, and memory care.
The community was developed to meet increasing need in the area for senior living options that allow residents to age in place by transitioning to higher levels of care while remaining in the same location.
The 142,000-square-foot project showcases a nature-inspired design highlighted by a muted color palette of soft grays, greens, and beiges; lighter and warmer woods; and accents including a floor-to-ceiling forest-themed wall mural that greets residents and visitors just inside the entrance.
The exterior aesthetic is designed to mimic the Federalist architecture of the greater Richmond area, as well.
Creating community in senior living
A social market offers a communal spot for gathering and enjoying a cup of coffee or snack and greets residents and their guests at the main entry. The space is a nod Richmond's history as the site of one of the nation's longest-running public markets.
That sense of community is carried through to the food offerings from local vendors as well as custom bins in the "market" that hold local produce and botanicals.
A variety of seating, from a communal table in the hub of the space to booths and lounge seating, ensures the social market can comfortably accommodate groups of all sizes as well as individual residents.
The community's amenity spaces also include a four-season sunroom with access to an outdoor patio and green roof and an in-house theater.
Project details for Anthology at Tuckahoe
Location: Richmond, Va.
Completion date: August 2021
Owner: CA Ventures
Total building area: 141,973 sq. ft.
Total construction cost: N/A
Cost/sq. ft.: N/A
Architecture firm: BKV Group
Interior design: BKV Group
Contracting: Brinkmann Constructors
Engineering: BKV Group
Construction: Brinkmann Constructors