Meadow Ridge Adding Solar Installation In Connecticut
---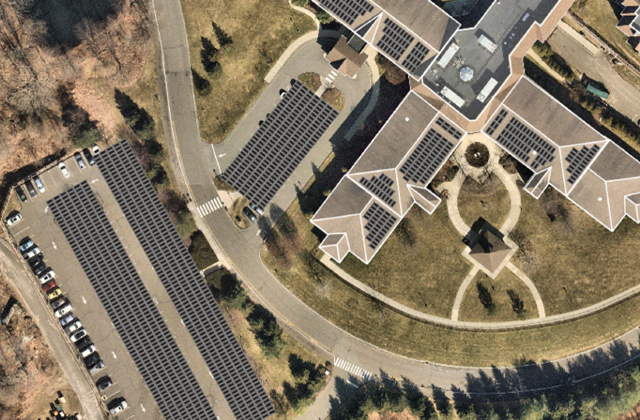 Courtesy: Verogy
A rendering of Meadow Ridge's solar installation, expected to be completed by November 2024.
---
Meadow Ridge, a continuing care retirement community, in Redding, Conn., is supporting residents' desire to lower the senior living community's carbon footprint by building a 732-kilowatt solar array installation.
"We've long had an interest in bringing solar to Meadow Ridge," said resident Susan Auslander, who leads the resident solar committee, in a press release. "We were waiting for the technology to advance so that we could strike the balance between the financial investment, cost savings, and the environmental benefits. Our solar committee wants to leave a cleaner, greener environment for our children and grandchildren."
The CCRC is working with solar energy firm Verogy (West Hartford, Conn.) to build the installation. Expected to be complete by November 2024, the project includes two arrays for the community. One will be installed atop two future carports and the other will be located on the roof of Ridge Crest, Meadow Ridge's sub-acute rehabilitation and skilled nursing center.
When complete, the project is expected to supply Meadow Ridge with more than 850,000 kilowatt-hours, or nearly 20 percent, of its annual electricity.
The estimated savings are $7.3 million in electricity costs over the life of the array. Additionally, the amount of solar energy produced will also offset 607.2 metric tons of carbon each year.
The project is being funded with a commercial property-assessed clean energy loan from investment firm Connecticut Green Bank, zero-emission renewable energy credits through energy holding company Eversource, and investment tax credits, according to the release.
"Not only will the solar installation be self-supporting from a financial perspective, but it's clearly the right thing to do for our environment by reducing pollution and greenhouse gas emissions produced by the burning of fossil fuels," said Brett Mehlman, chief operating office at Meadow Ridge, in the press release.