EFA Names 2020 Design Showcase Winners
---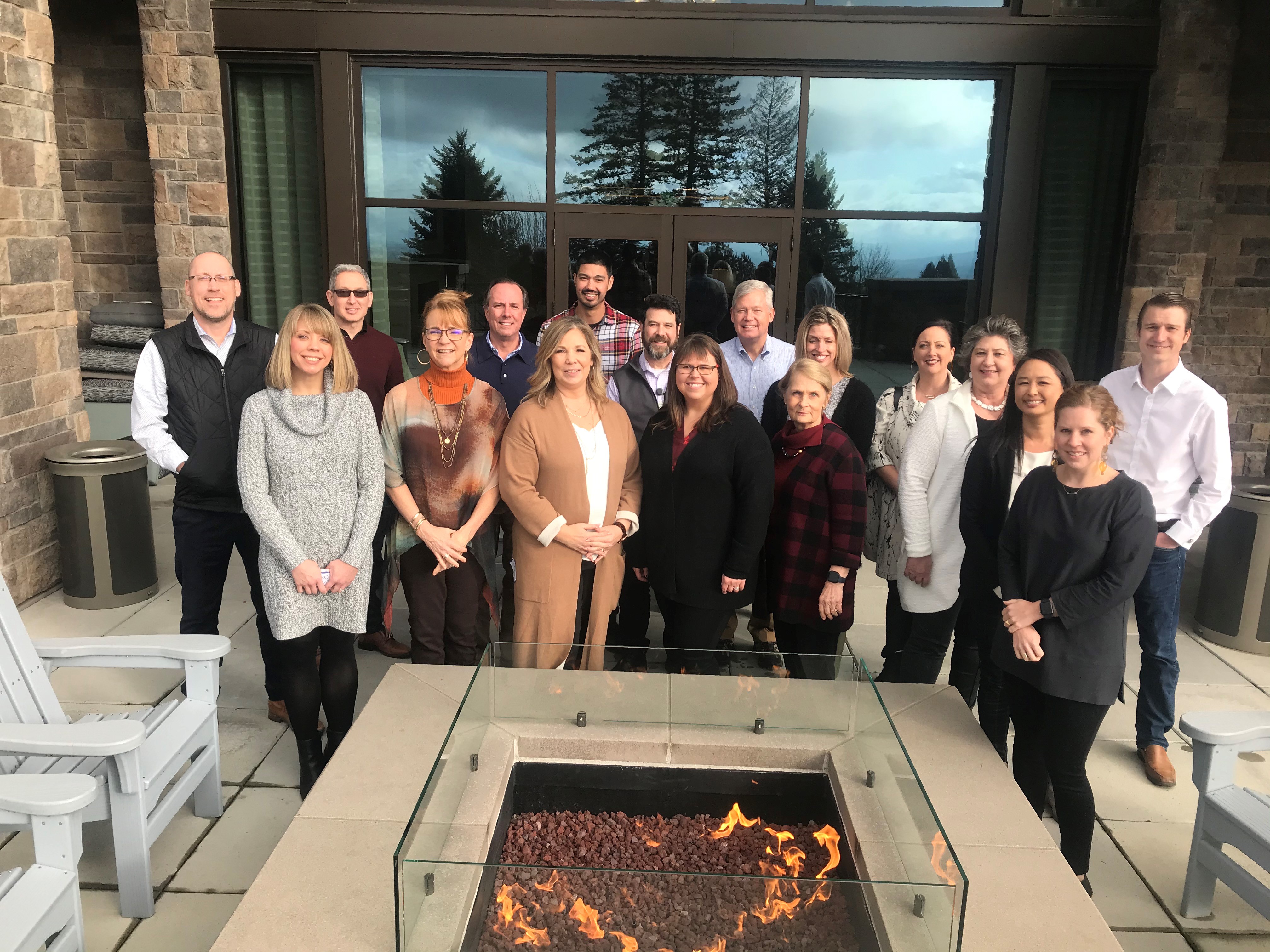 The jury gathered at Touchmark in the West Hills in Portland, Ore., an Award of Merit-winning project in 2019. Left to right: Keith Stanton, director of design development (Thoma-Holec Design); Jennifer Silvis, editor-in-chief (Environments for Aging); Rob Simonetti, architect (SWBR); Cecily Andrews, chief strategist (Quantum Age Collaborative); Douglas Pancake, president (Douglas Pancake Architects); Amy Bursey, general manager (Henric & Co.); Robert Soler, VP human research and technology (BIOS Lighting); Joseph Billig, senior VP, architecture (Touchmark Development and Construction); Tina Moullet, senior managing director (Rose Villa); Mike Harris, owner (Cornerstone Senior Living); Lorraine Hiatt, PhD. (Environmental Gerontologist); Tammy Sealer, chief administrative officer (Immanuel); Alissa Brandt, managing principal/interior designer (Ankrom Moisan Architects, Inc.); Debbie Wiegand, director of operations (The Green House Project); Janice Sanada, principal (LRS Architects, Inc.); Hillary DeGroff, senior associate (Perkins Eastman); Jami Mohlenkamp, principal (OZ Architecture)
---
Jurors for Environments for Aging's annual Design Showcase met in Portland, Ore., Jan. 16, to determine the winners of this year's design competition.
Forty-one projects were reviewed by the group of architects, interior designers, owners/operators, and consultants. In the end, just one rose to the top to receive the highest honor, Award of Merit, with four others earning an Honorable Mention. An additional five projects were named finalists.
The winners will be profiled in the Spring 2020 issue of EFA and celebrated during a magazine awards luncheon at the upcoming Environments for Aging Expo & Conference to be held April 26-28 in Louisville.
Award of Merit
Brio, a WesleyLife Community for Healthy Living, Johnston, Iowa
Submitted by: Pope Architects
Honorable Mentions
Baptist Community Services (BCS) Community Center, Amarillo, Texas
Submitted by: Pi Architects
Friendship Village, Schaumburg, Ill.
Submitted by: Merlino Design Partnership
Menno Haven Rehabilitation Center, Chambersburg, Pa.
Submitted by: RDG Planning and Design
Ventana by Buckner, Dallas
Submitted by: D2 Architecture & Interior Design Associates
Finalists
Anthology of the Plaza, Kansas City, Mo.
Submitted by: Faulkner Design Group
Encore Mid-City, Huntsville, Ala.
Submitted by: Hord Coplan Macht
Rocky Mountain Care's The Lodge, Heber City, Utah
Submitted by: TSA Architects
The Vista at CC Young, Dallas, Texas
Submitted by: D2 Architecture and Faulkner Design Group
Warwick Woodlands, A Moravian Manor Community, Lititz, Pa.
Submitted by: RLPS Architect/RLPS Interiors