Summit Vista Life Plan Communities: EFA Design Showcase Honorable Mention
---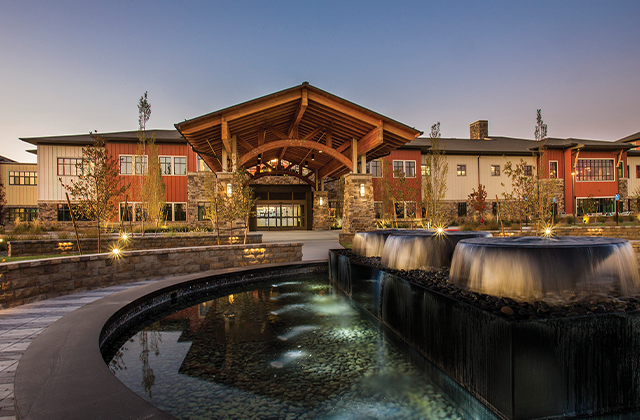 Scot Zimmerman Photography
Summit Vista Life Plan Communities: The entrance to the clubhouse offers a look at the regional colors and materials used on the exterior, with patios, rocks, and plantings along low landscaping walls at seating height used to invite residents to enjoy the outdoor spaces.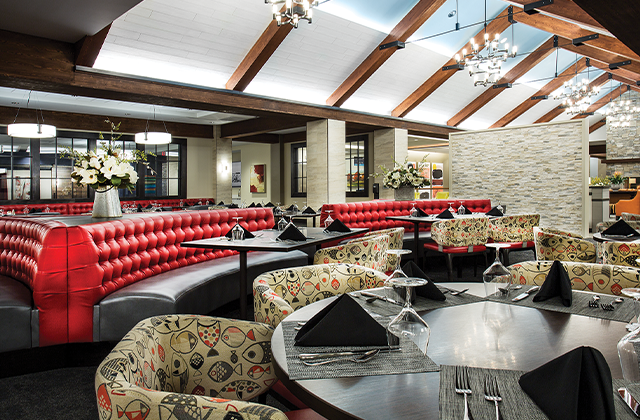 Scot Zimmerman Photography
Summit Vista Life Plan Communities: A formal dining room showcases a refined rustic aesthetic with vaulted ceilings and wood beams as well as the bold use of color throughout the project.
---
Summit Vista Life Plan Communities
Summit Vista Life Plan Communities is the result of an effort by local leaders in Taylorsville, Utah, who wished to address the lack of senior living in the community and simultaneously develop a 100-acre site that was once a gravel quarry.
The overall plan includes three neighborhoods of independent living (IL) as well as an assisted living/memory care/skilled nursing neighborhood; the project submitted to the Design Showcase by KGRW & Associates (Ellicott City, Md.) highlights Phase 1 of the project that includes several buildings of the first IL neighborhood as well as a clubhouse with dining and abundant amenity spaces.
To get to that point, the project team first had to work with local officials to create a new zoning category for the building due to it being at a scale that didn't exist in the jurisdiction, an effort that impressed jury members.
Sustainable senior living
Next was taking an abandoned brownfield site and creating a welcoming, sustainable senior living campus that features long views to mountain ranges and a series of exterior courtyards and pocket parks to support outdoor activities and socialization.
Inside, vibrant interiors feature a bold color palette across the diverse dining venues and activity spaces, creating an environment that helps answer a project goal of attracting a younger demographic—the average move-in range today is 74 years old.