Friendship Village of Tempe Addition, Arizona: First Look
---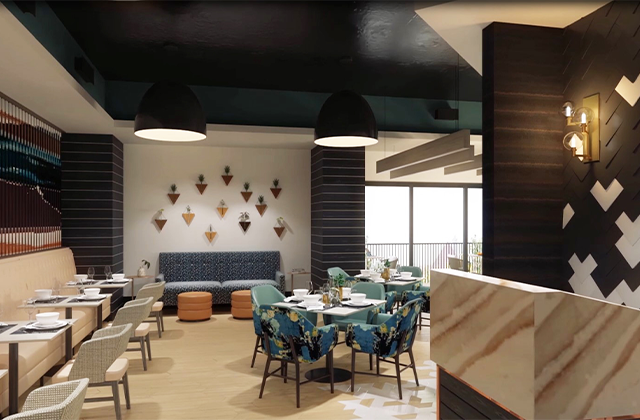 Ryan A+E Inc.
Friendship Village of Tempe Addition: Starfire patrons are welcomed by an ombre tile wall behind the hostess stand while a rhythmic floor pattern guides them through the space. The wall behind the banquette features a contemporary desertscape hand-painted by a local artist. Small lounge group seating areas are incorporated throughout for informal seating.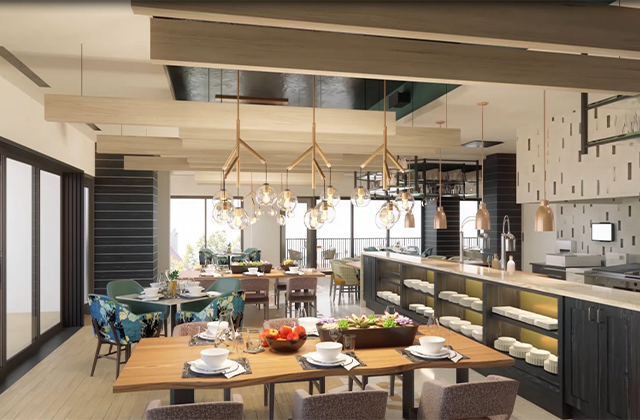 Ryan A+E Inc.
Friendship Village of Tempe Addition: Starfire's fine dining setting includes design elements such as playful tile patterns, wood paneling, a mix of small and large-scale fabrics, and whimsical light features. The ceiling beam acoustic ceiling baffles are both a visual focal point and an acoustical element.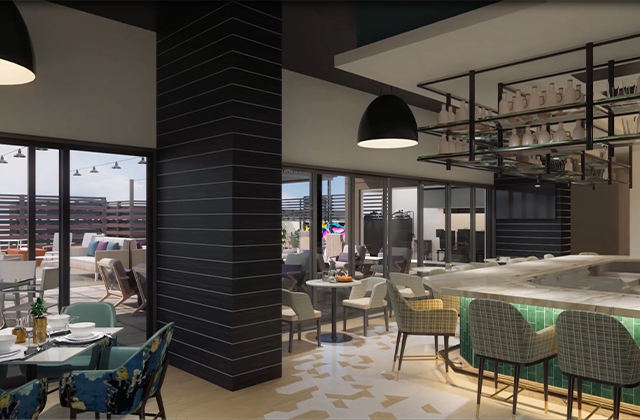 Ryan A+E Inc.
Friendship Village of Tempe Addition: The bar is tucked back in an intimate corner of the restaurant. Handmade ceramic decorative growlers are displayed above the bar to further the artisan influence. The downlighting on the face of the bar adds ambiance and provides additional light for seniors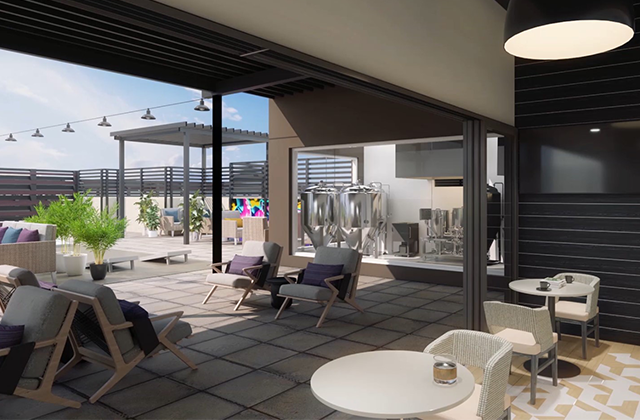 Ryan A+E Inc.
Friendship Village of Tempe Addition: Multiple entertainment features are incorporated throughout the patio to create a lively social hub for the community, including a stage for live music, yard games, and a fire pit. Various lounge and table seating offer multiple options for relaxing and visiting with friends. Floor-to-ceiling panoramic windows provide the patio with easy access to the interior bar and a view of the three brew kettles in the brew room.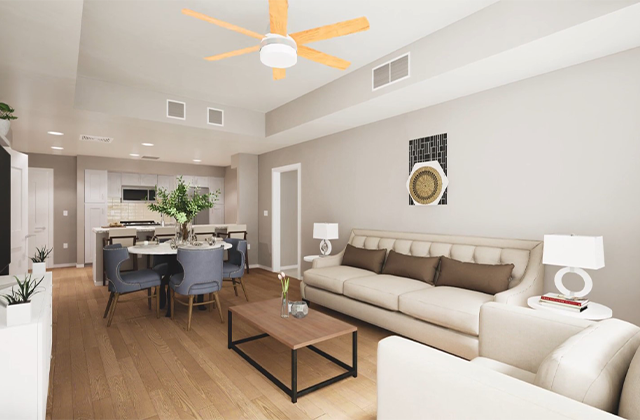 Ryan A+E Inc.
Friendship Village of Tempe Addition: Due to the popularity of the previous Phase 1 expansion, consistent layouts and interior finishes were implemented for Phase 2. The 64 units in the new independent living building provide residents with a choice of nine different floor plans.

Ryan A+E Inc.
Friendship Village of Tempe Phase 2 Addition: The exterior design for the Phase 2 building blends cohesively with the rest of the community. All interior-facing units have a view of the new outdoor courtyard. The outdoor area features extensive landscaping, seating areas, and walking paths.

---
Friendship Village of Tempe Addition, Arizona
After the successful completion of Phase 1 in 2021, Friendship Village of Tempe's six-phase masterplan continues with Phase 2, replacing an existing, outdated independent living building to appeal to the baby boomer generation of incoming residents. The addition will provide the community with a five-story, 64-unit independent living building with a rooftop destination restaurant and brew house called Starfire.
With its proximity to Sedona, Friendship Village of Tempe boasts a dynamic art scene. The overall design for the resort-style community is vibrant and modern, with an artistic influence. Residents are given a choice of nine different floor plans, including one- and two-bedroom options. Units will include a full kitchen, balcony, study, and fireplace.  Taking customization to the next level, the community offers endless possibilities. With a catalog of finishes to pick from, residents have a choice of three standard palettes and countless upgrade options including different lighting, cabinet colors, wood tones, counter tops, backsplashes, and hardware. Residents can personalize their homes to reflect their style.
Hospitality-influenced amenity spaces
Taking a cue from the upscale restaurants, craft breweries, and rooftop venues baby boomers enjoy, the Starfire restaurant will feature a hospitality-inspired design. Maximizing the panoramic desert and Tempe city views was a design priority. Floor-to-ceiling glass and panel sliding doors open from the restaurant to an outdoor patio.
The finishes and color palette also embrace the indoor-outdoor aesthetic, combining a rich palette of desert-inspired neutrals with moody blues, greens, warm terra cotta oranges, gilded copper accents, and natural wood.
While the restaurant's interior provides a serene environment, the patio is focused on entertainment, with a stage area for live music, yard games, fire pits, and a variety of table and lounge seating. The adjacent brew house is visible from the patio and restaurant.
The restaurant and patio are filled with commissioned artwork and hand-painted murals. For example, Starfire's interior boasts an abstract desertscape mural and the patio features a beer-inspired mural to balance an elegant fine-dining experience and an energetic outdoor oasis.
Friendship Village of Tempe Addition project details
Location: Tempe, Ariz.
Completion date: October 2023
Owner: LCS
Total building area: 142,619 sq. ft.
Total construction cost: $39.5 million
Cost/sq. ft.: $273.46
Architecture firm: Ryan A+E Inc.
Interior design: Spellman Brady & Co
General contractor: Ryan Construction
Engineers: Buesing Corp. (civil), Meyer | Borgman | Johnson (structural)