Rose Villa Offers Fresh Model For Independent Living
---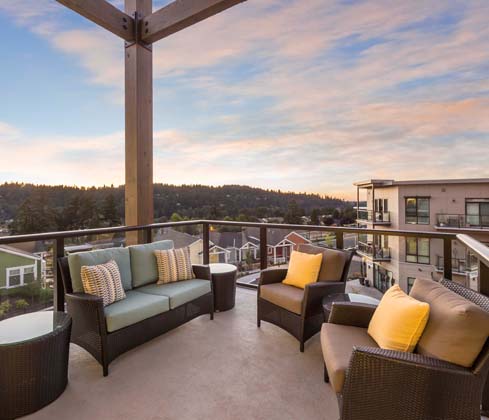 Steve Wanke
The addition of three-story buildings housing loft-style apartments was a departure for the cottage community. One bonus amenity is this rooftop deck, Vista Lounge.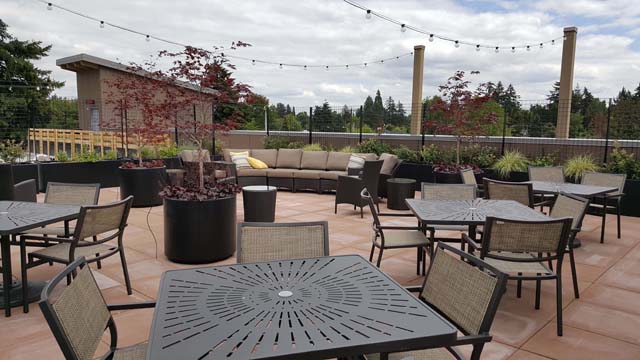 Steve Wanke
A view of additional seating at the Vista Lounge.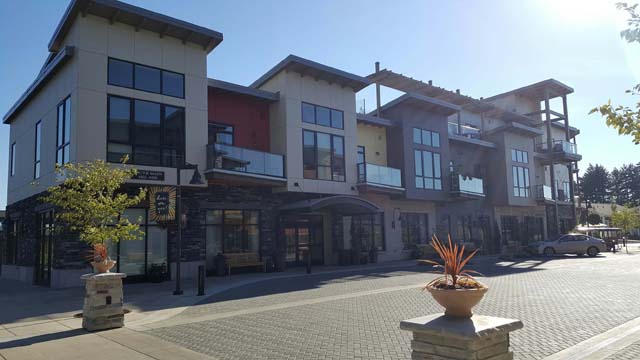 Steve Wanke
For the first time in Rose Villa's history, the CCRC offers units on second and third floors. The loft apartments in the Town Center are modeled after urban condominiums and feature floor-to-ceiling windows, with balconies angled to create corner views with vistas down to the nearby Willamette River.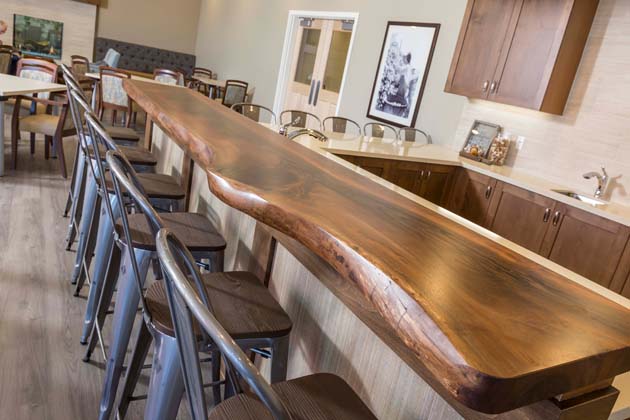 Steve Wanke
The campus' South Main building boasts a homey space where residents can gather together for a glass of wine, enjoy the newspaper, socialize, take in a sports game, or just hang out, including at the bar in the Club Room.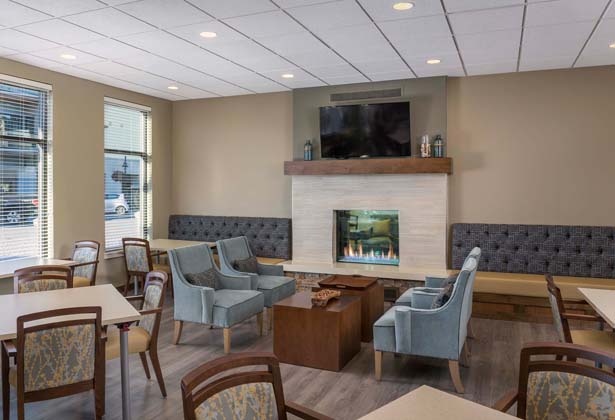 Steve Wanke
Another view of the Club Room in the South Main building.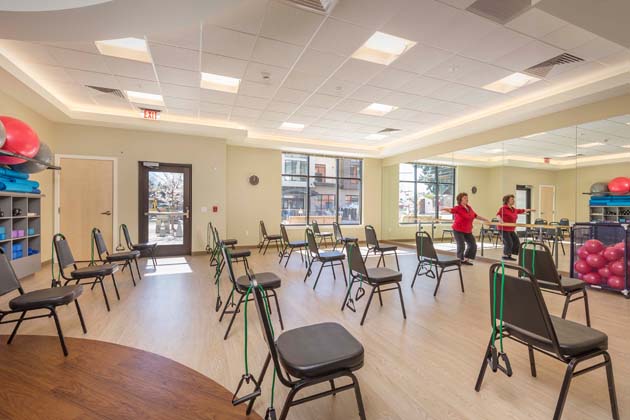 Steve Wanke
The amenities added to the Main Street/Town Center have street-level access and views to contribute to the downtown feel, as seen in this view of the wellness center.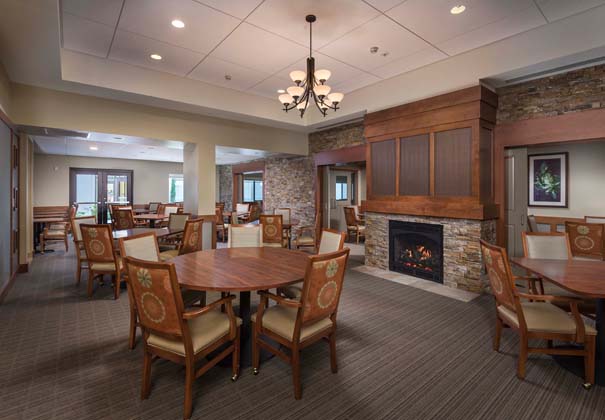 Steve Wanke
One of two restaurants at Rose Villa, Heirloom is a fine dining option which focuses on local, seasonal ingredients, including fruits and vegetables from the kitchen garden.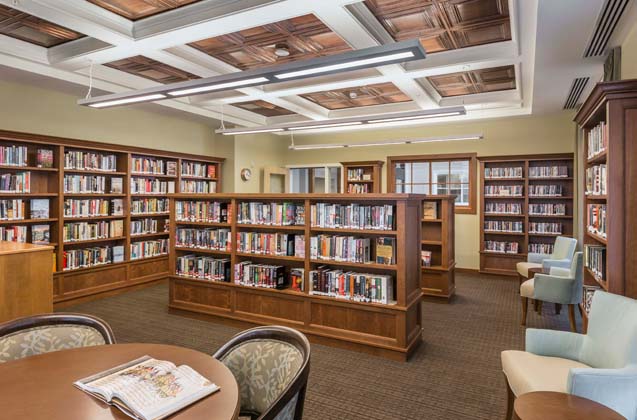 Steve Wanke
Fully stocked and staffed by residents, the Library is the cornerstone (literally) of Main Street.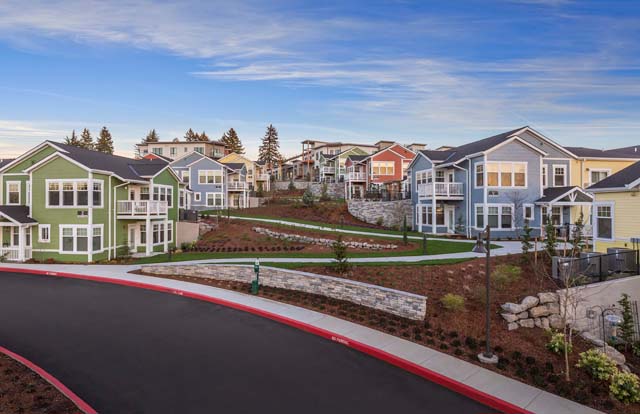 Steve Wanke
The five pocket neighborhoods are tied together and to the Main Street and Town Center at the top of the site's hill by a large greenway with switchbacks. The paths meet ADA requirements and don't require rails, allowing residents to easily walk or use scooters to visit neighbors or reach amenity spaces.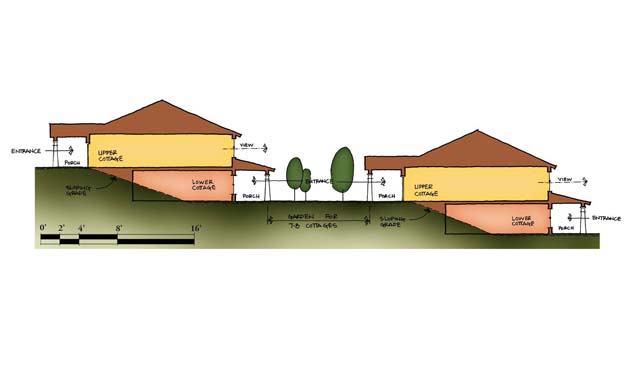 RLPS
The "over/under" cottage design achieved the desired density and green space on the site by taking advantage of the steep slope and stacking the buildings into the hillside. The site itself dictated the floor-to-floor height of the buildings in order to meet grade at the top and bottom of the hill, creating higher-than-standard heights where possible. "We had to work within those vertical and horizontal limits to create the spacing and make everything work," says Craig Kimmel, architect, RLPS.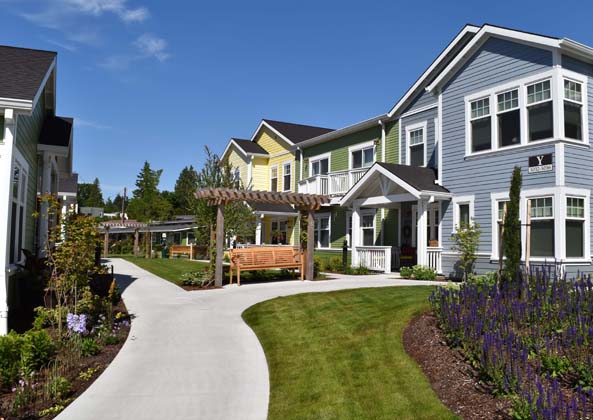 Steve Wanke
Phase 1 includes five pocket neighborhoods of seven cottages, each with a front porch and shared green space that allows residents to easily socialize as part of daily living.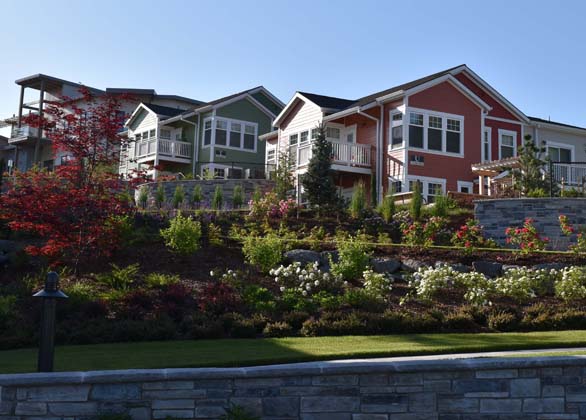 Steve Wanke
The buildings themselves are used as retaining walls on Rose Villa's steep, sloping site, allowing more usable green space.
Steve Wanke
Residents purchasing units in the Phase 1 redevelopment were permitted to choose from an array of interior finishes, as opposed to being offered a few packages. "In my opinion, if you're making a selection of a home that you think is going to be your home for the rest of your life, it better be exactly what you want," says Rose Villa CEO Vassar Byrd. However, the decision required full-time staff members on the design and construction teams and heavy reliance on technology to manage the selections.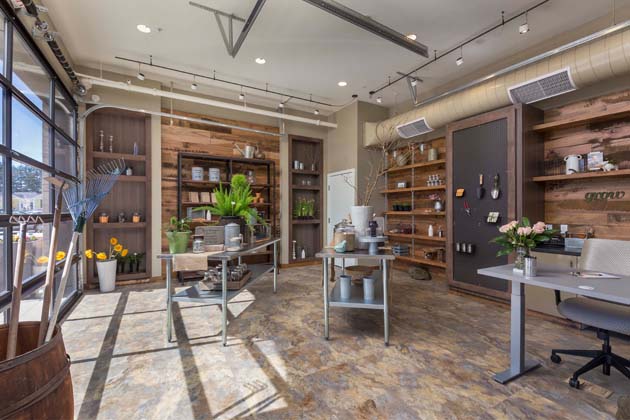 Steve Wanke
A garden center is among the amenities included in the Main Street development. C
---
Rose Villa was founded in Portland, Ore., in 1960 as a continuing care retirement community (CCRC)—with a twist. Like many CCRCs established in the Pacific Northwest at the time, it offered residents the ability to band together in order to afford services and amenities that wouldn't otherwise be accessible. But what made Rose Villa unique was its village concept, foregoing peers' high-rise models and instead maintaining a small scale with one-story cottages and supporting its residents' love for the outdoors with lush green space.
However, much of the 22-acre community remained untouched since that time. So when CEO Vassar Byrd arrived in 2006, it became immediately clear that the physical environment was suffering. "I appreciate that the folks who set it up were something of social revolutionaries and I laud their courage. But they certainly weren't landscape architects and there wasn't a lot of forward-thinking architecture involved. Over a long period of time, a lot of benign neglect occurred," Byrd says. Her vision for the future ranged from updating the infrastructure for the 21st century and making the community more energy efficient to adding storage and a contemporary aesthetic to connecting residences more intentionally and rethinking the car-centric campus.
To complicate matters, though, Byrd also found the community in dire straits financially, with occupancy on the decline. With a background in economics as well as gerontology, the new CEO got to work. "For me, it wasn't only how do we save this campus from bankruptcy, but how do we transform it and understand what the core meaning of Rose Villa is and make that more visible?" she says. "What was really obvious was the residents here are quite unusual. People show up here who tend to be very independent, who are used to working with neighbors to get stuff done. They're the people who volunteered for the PTA and shoveled sidewalks for their neighbors. They're the dudes who rocked the world, and that strength is something I wanted to build on."
Site work
Some back-of-the-napkin planning began almost immediately between Byrd and Bob Boileau, former design principal with Myhre Group Architects (MGA; Portland, Ore.). By 2008 MGA had completed a master plan for Rose Villa, but the recession put the project on hold and Byrd instead took two years to build her management team and returned to the program in 2010. At that time, MGA was brought on board as design architect, RLPS (Lancaster, Pa.) as architect of record, R+H Construction (Portland, Ore.) as general contractor, and Craig Witz as project manager for Phase 1 of a campus redevelopment of independent living and amenity spaces.
However, the team came to realize that the previous master plan was too ambitious and strayed from Rose Villa's core concept by considering larger housing types such as townhomes. "It came down to we are a garden cottage community, and how can we arrange that in the best, most efficient, most attractive way possible, increasing the number of people we serve and yet it still feels really open?" Byrd says.
Another challenge was the campus's steep, sloping site that already housed 263 apartments in more than 70 buildings. "There was hardly any open space at all to work with," says Craig Kimmel, architect with RLPS. "Through the master plan, [RLPS and MGA] tried to create some clustering of density and meaningful open space." Soon a solution surfaced that succeeded in doubling the greenery available and increasing the number of residences—"that was one of those genius moments," Byrd recalls. The model adopted is an "over/under" cottage plan that stacks two apartments on one another, building them into the sloped terrain (see drawing above). "We used the buildings as retaining walls to allow the open space to be flat and usable for the seniors, so the buildings themselves became the elements that allowed us to create this tiering effect of the site going down the hill," Kimmel says.
The plan then organized five pocket neighborhoods, each with five to seven residences  (40 in total) that have front doors leading out onto level open space that serves as shared gardens where neighbors might meet new friends and socialize. The neighborhoods are connected via greenway walking paths, too, providing additional means for residents to run into one another. The cottages include single-story units in four floor plans ranging from 830 square feet to 1,236 square feet, with one- and two-bedroom options available.
Up on the hilltop
Another critical element of Phase 1 was adding a Main Street and Town Center at the top of the site. The addition jointly addressed the need for a sense of arrival at the community and centralized destinations where residents could gather and socialize.
The team started by demolishing about 70 independent living units and garages that flanked the existing entry and campus center and in their place put an updated casual restaurant and new fine dining venue, a wellness center, an aquatics center, garden center, art studio, library, and performing arts center with a stage. "We'd had many of those things, with the exception of the pool, in a much smaller form or in some odd part of campus. So we decided what we really needed as a successful community is to make them the right size and put them in the center so everyone can get to it," Byrd says.
Boileau, who had no experience in senior living prior to working with Rose Villa, brought expertise in mixed-use development, pedestrian-oriented communities, hospitality, and college planning to help shape the solution. The result relies on the same elements as a university might, with an easily walkable campus and amenities at street level with outside entrances, and garages tucked away out of sight. "We wanted people to feel safe walking up and down [the site] and not worry about crossing roads and dealing with car bumpers. We gave the car its place, but it's no longer a first-class citizen," he says. To that end, the campus relies on the pedestrian-only greenway paths that residents use to walk between the pocket neighborhoods as well as to the Town Center. Additionally, Main Street, although open to cars, is designed to be closed to serve as a social gethering space for a street fair, farmers market, or movie night.
Additionally, 35 loft-style apartments were added on second and third stories above the amenity spaces—a departure from Rose Villa's cottages that still maintained a low profile and took advantage of the cool, downtown vibe created. Floor plans range from 859-square-foot one-bedroom units to 1,552-square-foot two-bedroom units. "It was the first time on their campus that they had people living on a floor above the ground, and that was a big deal," Kimmel says. "By creating some of that higher-density apartment product, it enabled us to create more open space for everyone to use. It's one of those things where you give up a little bit of individual green space but create a lot more collective green space in doing so."
And the risk paid off—when preselling began, the lofts filled up as quickly as the cottages. "The execution is what made a difference. They don't feel like senior living apartments. The windows are floor-to-ceiling; they're very modern, very spacious. It's the best condo you could find in downtown Portland, but it happens to be built here at Rose Villa," Byrd says.
Backyard construction
The two-year execution of the project required just as much detail and careful planning as the design. "As a construction project it had all the tough elements," says Norm Dowty, principal at R+H Construction. For example, beginning the project with the Town Center allowed Rose Villa to address frequent middle-of-the-night calls reporting blown transformers or broken water lines by replacing the campus's crumbling infrastructure located there. But that also meant digging a pretty massive hole to do it.
From building demolition to material recycling to utility relocation and street planning, the community was frequently brimming with dust, dirt, and debris—all while 130 people still lived there. "It made it really tricky and even more important that we had good communication with our team, because you'd have the water off for a little bit or we'd have to change access to services as different parts of the campus got worked on," Byrd says. Two solutions the team employed were a weekly coffee break with the construction superintendent, who shared the project's status with residents, and a hotline that community members could call to report concerns.
Even more critical was relocating residents who were living in the redevelopment zone, which was already the most vacant part of the campus. About five years before the project broke ground, Rose Villa stopped selling units in that area. That along with natural attrition reduced the number of occupied homes to about 30. Those residents were then relocated as units became available elsewhere on the campus, with staff ensuring they moved to an apartment as nice as or nicer than where they were living. "We did all of that work over a two-year period and it worked out so the last person was relocated about one month before we broke ground," Byrd says. Nicknamed the Rose Villa Voyagers, those residents were recognized and thanked in monthly community meetings and presented with gifts of appreciation. "You don't move to a place like Rose Villa and expect to ever have to move again. They really sacrificed for the good of the community," she says.
New bloom
Residents began moving into the new cottages in spring of 2015, and Phase 1 officially wrapped up in July 2016. During a walk on campus one day, Byrd observed residents of a pocket neighborhood dragging chairs out into their garden to share some wine and cheese. "I almost started crying. It was like, 'Oh my god, that's exactly what I wanted.' It was so great," she says.
The CCRC is currently planning Phase 2 of the redevelopment, with similar goals in mind. But this time the project is focused on Rose Villa's clinical building, the 24-hour Madrona Grove, which will transition from a classic nursing home environment to a small house model with four neighborhoods. Natural light and gardening opportunities will also be at the heart of this building, with the addition of a child development center for kids ages 3 to 5 that will offer intergenerational programming. Additionally, Phase 2 will add 50 independent living units, with a mix of the three-story apartment buildings and three more pocket neighborhoods.
One thing the team will do differently this time around is build prototypes before construction—something that could have helped avoid some headaches encountered in finishing Phase 1, such as issues with how doors and thresholds came together. More resident involvement in decision-making is being planned, too. While plenty of exercises were completed with existing residents initially, by the time the new project was completed, many of those individuals were no longer there and the current residents felt uninvolved. "This time around, I'm going to organize it. I have enough time, and I know the way for more productive engagement with residents all along the process," Byrd says. EFA
Jennifer Kovacs Silvis is editor-in-chief of Environments for Aging. She can be reached at jennifer.silvis@emeraldexpo.com.