Elevate Safepoint: First Look
---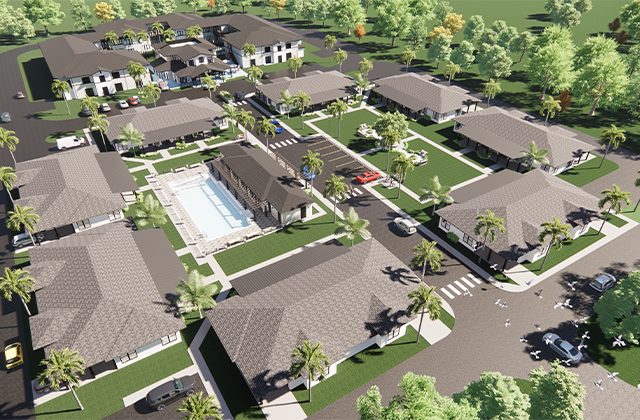 HKS
Elevate Safepoint: There are 16 active adult units set in eight duplexes upon entering the community's main drive. The assisted living and memory support buildings are pictured in the back.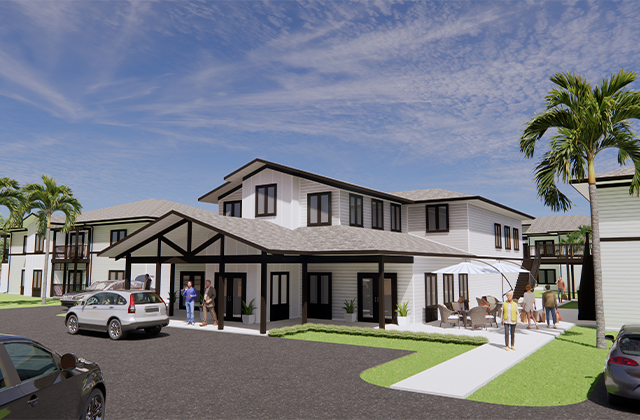 HKS
Elevate Safepoint: The assisted living clubhouse will serve as a center for socialization and support.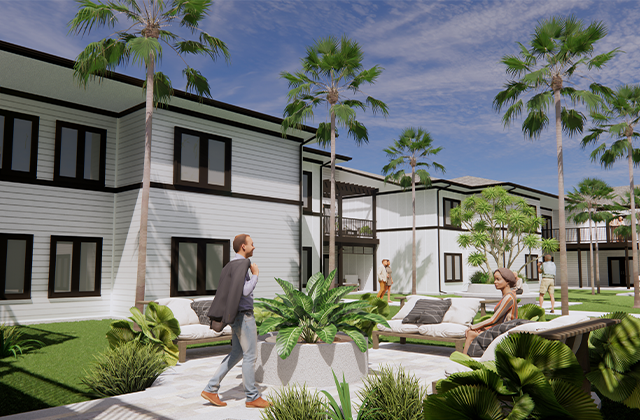 HKS
Elevate Safepoint: Flexible, small households wrap around a shared courtyard with spaces for respite and visiting.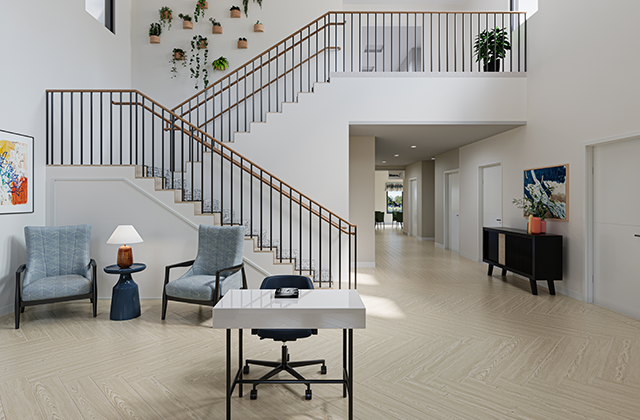 Spellman Brady
Elevate Safepoint: The clubhouse entry lobby is a welcoming space for residents and visitors. It includes a residential staircase, seating areas, natural light, and a concierge.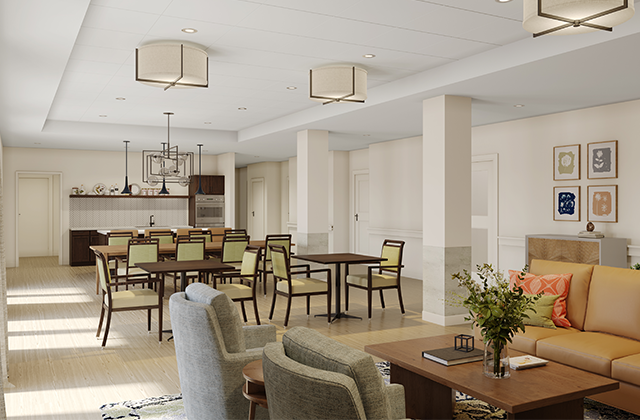 Spellman Brady
Elevate Safepoint: Shared amenity space in one of the assisted living households features a residential kitchen and dining area.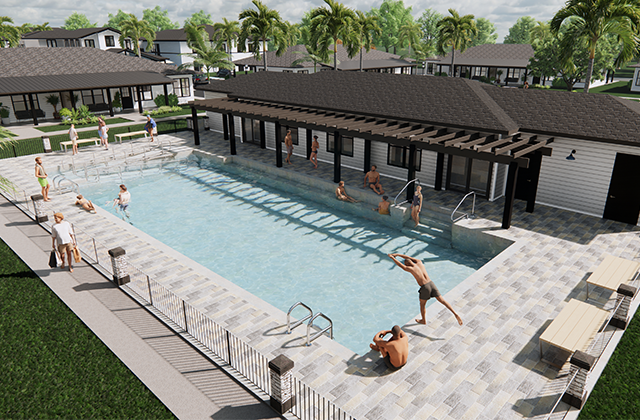 HKS
Elevate Safepoint: The active adult clubhouse includes multipurpose spaces, an outdoor kitchen, and senior-friendly pool.
---
Elevate Safepoint
Elevate Safepoint is a new, prototypical model of affordable assisted living and memory support. It serves as an alternative for seniors in secondary and tertiary markets.
The first community built under this model is nearing completion in Clearwater, Fla. It is owned by Safepoint Senior Living (Clearwater) and Elevate Senior Living (St. Louis).
The community comprises six small households that can flex from assisted living to memory support or independent living and back again, depending on the evolving demographics of the market.
The assisted living and memory support households comprise 16 studio units each, for a total of 96 units.
Each household includes its own residential living and dining spaces with a country kitchen that conceals the central nurses' station. Additionally, each household will have one unique amenity space, such as a bar or library to encourage residents to socialize by visiting other households.
Each household also includes a shared clubhouse with amenities and support services including a destination café, spa, and wellness center. All six households wrap around a private courtyard.
This first Elevate Safepoint community includes 16 affordable, active adult duplexes and an amenities center, as well. These residences are arranged around pedestrian gardens.
The architecture of the community is designed to reflect the relaxed and outdoor lifestyle of Gulf Coast Florida. This is achieved via light colors such as soft white and sky-blue pastels; broad covered porches; walkways; and a senior-friendly pool designed to facilitate safe and gradual entry, water walking, and fitness classes.
Community residents will have access to a salon, fitness room, bistro, theater, bar, and gaming room, as well.
Project details for Elevate Safepoint:
Location: Clearwater, Fla.
Expected completion date: May 2023
Owner: Safepoint Senior Living
Total building area: 91,000 sq. ft.
Total construction cost: N/A
Cost/sq. ft.: N/A
Architecture firm: HKS
Interior design: Spellman Brady & Co.
General contractor: ARCO
Engineering: Spring Engineering (civil), Hart Gaugler + Associates (structural), Solutions AEC (MEP)
Landscape: Spring Engineering