FIRST LOOK: The Baldwin
---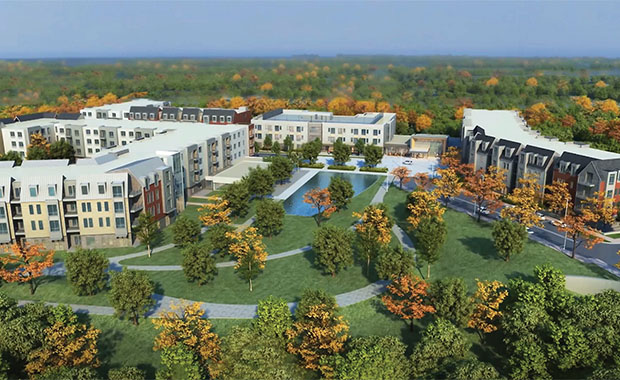 The Baldwin
This birds-eye-view rendering of The Baldwin provides an overview of the site including its welcoming plaza, walking trails, reflecting pool, and contemporary interpretation of New England architecture.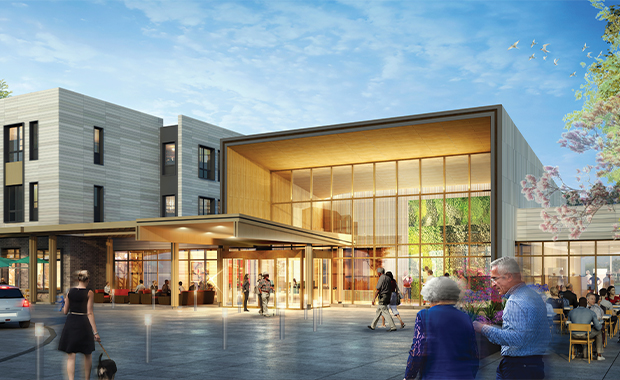 The Baldwin
The Baldwin's front entrance features a floor-to-ceiling glass façade and a two-story living wall.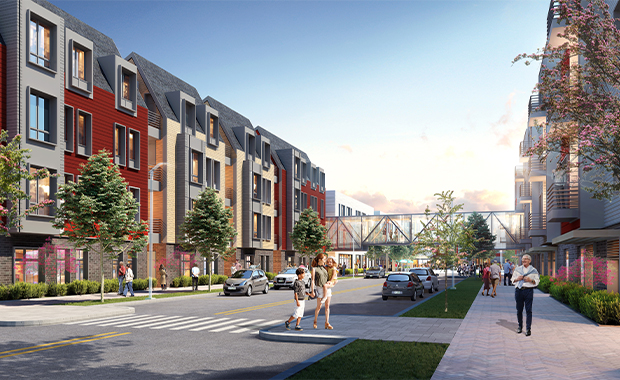 The Baldwin
The Baldwin's glass-enclosed pedestrian bridge provides indoor, climate-controlled access to both sides of the community.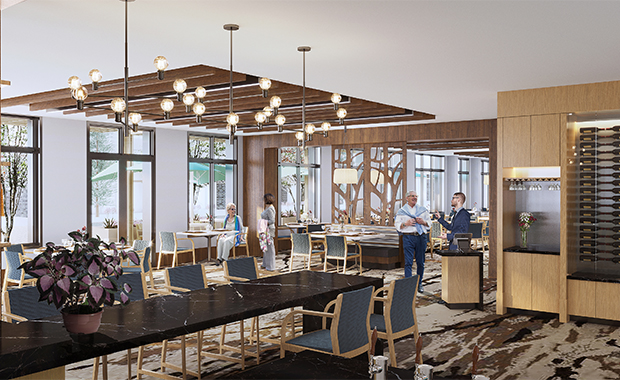 The Baldwin
The Baldwin's on-campus restaurant and its café will both be open to the public, with three-season outdoor dining incorporating a farm-to-table philosophy.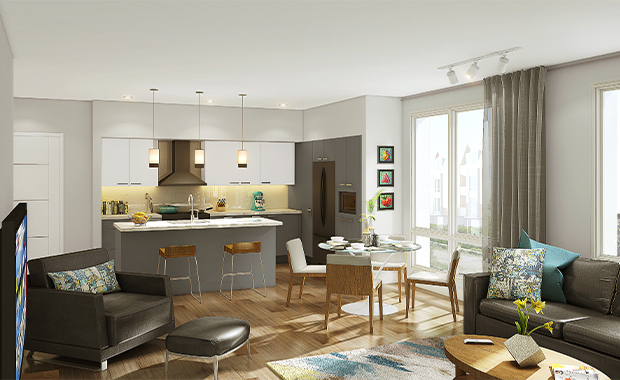 The Baldwin
Apartment homes will feature abundant natural light and spacious, open kitchens with full-size appliances, and high-end finishes and fixtures.
---
Edgewood Senior Solutions Group wanted to offer a community that's integrated into a live/work/play neighborhood known as Woodmont Commons in Londonderry, N.H., and purposefully designed to encourage intergenerational interaction.
Expected to open in spring 2023, the 428,900-square-foot community will feature independent living and a flexible system of healthcare delivery that will include a medical clinic for acute needs, personal care, and on-site home health care, assisted living, short-term rehabilitation, memory care, and hospice services.
Purposefully designed to encourage resident engagement and intergenerational interaction, The Baldwin's design is welcoming and walkable. It features an "urban corridor" where residents and the public can access dining venues, retail spaces, and a salon/spa. Additional resident amenities will be housed in different buildings along the corridor, connected by a glass-enclosed pedestrian bridge and an underground tunnel, enabling residents to move freely throughout the community without being exposed to inclement weather. Outdoor spaces will include a reflecting pool, raised garden beds for resident gardens, a memory garden, and walking and biking trails.
Architect and design firm DiMella Shaffer (Boston) pulled inspiration from traditional New England architecture, including townhouses and farmhouses, and has interpreted these forms in a contemporary way with simpler rooflines, clean edges, and an abundance of glass. The firm has also incorporated elements of biophilic design to integrate natural elements and views into the semi-urban environment.
Project Details:
Facility name: The Baldwin
Location: Londonderry, N.H.
Expected completion date: Spring 2023
Owner: Edgewood Senior Solutions Group
Total building area: 428,900 sq. ft. with garage
Total construction cost: Confidential
Cost/sq. ft.: Confidential
Architecture firm: DiMella Shaffer
Interior design: DiMella Shaffer
General contractor: N/A
Engineering: N/A
Builder: N/A